More evacuations ordered in Attica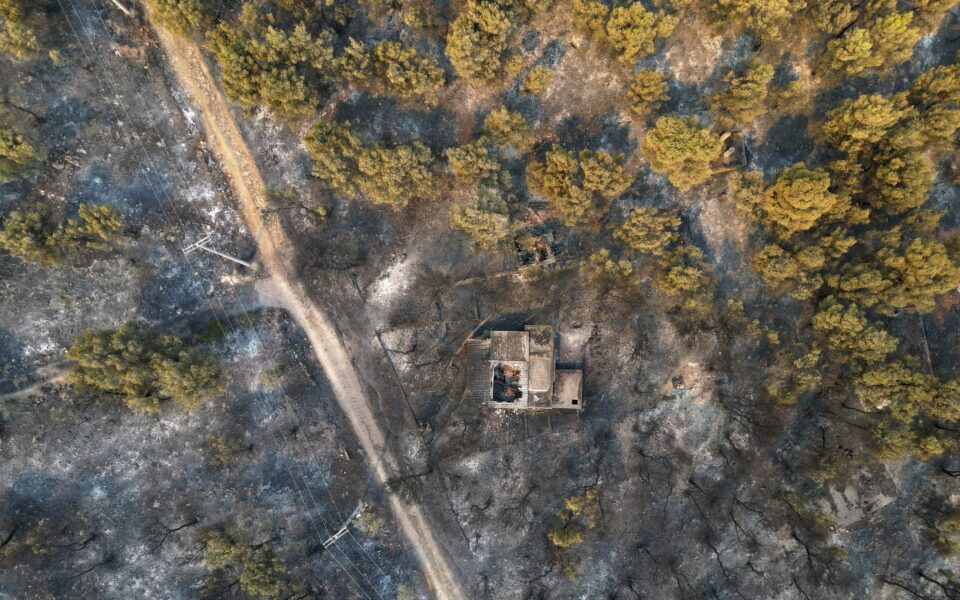 The fire burning in western Attica and Viotia for a fourth consecutive day kept reviving on Thursday, leading to more evacuations and more destruction of property.
Despite the mobilization of extra resources – at some point, 11 water-dropping airplanes and 11 helicopters, including four sent by France and Italy, were operating in the area – Fire Service officers conceded that the prevailing high temperatures made all this dumping of water ineffective.
What worried the Fire Service most was the blaze front outside the village of Stefani. If it moved past the village to the east, the whole Mt Parnitha National Forest would be in danger. But a change in the direction of the wind, which was not particularly strong Thursday, revived another front, close to the town of Mandra, about 10 kilometers southwest of Stefani. The blaze moved to ground that had been spared the previous three days, destroying more plants and houses.
At some point in the afternoon, an SMS was sent from the emergency 112 number to residents of three villages northwest of Mandra to evacuate towards the north, to the Attica town of Oinoi. A little over an hour later, a new SMS called for the evacuation of Oinoi itself, toward the town of Erythres, to the northwest. More messages were sent to nearby locations.
While authorities are busy trying to contain the fires, a meeting took place at the Environment Ministry on Thursday morning. Prime Minister Kyriakos Mitsotakis, who attended, noted that more should be done to prevent wildfires by clearing forests from accumulated flammable material. He said that resources would also be shifted toward reforestation in locations closer to metropolitan Athens.
Source: ekathimerini.com