NSW records 345 new local COVID-19 cases and two deaths as rules tightened in more Sydney LGAs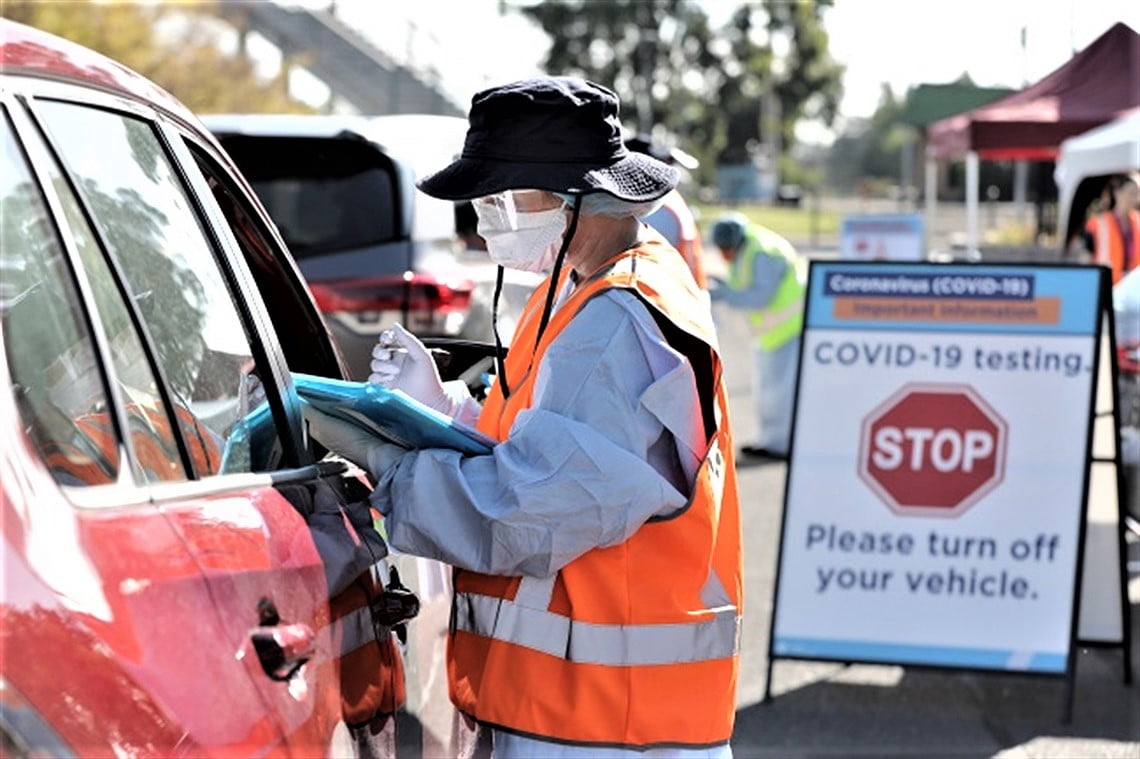 NSW has recorded 345 new locally-acquired COVID-19 cases and two further deaths, both men aged in their 90s.
Premier Gladys Berejiklian said the men had received a level of vaccination.
"Both had a level of vaccination and our deepest sympathy and condolences to their loved ones. One gentleman had had one shot of AstraZeneca and the other gentleman had had both doses of Pfizer, both in their 90s," she told reporters on Thursday.
The majority of cases continued to be recorded in the Canterbury-Bankstown LGA, with cases emerging in Cumberland.
Three more local government areas neighbouring the LGAs in western and south-western Sydney will also be subject to tougher COVID-19 restrictions from 5pm on Thursday.
Tougher restrictions for more LGAs
These include Bayside, Strathfield and Burwood, bringing the total number of LGAs of concern to 12.
"Some (of the three LGAs) only had one case overnight, but as a precaution we want to stop the front of the spread moving forward, it is widely accepted that advice."
She said she expects NSW Police Commissioner Mick Fuller will request more ADF support as part of the compliance operation.
"We are ensuring that no stone is left unturned," she said.
Regional NSW on the alert amid concern for Indigenous communities
Meanwhile, the current lockdown for the Hunter and Upper Hunter region of NSW has been extended by at least another week.
NSW Deputy Chief Health Officer Dr Marianne Gale there are 24 cases across the Hunter and New England local government areas.
Twelve of the cases were linked to an aged care home, including one staff member.
"Eleven residents are all now being cared for at John Hunter hospital. Three are receiving some treatment with oxygen; and none are in intensive care."
Three new COVID-19 cases were recorded in Dubbo, bringing the number of cases in western NSW to six.
Dr Gale urged members of the local Indigenous community to be extra vigilant.
"We know that many of those affected areas have a high proportion of Aboriginal people and I ask all our Aboriginal community as well to please stay at home, come forward for a test if you have symptoms and of course please get vaccinated with any available vaccine as soon as you can."
Ms Berejiklian said officials would be working to boost vaccination rates and supply in Indigenous communities in the area.
"We have been looking at that, and of course those communities would have had access to vaccination earlier on. But we are making sure we have sufficient vaccine to provide those vulnerable communities and working with those communities in western New South Wales."
Of the 374 people in hospital, 62 people in intensive care, 57 are not vaccinated, and the remaining five have had one dose of either AstraZeneca or Pfizer.
Increased numbers of younger people getting vaccinated
Ms Berejiklian said she is pleased by the increase in younger Australians turning up to get the vaccine.
"They are coming forward in droves," she said.
More vaccine doses are set to arrive in September. At least 106,000 doses were administered in the last 24 hours.
Ms Berejiklian so far at least 10,000 HSC students have received a vaccine dose.
"The strategy is to maximise first doses and it is important for us to in particular vaccinate young people, which is why we are targeting HSC students throughout those local government areas of concern."
Source: sbs.com.au