Wildfires in Greece raze forests, spur evacuations; allies send aid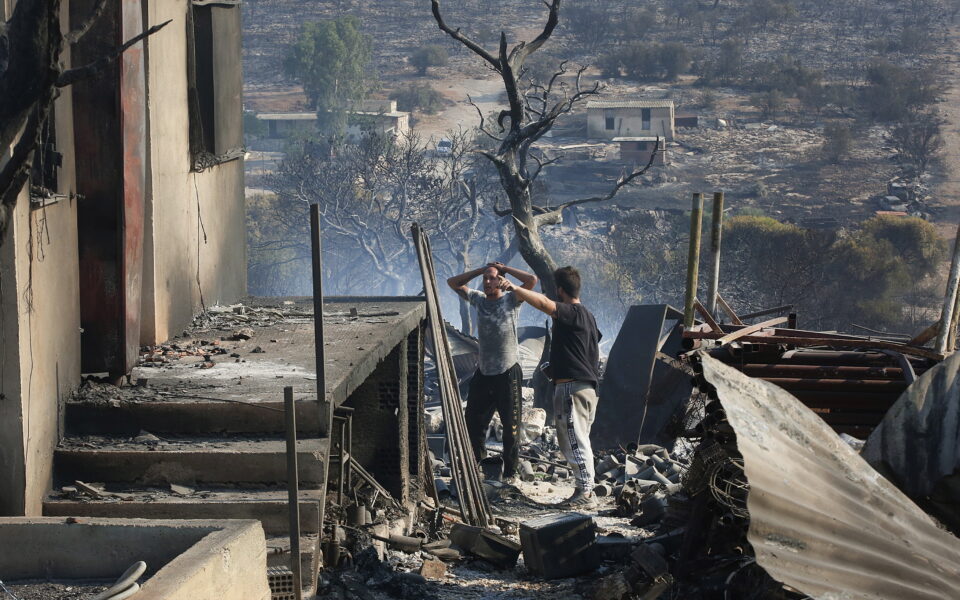 Wildfires burned for a third day west of the Greek capital Athens on Wednesday, destroying forests and homes and spurring evacuations, as authorities braced for a new heatwave that was likely to further stoke tinderbox conditions across the country.
At first light, air water bombers resumed operations over the towns of Mandra, west of Athens, and Loutraki, close to the Corinth canal which separates mainland Greece from the Peloponnese.
The fire brigade reported that a fresh fire had broken out on the island of Rhodes, burning forestland. Three villages and a hotel in a mountainous area were evacuated, a local governor told Greece's SKAI TV. The fire was not close to tourist resorts.
On mainland Greece, firefighters worked through the night to keep flames at bay and away from a complex of coastal refineries.
Flames kept roaring back to life as winds constantly changed direction, and thick smoke blanketed the wider area, state ERT TV said. Authorities ordered the evacuation of three areas, telling residents to head to the town of Megara.
Four aircraft sent from Italy and France joined the efforts on Wednesday, authorities said. Firefighters across the country, boosted by crews from Romania, Poland and Slovakia, have been deployed to help battle the blazes.
Fires are common in Greece, but hotter and drier summers have turned the Mediterranean into a wildfire hotspot in recent years.
Dozens of homes were gutted and hundreds forced to flee towering flames which seared through hamlets on Tuesday.
'On high alert'
Prime Minister Kyriakos Mitsotakis visited the national operations' centre to be briefed over the fires.
The Greek meteorological service had warned of a heightened risk of fires this week, as the country recovers from the first major heatwave of the summer. A second heatwave was forecast to start on Thursday.
"Conditions are extreme, and are likely to be so for another week," Kostas Tsigas, head of the fire brigade officers association, told Greece's SKAI TV.
The blaze, which broke out on Monday in the region of Dervenochoria, about 30 km north of Athens, spread rapidly as it was fanned by winds and reached Mandra on Tuesday, burning houses and forcing people to flee.
Not everyone went willingly. Footage by Greek police showed officers imploring a reluctant group of nuns chanting hymns to evacuate a convent, and another of police screaming "let's go" as towering flames closed in at a timber yard.
"We put all our effort into making this, we built this, and now it's all gone," said Andreas Theodosiadis, a resident of Mandra, standing near debris and cars hollowed out by fire.
"Everything outside was burned, thank God the house itself did not catch fire," said Elpida Paroutsidi, whose home she shares with husband Abbram suffered extensive external damage.
The broader region has had bitter previous experience with natural disasters. In 2017, Mandra, a largely industrial area, was hit by flash floods that killed 24 people.
A year later, 101 people died in the seaside town of Mati, east of Athens, which was razed by a wildfire in a matter of hours.
Source: Reuters