'We are in despair,' says official as blazes continue to rage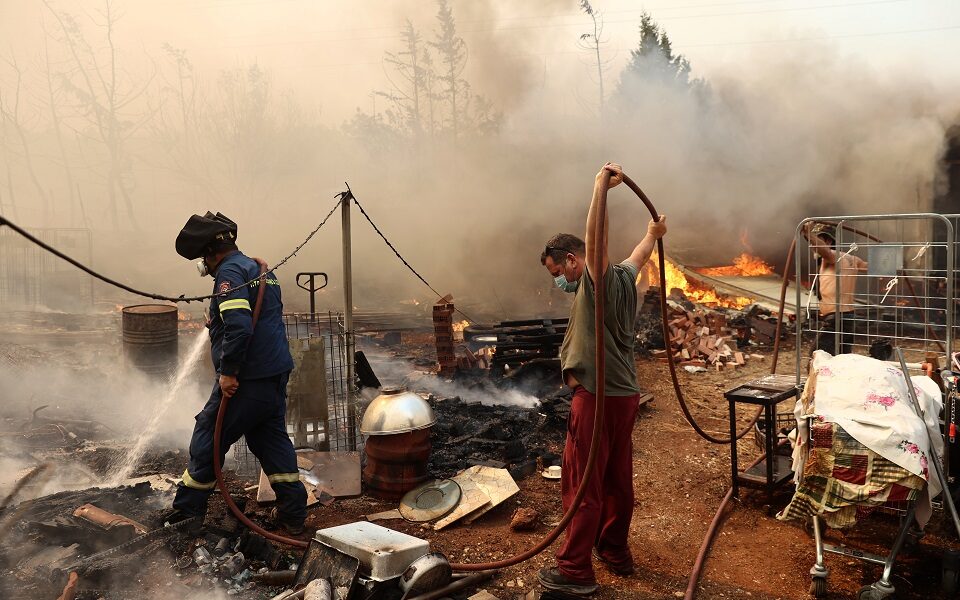 Wednesday brought no respite to the hundreds of firefighters, volunteers, municipal workers and military personnel who spent all night battling major wildfires in West Attica and Corinth – raging for a third day – and a new blaze on the southeastern Aegean island of Rhodes.
Water-dumping aircraft took off at dawn to join the battle, while police were able to open the Agioi Theodoroi stretch of the Athens-Corinth National Highway, which had been shut down on Tuesday.
The town of Mandra in West Attica and the area of Dervenohoria in neighbouring Viotia woke up to another day of devastation and misery, as the blazes on those two fronts continued to spread.
"We are in despair," the deputy mayor for civil protection in Mandra, Panagiotis Koloventzos, told Kathimerini.
Conditions, meanwhile, are not expected to get any easier on Wednesday, as strong winds persist and Greece comes in the grips of a major heatwave that is expected to push temperatures past the 40 degrees Celsius mark over the next five days.
Source: ekathimerini.com