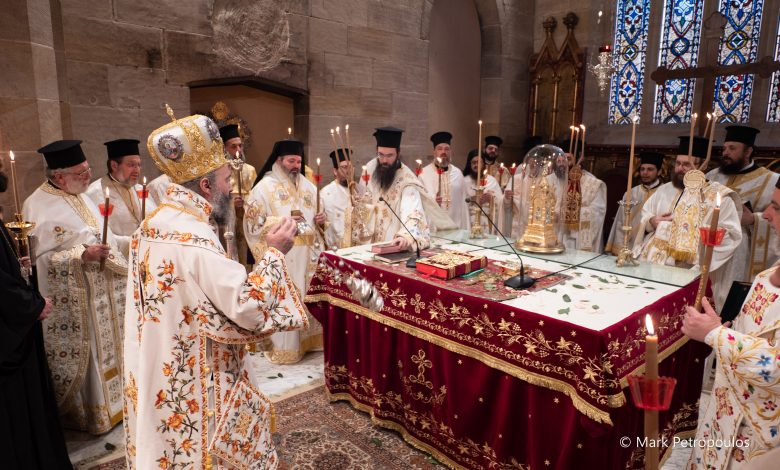 On Easter Sunday, April 24, 2022,  His Eminence Archbishop Makarios of Australia, accompanied by Their Graces, Bishop Iakovos of Miletoupolis and Bishop Christodoulos of Magnesia, and by a number of clergy in the city of Sydney, officiated at the Vespers of Love, which was performed with ecclesiastical splendor in the Holy Cathedral of the Annunciation of the Theotokos, Redfern.
According to Holy Tradition, His Eminence Archbishop Makarios and the rest of the clergy put on their holy vestments in the hall of Saint Andrew's Theological College and, then, left in procession in the direction of the Cathedral.
The Church being filled with many faithful and in an atmosphere of cheer and celebration of the Resurrection, the Gospel of Saint John was read in various languages, while His Eminence Archbishop Makarios, after offering his resurrectional greeting and warm feast day wishes, he blessed and distributed the Traditional Red Easter Eggs to the faithful one by one.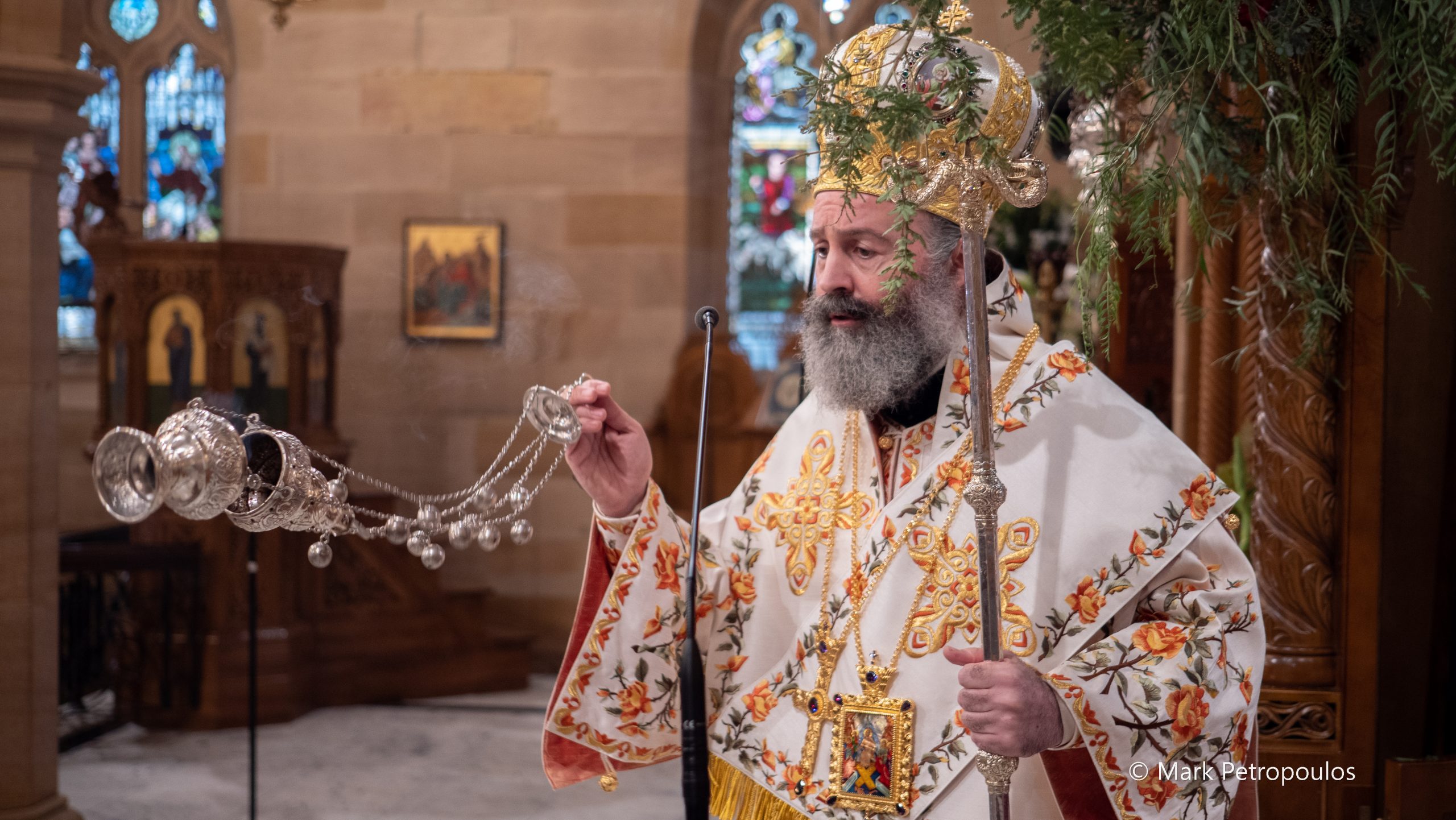 Present at the church were, among others, the Minister of Culture and Sports of the Hellenic Republic, Mrs Lina Mendoni, and her entourage, consisting of her associates and Ministry officials, as well as the Consul General of Greece in Sydney, Mr Christos Karras.
It is noted that before the Vespers of Love, in the hall of the Theological College, the commendation and awarding of the Minister of Culture of The Hellenic Republic took place, with the award of the 'Order of the Christ-loving with Star' of the Holy Archdiocese of Australia.
His Eminence Archbishop Makarios of Australia warmly welcomed Mrs Mendoni to the largest expatriate spiritual institution of the fifth continent and, after referring to her journey and describing her general offering to the public, underlined that the Minister "Throughout the years of her public life, in all the important positions she served, she showed a remarkable sensitivity in matters concerning the Church and the ecclesiastical, especially our ecclesiastical heritage and tradition."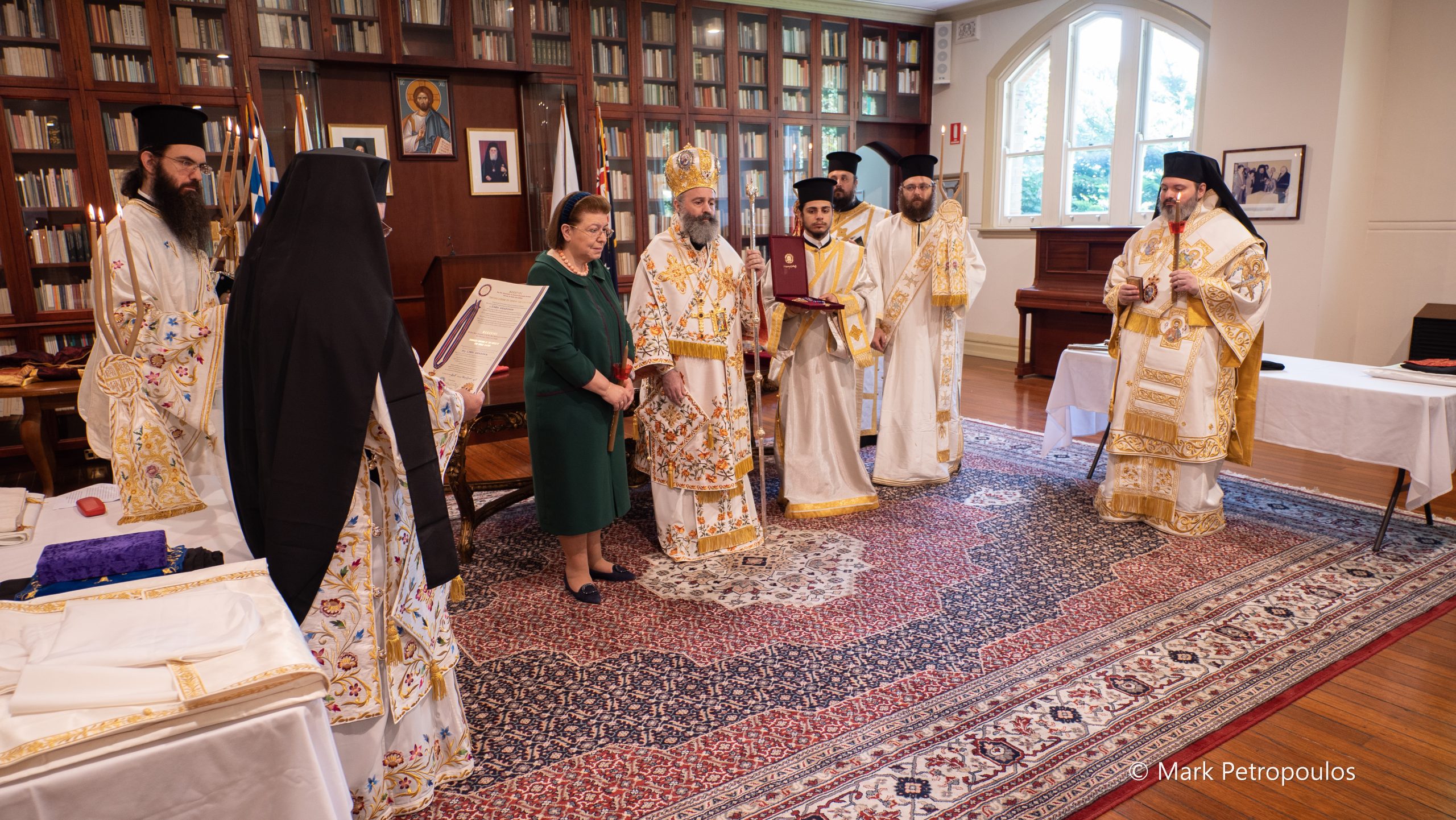 "Throughout Greece there are monasteries, churches, chapels, cemeteries and other ecclesiastical monuments, which were abandoned and handed over to the decay of the pandamator of time",
His Eminence remarked and pointed out:  "Mrs Mendoni, with her love for the Church, her respect for the sacred and divine of our Faith but also the sensitivity that distinguishes her for every cultural element of our Nation, has taken care of and managed to renovate many of the ecclesiastical and religious monuments of our beloved homeland, Greece."
"Mrs. Mendoni is the reason for many Holy Altars that were unused for many years, being reopened and regaining their liturgical character", he emphasised characteristically, concluding his address.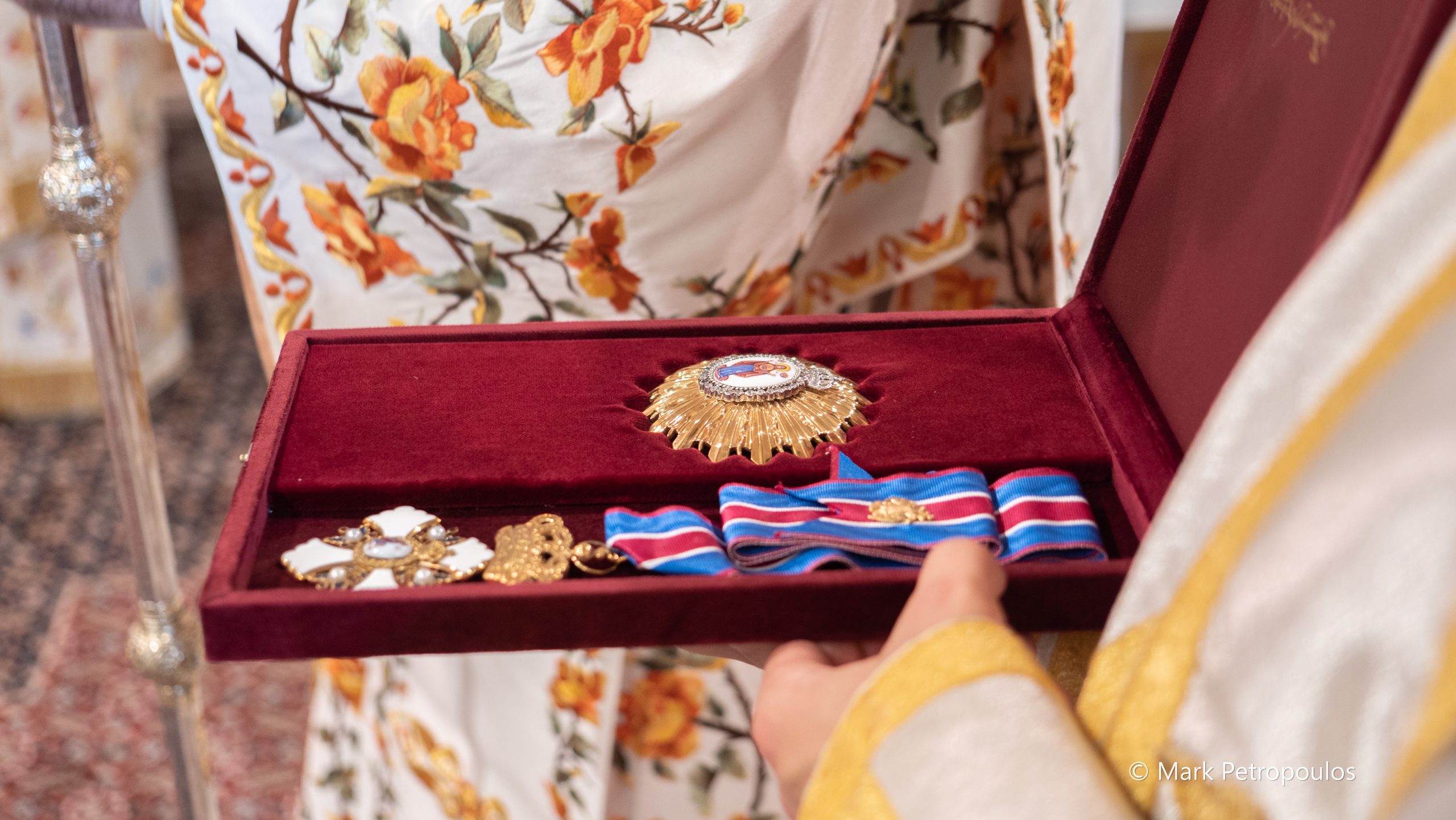 In Her response to His Eminence, the Minister of Culture of Greece warmly thanked the Archbishop for the honorary distinction awarded to her, conveying the appreciation of the Prime Minister of Greece to the person of His Eminence, while assuring that both Mr Kyriakos Mitsotakis and herself, are and will remain close to the Holy Archdiocese of Australia.
More Photos: