The Australian Savior of Thousands of Pontian Greek Refugees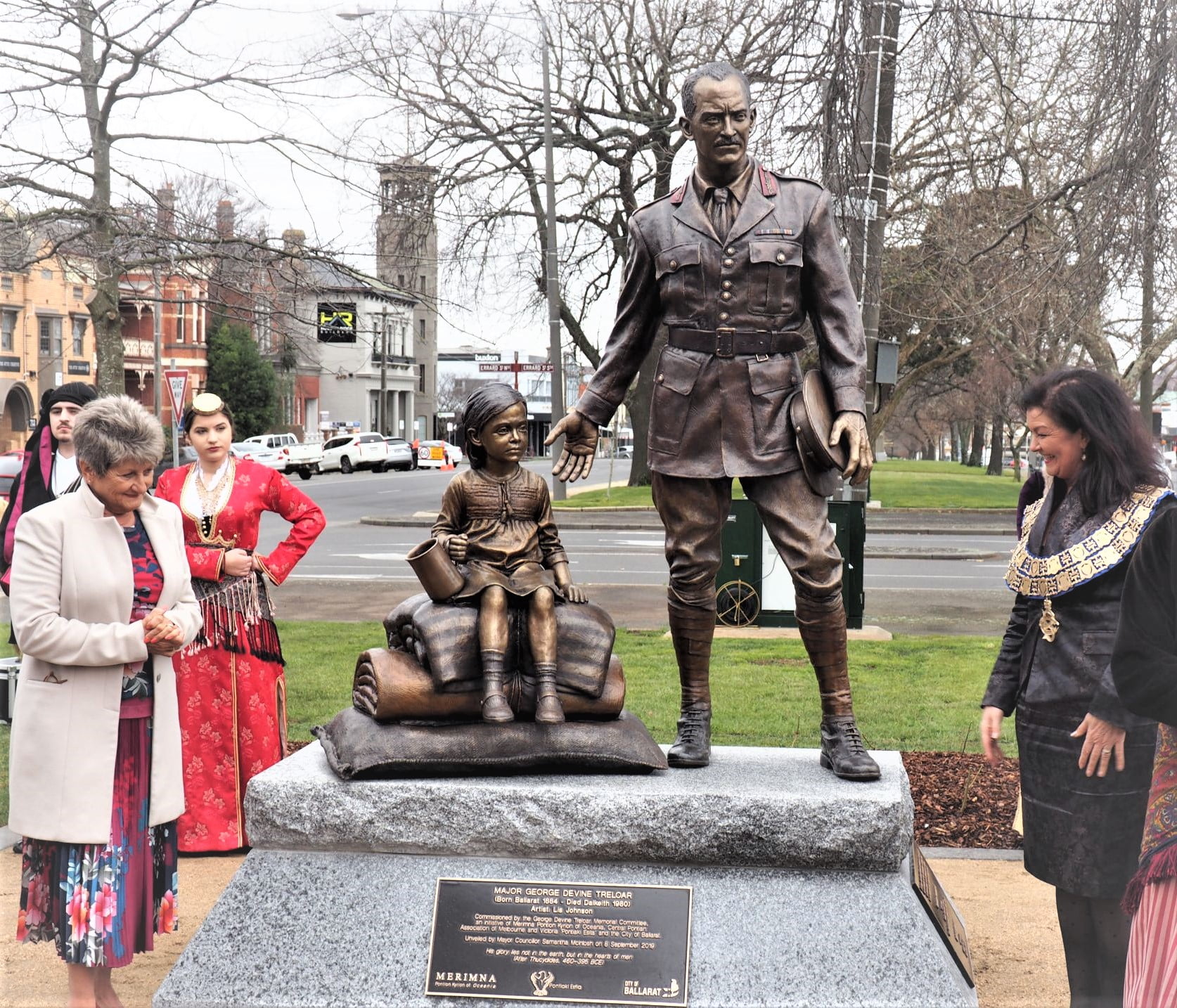 Australian military officer George Treloar saved thousands of Pontian Greek refugees who were forced to flee their ancestral homes in Turkey in the 1920s.
In 2019 Greek Australians raised money to create a statue of Treloar, the savior of Pontus Hellenism. Seated next to Treloar in the sculpture is a young girl nicknamed Lemona, holding a jug. She represents the hundreds of thousands of refugees from the Pontus region.
Having to choose between death and exile, hundreds of thousands of Greek Pontians, who lived for thousands of years in the region of today's northern Turkish coast and spoke a dialect very close to the original ancient Greek language, were forced to move to Greece in order to save their lives.
There, Treloar, a refugees commissioner of the League of Nations (the predecessor of the UN), helped thousands of Pontian Greek refugees settle and find the support they needed.
Between 1922 and 1926, he was engaged in the resettlement of Greek refugees from Asia Minor; at first he worked at Komotini in Thrace and later in Salonika.
By 1923 his mission was handling over 108,000 refugees. His efforts to organize food, shelter, medical care and resettlement precipitated disputes with indifferent league officials in Geneva and with a senior Greek official.
Treloar was appointed to the Order of the Saviour (gold cross) and a refugee village (Thrilorion) near Komotini was named after him.
He also played a crucial role in establishing thirteen new villages near the city of Komotini, in Rhodope region, Thrace.
In the 1940s and after World War II, many of these Pontian Greek refugees emigrated to Australia.
Their children and grandchildren, in an attempt to honor the Australian man who saved the lives of their ancestors, created a statue of him.
Distinguished military career
The statue of Treloar was unveiled in Ballarat, where he was born on 23 April 1884. He was educated at Ballarat's St Patrick's College.
Having previously served at Ballarat as a lieutenant in the 3rd Victorian Rifles, Treloar immediately volunteered.
Although rejected because of defective eyesight, he somehow managed to join the 20th Middlesex (Artists) Rifle Volunteers in 1915 as a private and secured a transfer to the Coldstream Guards.
He served in France, was commissioned and ultimately promoted to major, second-in-command of the 3rd Battalion. Buried twice by shellbursts on the Somme and almost bullet-riddled at Ypres, he was awarded the Distinguished Service Order and the Military Cross.
In 1918 he commanded the Brigade of Guards Officers' School of Instruction and, following the Armistice, served with his battalion in the Rhineland Occupation Force.
After World War One, Treloar joined the British Mission to the White Russian armies as assistant military secretary to Major-General Holman.
At Constantinople after the withdrawal of the mission, Treloar served with the Tsarist army as a colonel under Baron Wrangel.
When the White Russians were defeated , Treloar commanded a British camp for Russian refugees at Tousla on the Sea of Marmora. He then became a representative of the League of Nations High Commissariat for Refugees in northern Greece.
Source: greekreporter.com