Sydney records 239 new cases, with 35 infectious in the community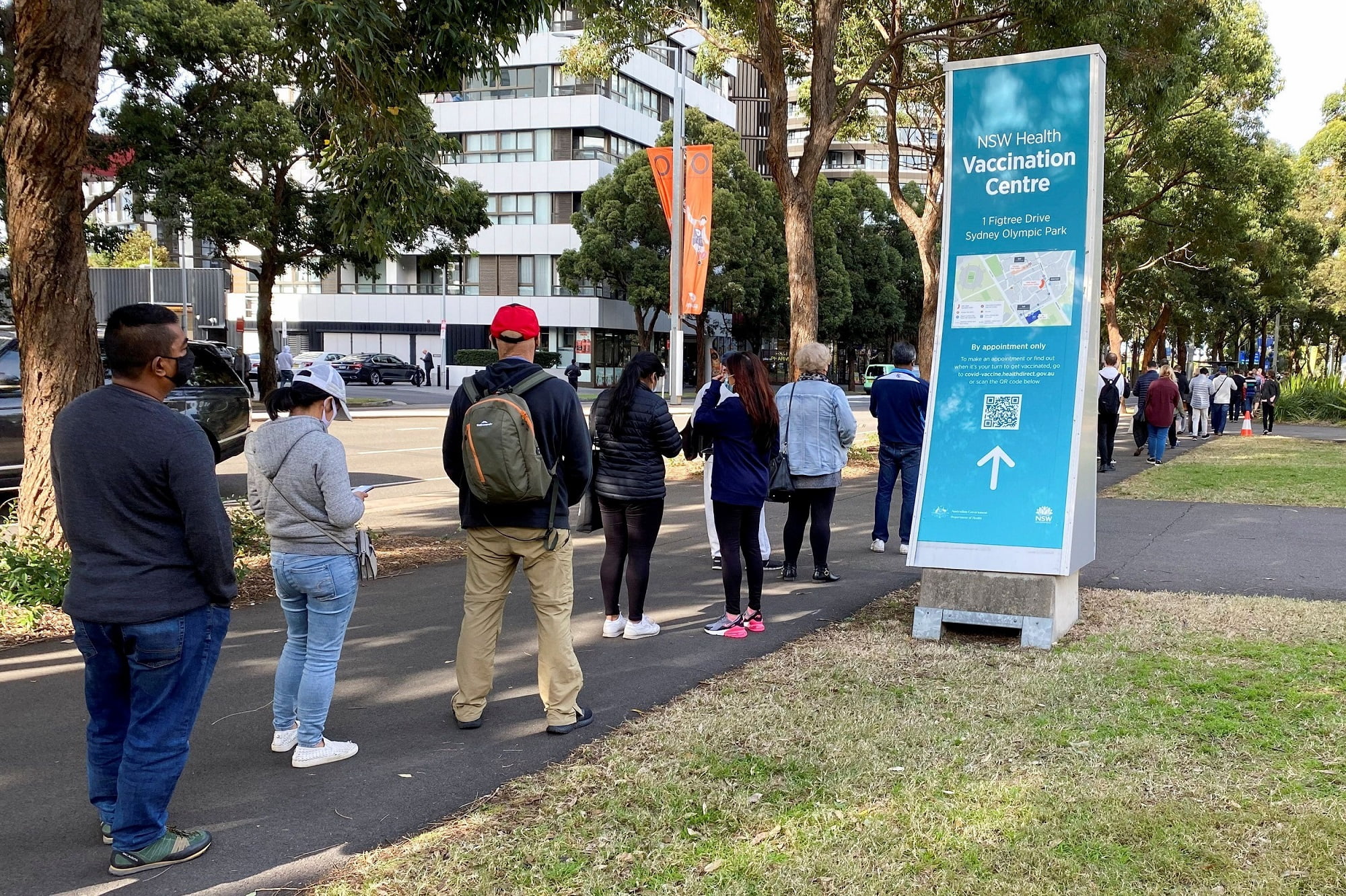 Sydney has recorded 239 new cases of COVID-19 from 87,000 tests, with 35 people infectious in the community.
NSW Premier Gladys Berejiklian said the virus was still circulating in workplaces and households.
"The one positive take-out is the virus has not in the main gone outside those eight Local Government Areas of concern," she said.
"Having said that, we don't want to see the virus spread further and households, whole households, become infected because one person has brought virus into the home."
Earlier on Sunday, NSW Health Minister Brad Hazzard said whether Sydney returns to zero cases or emerges from lockdown in four weeks is "entirely dependent on the response of the community".
Modelling of future case numbers relied on inputs such as whether people got vaccinated or stayed home, "and that's the unknown", Mr Hazzard said on ABC's Insiders.
"We are quite concerned at the numbers continuing to remain relatively high. They're bouncing around. What is positive, of course, is that they're not going up in a rapid way, they're staying around about the same figures."
He said Victorians had responded well to the mixed messages on vaccines, with the community prepared to receive both AstraZeneca and Pfizer vaccines. "In NSW, five or six weeks ago we were finding it challenging to get people to have the vaccines. Now we're finding, as a result of this current circumstance, that a lot more people are now seeking the vaccine," Mr Hazzard said.
He also defended the variations in Sydney's public health order that have placed harsher restrictions on west and south-west Sydney.
"We already have requirements that everybody stay at home… But certainly in these eight local government areas, it's very challenging. So, we're trying to strike the balance, and I think the balance is appropriate," Mr Hazzard said.
"What we do know is that when we locked down the northern beaches over Christmas [and] New Year, there was a high level of compliance and it worked. We found a high level of compliance in the eastern suburbs."
But Mr Hazzard said health authorities were struggling to gain confidence of some communities in south-west and western Sydney, particularly refugee communities which have a higher distrust of government and law enforcement because of their prior experiences.
"We are challenged in the south-western suburbs… It's a very difficult community to gain the confidence of and to have them respond in the way that we need them to respond," he said.
"What we're seeing in particular, is refugee family groups are often large families, and often there might only be one or two people in the family who are income earners. And we're seeing a reluctance for them to come to health authorities and say, 'We have a problem in our household.'
"They worry that they'll be treated the way they might have been treated back home in their own countries. They've suffered greatly in their own nations, in their own countries. What we are trying to do is tell them, if you have got any symptoms at all or have been in contact with positive cases, please come forward to Health."
'Let's make August the month we get vaccinated': NSW Premier
NSW Premier Gladys Berejiklian has urged the community to make the month of August – which will be spent almost entirely in lockdown – the time they get vaccinated.
"Today is 1 August and I am calling upon the people of greater Sydney, greater NSW to come forward and get vaccinated. To get to the 70 per cent target we need 9.2 million jabs. To get the 80 per cent target we need 10 million jabs," she said.
"Pleasingly, in the last 24 hours we had over 82,000 people get vaccinated in one day alone in NSW. At that rate we are vaccinating 500,000 people per week. We want to do more."
Ms Berejiklian said one dose would reduce your chance of spreading the virus and help keep you out of hospital. "And we know that vaccination is working against this terrible Delta strain, we know it is effective," she said.
"We don't want to be in a situation where we are going in and out of lockdown and certainly in NSW our aim is to get out of this one as quickly as we can. We have the month of August to get our vaccination rates as high as possible."
Ms Berejiklian said she, Chief Health Officer Kerry Chant and Health Minister Brad Hazzard had all had the AstraZeneca vaccine. "Many people in my family have had the AstraZeneca vaccine, it is a safe vaccine and it works," she said.
"Let's make August the month where all of us who haven't had the vaccine, come forward to get vaccination.
"We know that the more people get vaccinated the closer we are to living life as normally as we can with the Delta strain. We know that the more people get vaccinated the closer we are to living life as normally as we can with the Delta strain."