Rhodes blaze cannot be contained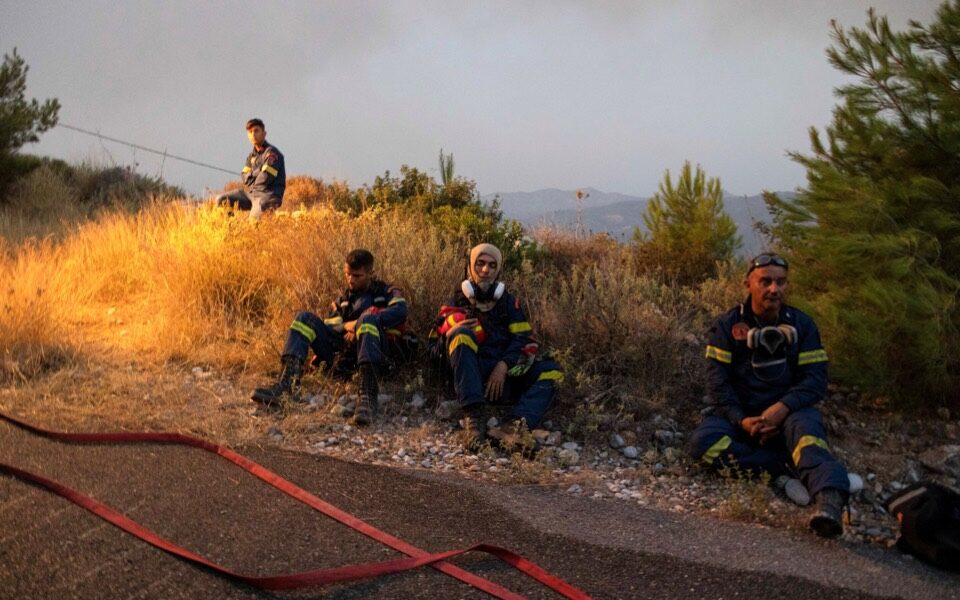 The wildfire racing across the island of Rhodes for a week now had burned an estimated 34,200 hectares by Monday evening and rages on, uncontained.
On Monday, things took a turn for the worse as the fire tore past defenses and more evacuations were ordered, in the central and southern parts of the island.
"We are at war – completely focused on the fires," Prime Minister Kyriakos Mitsotakis said during a debate in Parliament. "Over the coming days and weeks, we must remain on constant alert."
It is not just Rhodes: Wildfires are raging on the islands of Corfu and Evia and on the mainland, notably in the Peloponnese, southern Greece. In the 24-hour period ending at 7 p.m. Monday, 63 new wildfires, not all dangerous, broke out, after the 64 that did in the previous 24 hours, the Ministry of Climate Crisis and Civil Protection announced.
With temperatures set to climb again Tuesday after a day of relative respite, the Fire Service has announced that most of the island of Crete, with the exception of the regional unit of Hania, as well as Rhodes and the nearby islands, are facing an extreme risk (Category 5, the highest) of new fire outbreaks.
The regions of Attica, Central Greece, Western Greece, the Peloponnese, Hania, two of the four regional units of the region of Thessaly (Larissa and Magnesia), the Ionian Islands, to the west, the Dodecanese Islands in the southeastern Aegean, as well as the islands of Ikaria and Samos, to the north, are classified Category 4 (very high risk), the Fire Service said.
In Rhodes, the fire is totally unpredictable. "It goes everywhere, it is totally uncontrollable. Let's see what we can salvage," Nikos Dimelis, president of the Archangelos township.
The fire looks increasingly like the one that devastated the island of Evia in August 2021.
And on Evia itself, a fire that started about Sunday noon and was considered "contained" by Monday morning has also revived, reaching the sea.
Although the Evia fire raced through villages, it is estimated to have done little damage to homes, sheds and animal pens, locals said.
But they also reported that a 38-year-old shepherd was missing. Police had initially claimed he had been missing since before the fire started, but villagers said they saw him Sunday and he was very worried about his sheep. His brother went to the local police station late Monday to report him missing.
Source: ekathimerini.com