NSW records 262 new cases, one death as front of outbreak moves into Penrith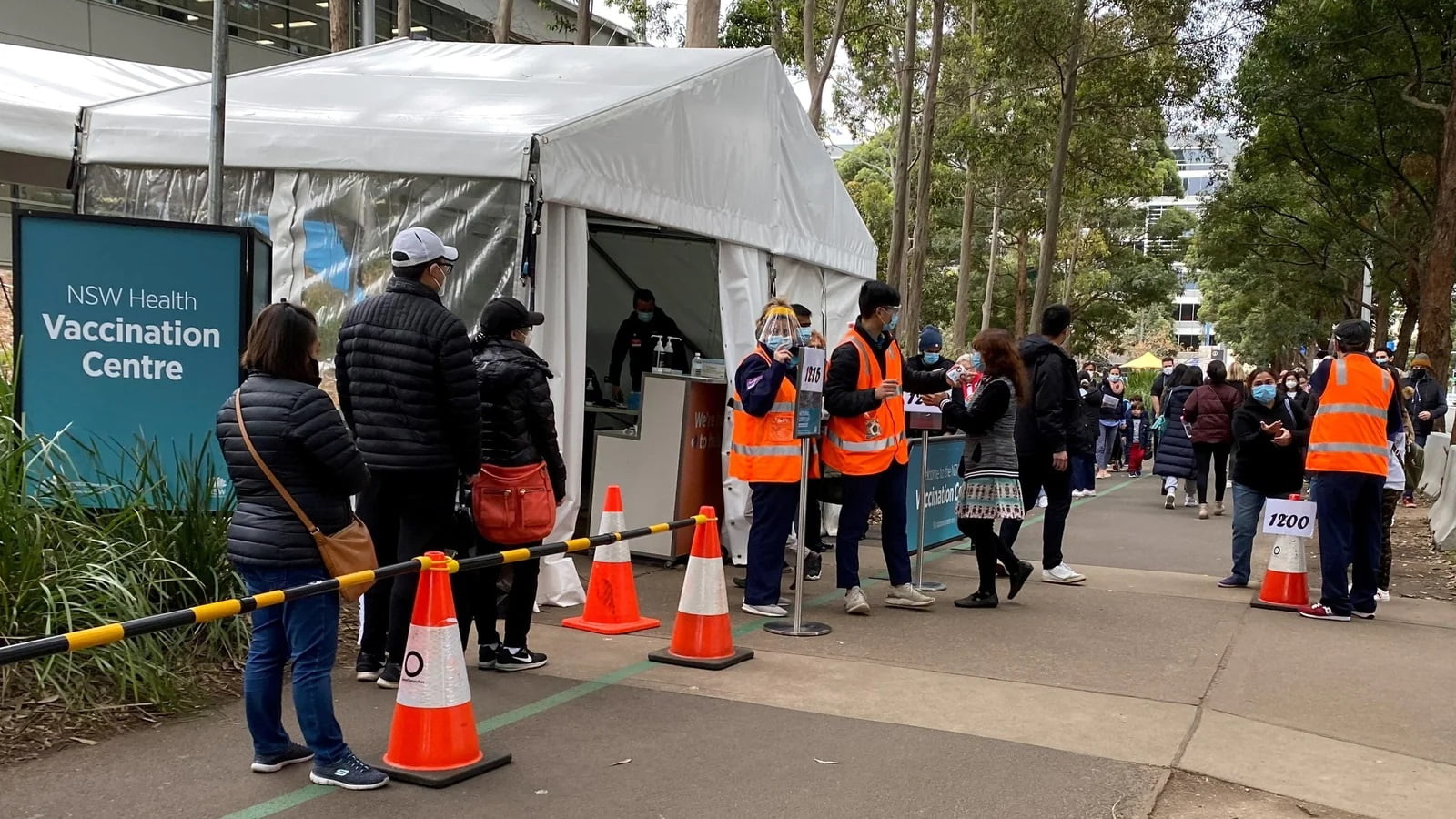 NSW has recorded 262 locally acquired cases as the front of the outbreak moves into Penrith with 12 suburbs plunged into a tighter lockdown. About 50 of the new infections were in the community during that time.
"We've seen the epidemic move into parts of Penrith, adjacent to the areas in western Sydney and south-western Sydney," NSW Health's Dr Jeremy McAnulty said.
"So we are concerned, and the additional restrictions will help to contain the outbreak in urging that stop the suburbs affected."
People in those 12 suburbs must only obtain food and other goods and services and exercise five kilometres of their home, Dr McAnulty said.
NSW has recorded one new death – a woman in her 80s who was not vaccinated. The woman in her 80s who died from COVID-19 was a resident at the Wyoming Residential Aged Care Facility in Summer Hill and died at Royal Prince Alfred Hospital.
More than 95,000 tests were reported to 8pm on Saturday night.
"As we have seen in the last few days, the numbers are bouncing around a bit, but clearly we need to reduce those numbers. And I urge everybody to please stick to the rules, health advice, and only leave home if you absolutely have to," NSW Premier Gladys Berejiklian said.
There are 362 cases admitted to hospital, with 58 in intensive care and 24 requiring ventilation. Of the 58 cases in intensive care, 16 are aged under 50.
"We are seeing large numbers of people with COVID admitted to hospital," Dr McAnulty said.
"Young people are certainly getting caught up with this disease. With the 58 people in ICU, 54 were not vaccinated, three had received their first dose of AstraZeneca and one had received their first dose of Pfizer vaccine."
NSW Health hopes to administer 5000 AstraZeneca shots at the Sydney Olympic Park hub on Sunday, including 1000 to authorised supermarket and food distribution workers, in a targeted push to inoculate the most mobile and at-risk people in the outbreak. Ms Berejiklian has set a target of six million doses to be administered by the end of August.
Appointments are available on the NSW government website.
Meanwhile, residents in regional NSW are being urged to follow health orders and stay home as police ramp up compliance operations. The NSW town of Armidale is now in lockdown after the virus arrived in the Northern Tableland towns after a six-hour journey on a regional NSW train.
More than 25,000 residents from the Armidale local government area have joined eight local government areas, including councils covering the Hunter Valley wine country, that were plunged into lockdown on Thursday after several new cases were recorded.
The NSW government is resisting pressure from federal counterparts and the state opposition to implement a stricter lockdown, arguing a lack of compliance with the current rules was the key driver of Sydney's rising number of COVID-19 cases.
Victoria has recorded 11 new local cases on Sunday, with hundreds of students and staff linked to a high school in Melbourne's inner north-west were ordered to isolate after a student tested positive for coronavirus.
Victorian government sources and epidemiologists say the state's lockdown will almost certainly last for more than seven days because it could take weeks for all people to be in isolation for their infectious period.
NSW Health sent out further venues of concern last night including a chemist, a university housing complex and a service station in Newcastle, Lake Macquarie and western Sydney.
South-east Queensland residents will be relieved from stay-at-home orders after nine new local COVID-19 cases were reported on Sunday, but Cairns will clamp down for three days after a taxi driver in the area tested positive.
Source: smh.com.au