New Greek government sworn in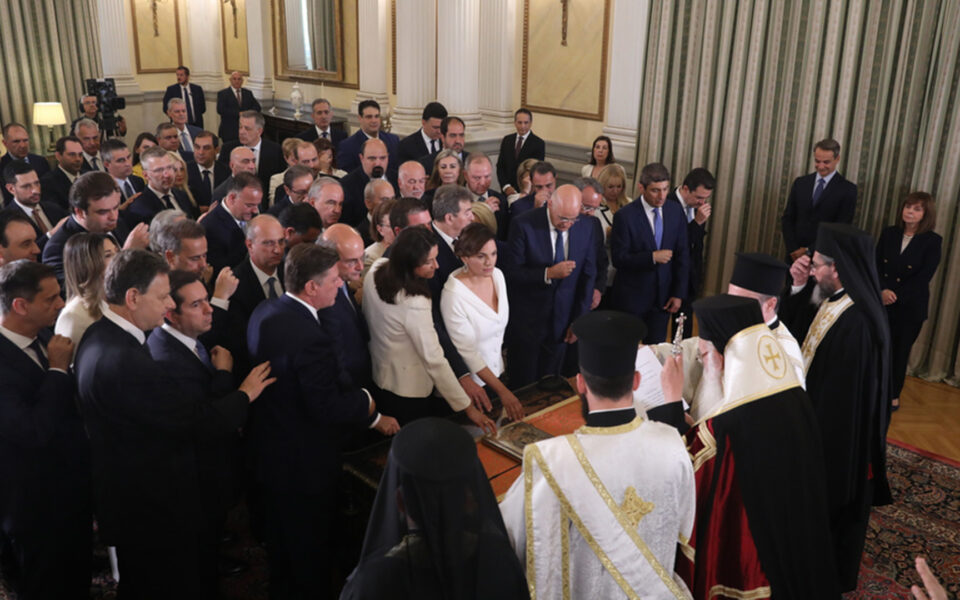 The members of Greece's new government were sworn in on Tuesday in a ceremony which was presided over by His Beatitude Archbishop Ieronymos of Athens and All Greece at the Presidential Mansion in Athens that was attended also by President Katerina Sakellaropoulou.
The newly sworn-in ministers are now expected to head to their respective headquarters to take over their portfolios from the caretaker government that was appointed after the inconclusive general election on May 21.
They will then convene for the first meeting of the Cabinet on Wednesday at the prime minister's official residence at the Maximos Mansion.
The new ministers appointed by re-elected Prime Minister Kyriakos Mitsotakis are:
Finance: Kostis Hatzidakis
(Alt. Minister: Nikos Papathanasis;
Dep. Minister for Tax Policy: Harry Theoharis; Dep. Minister: Thanos Petralias)
Foreign Affairs: Giorgos Gerapetritis
(Deputies: Giorgos Kotsiras,
Alexandra Papadopoulou, Kostas Fragogiannis)
Defense: Nikos Dendias
(Deputies: Yiannis Kefaloyiannis, Nikos Hardalias)
Justice: Giorgos Floridis
Labor: Adonis Georgiadis
Development: Kostas Skrekas
Civil Protection: Vassilis Kikilias
Education: Kyriakos Pierrakakis
(Alt. Minister for Sports: Giannis Economou)
Health: Michalis Chrysochoidis
(Alt. Minister: Eirini Agapidaki)
Energy & Environment: Theodoros Skylakakis
Culture: Lina Mendoni
Interior: Niki Kerameus
(Alt. Minister: Theodoros Livanios)
Digital Governance: Dimitris Papastergiou
Infrastructure & Transport: Christos Staikouras
Maritime & Island Policy: Miltiadis Varvitsiotis
Agriculture: Lefteris Avgenakis
Tourism: Olga Kefalogianni
Migration: Dimitris Keridis
Citizens' Protection: Notis Mitarakis
Social Cohesion & Family: Sofia Zacharaki
State Ministers: Makis Voridis, Stavros Papastavrou, Akis Skertsos
Deputy Ministers to the PM: Giannis Bratakos, Thanasis Kontogeorgis
Government spokesperson: Pavlos Marinakis
Source: ekathimerini.com