Metropolitan Ieronymos of Larissa at the Holy Monastery of Vatopedi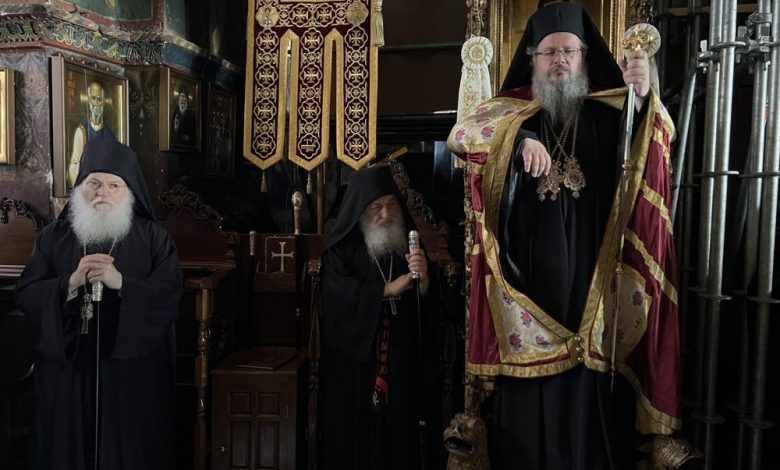 On the occasion of the Synaxis of All Saints of Vatopaidi Monastery, and responding to the invitation from the monastery's Abbot, Archimandrite Ephraim, His Eminence Metropolitan Ieornymos of Larissa and Tyrnavos presided over the feast day celebrations.
Metropolitan Ieronymos, who was accompanied also by His Eminence Metropolitan Myron of New Zealand, conducted the festive vigil of the feast day, and was also joined by the Abbot of the Holy Monastery of Karakalou, Archimandrite Philotheos, as well as the Abbot of the Monastery of Vatopedi, Archimandrite Ephraim, as well as a multitude of Vatopedi Fathers and a delegation of Fathers from Karakalou, with the presence of hundreds of pilgrims.
Both during the Litany and at the festive refectory, His Eminence Metropolitan Ieronymos, following the encouragement of the Abbot of the Monastery, delivered a homily appropriate to the occasion, referring to the Saints and Holy Communion respectively. Metropolitan Ieronymos was accompanied by the Director of his Personal Office, Professor and Archon Protonotarios of the Ecumenical Patriarchate, Mr. Sotirios Balatsoukas, as well as by the Rector of the University of Thessaly, Mr. Charalambos Bilinis and the Vice-Rector, Mr. Athanasios Tsakris. He was also accompanied by a small group of pilgrims from Larissa.
More photos: