Mayor of Izyum: The city is being mercilessly bombarded by Russians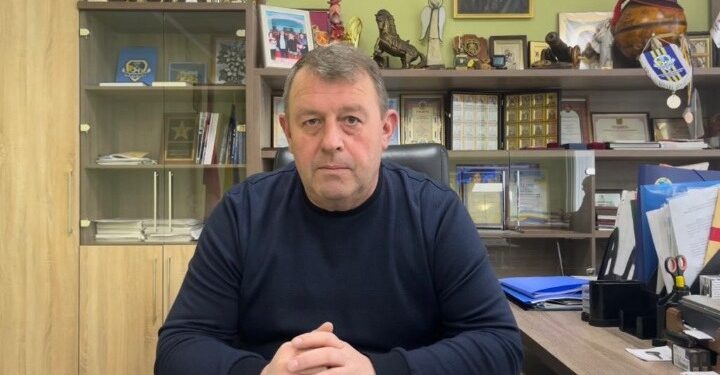 The small town of Izyum, in the Kharkiv region of eastern Ukraine, is a divided city after the invasion of the Russian army. The part of the town on the northern bank of the Severci Donets river that crosses it has been occupied by Russian forces and the southern part is controlled by the Ukrainian armed forces and militia.
"The city is being mercilessly bombarded by the Russians," the mayor of the city, Valeri Marchenko, said in a telephone conversation with ANA-MPA. "We have no communication with the occupied territories, the Russian army is completely blocking communication and not letting anyone in.
While in the southern part of the city, we, along with volunteers, organize the delivery of humanitarian aid and evacuate as many residents as we can. We are trying, with the few personnel left, because most of them are gone, to keep Izyum alive," he said.
According to the mayor of this small town with 40,000 souls, at least 3,000 civilians have left the town since the attack began. "Thanks to the organized evacuation operation, we managed to get a lot of women and children out of the city. …… Right now, the evacuation issue is acute. Many are waiting for the opportunity to leave, but, unfortunately, the Russian conquerors refuse to open "humanitarian corridors" for the evacuation of the civilian population" he said.
Valeri Marchenko described to ANA-MPA the damage that the city has suffered. "After heavy aerial bombardment, artillery bombardment, and rocket strikes, essentially our city was destroyed. Entire blocks of buildings became ruins and the electricity, water, gas, mobile, and internet networks were completely destroyed. Monuments of historical architecture and the city museum were burned by the bombs. Churches were bombed. The river bridges connecting the two banks have been blown up.
The biggest horror for us is that the Russian army in Izyum is carrying out targeted bombardments of residential areas and apartment buildings. We are trying to document all these actions in order to prove their crimes against humanity. Without exaggeration, I can state that the city of Izyum is now in ruins," he said, adding that the Ukrainian armed forces "heroically defend the southern part of the city".
Asked if Greeks live in his city, he said that there is not a large number of local residents with Greek nationality. "There is no organized Greek community in Izyum, unlike Kharkiv, where the Greek presence is strong."
Concluding the conversation, the mayor of Izyum told us that "until the dawn of the invasion he did not believe that the Russians would attack us" and stressed: "The war in Ukraine is not a local conflict in Eastern Europe, it is a battle between Culture and barbarism, a battle between Democracy and tyranny.
And Western countries can and must help Ukraine defeat the evil that now comes from the Russian Federation. We are eternally grateful to our international friends and partners for their help and support to Ukraine and Izyum."
Source: orthodoxtimes.com