Honouring the Heroes of the Battle of Crete at St Andrew's Grammar, Perth
On Tuesday the 25th of May 2021, the Greek Orthodox Day School of St Andrew's Grammar in Perth WA held a special assembly to celebrate Easter and also to commemorate the Pontian Genocide as well as the 80th anniversary of the Battle of Crete. The assembly was held in the presence of His Grace Bishop Elpidios of Kyaneon.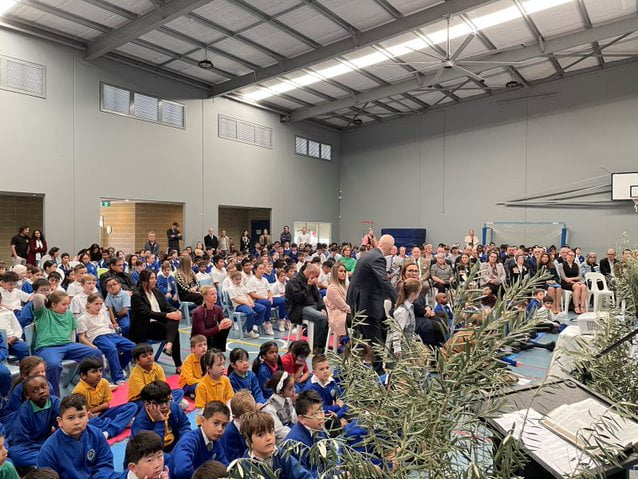 His Grace opened the assembly with the chanting of Χριστός Ανέστη and read the Resurrection account from the Gospel of Mark. His Grace conveyed to all the staff and students the love and blessings of His Eminence Archbishop Makarios.
The students honoured the dual commemorations with various hymns, poems and dances from the Pontian and Cretan traditions. School Principle, Mrs Dawn Clements, spoke about the special importance, in particular, of the Battle of Crete in WWII to the Greek and Australian people.
The assembly was blessed to have present various current and former members of the Australian Armed Forces and surviving family members of soldiers who fought at the Battle of Crete. In particular, the assembly was joined by the last surviving Australian soldier in WA to have served at the Battle of Crete, 102-year-old veteran Mr Arthur Leggett OAM. His Grace Bishop Elpidios conveyed to Mr Leggett the love and gratitude of His Eminence Archbishop Makarios for his service to the people of Crete. His Grace reminded Mr Leggett that he would have fought alongside the grandparents of His Eminence in Crete. As a sign of respect and honour, His Grace kissed the right hand of Mr Leggett to thank him for his service on behalf of all the Greek people.
His Grace also expressed his condolences to the family of Mr Norm Eaton who sadly passed away in recent days. Mr Eaton served in the Battle of Crete and was most recently present at the Chapel of St John the Theologian in Prevelly, WA,  for the feast day celebrations. The Chapel of St John in Prevelly was built by the returned Australian serviceman in honour of the monks of the Prevelly monastery in Crete who protected and aided them during the Battle.
Also present at the assembly was the Consul for Greece in Perth, Mrs Georgia Karasiotou, who also thanked Mr Leggett and the other Australian serviceman for the great sacrifice they made in serving to protect the Greek people during WWII.