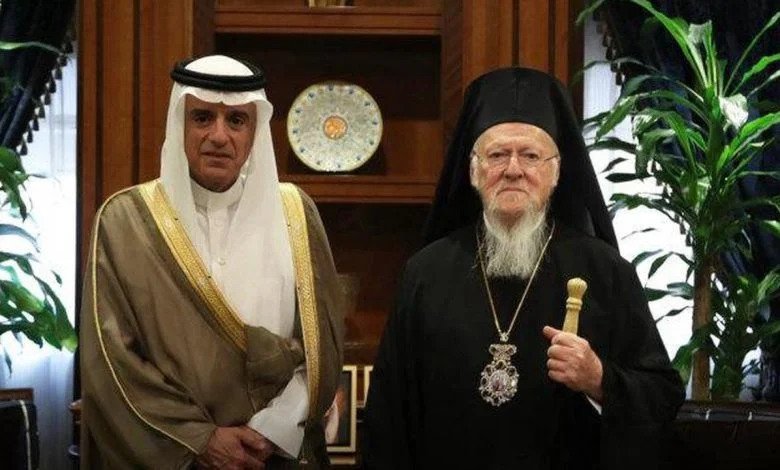 His All-Holiness Ecumenical Patriarch Bartholomew, who is visiting Riyadh, Saudi Arabia, where he addressed the International Conference on "Meeting for the Promotion of Common Values among Believers in Religions", met with on Wednesday, 11 May,  the Minister of State for Foreign Affairs of Saudi Arabia, Mr. Adel al-Jubeir, who expressed his admiration for the initiatives of His All-Holiness and the actions of the Ecumenical Throne.
The meeting was also attended by Mr. Fahad Abualnasr, Deputy Foreign Minister.
Afterwards, His All-Holiness received in audience at his residence, Mr. Rashad Hussain, Ambassador of the United States, for religious freedom.
The same evening, His All-Holiness visited the Greek Embassy, where he was warmly welcomed by the Ambassador of Greece in Riyadh, Mr Alexis Konstantopoulos, in the presence of his associates and Greeks working in Saudi Arabia. His Holiness spoke paternally to those present and blessed them.
Afterwards, the Greek Ambassador hosted a dinner in honour of His All-Holiness and his entourage, which was also attended by the Ambassador of Cyprus Mr Stavros Avgoustidis, diplomats and businessmen.