Greek PM discusses wildfires with President Sakellaropoulou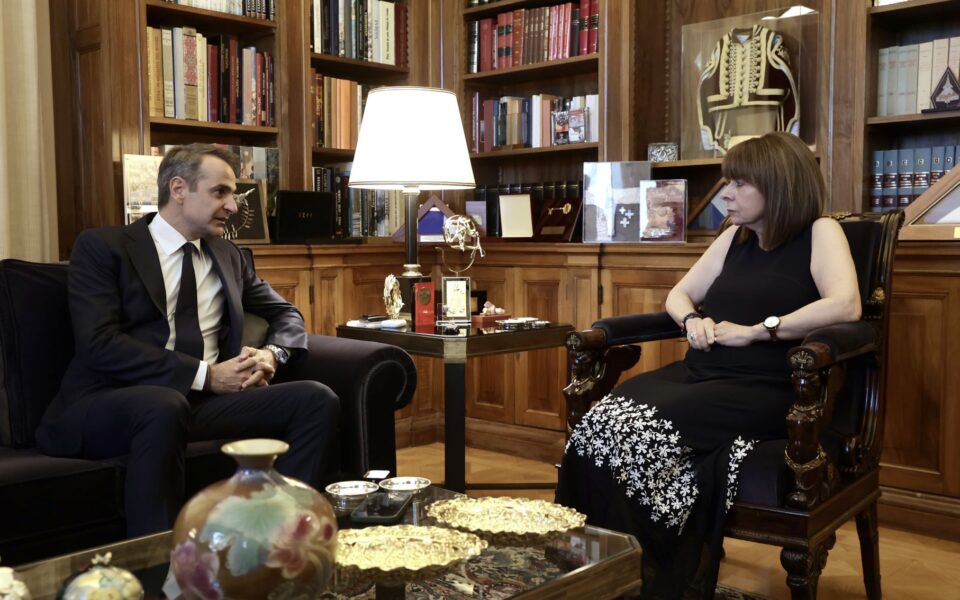 Prime Minister Kyriakos Mitsotakis carried out his regular monthly visit to the President of the Hellenic Republic Katerina Sakellaropoulou on Thursday, with the deadly fires being at the forefront of what they discussed.
These days are difficult and very sad, Madam President, as we mourn the two pilots of the Hellenic Air Force that fell in the line of duty in the fight against the wildfires and two of our fellow citizens that did not have time to get away from the fiery maelstrom. There is no doubt, we can see it throughout the Mediterranean, that the climate crisis is here and affects us all, perhaps even more severely than scientists had warned," Mitsotakis underlined.
In a brief discussion with Sakellaropoulou on camera, Mitsotakis underlined that "the climate crisis may be a reality but it cannot also be an alibi. Our country must take even more steps than those it perhaps planned in order to be ready to mitigate as far as possible the repercussions of a reality that all of us already feel and which could have dramatic consequences for many different sectors of economic and social life."
The Prime Minister also said that "the government should adapt its planning for tackling wildfires and many steps have been made in this direction. Nobody can accuse the State of being absent, as there were both firefighters and firefighting aircraft. It is certain, however, that we must become better and learn from the best, we must constantly improve and not simply make do with the progress we have achieved."
Concluding, the Prime Minister noted that "a human hand is responsible for most wildfires," and clarified that "if it was an act of negligence, this is unforgivable," while urging the public to use their common sense. In the case of foul play, however, he underlined that those responsible "should know that the sword of justice will be merciless against those who believe that they can get away with it, after placing human lives at risk and, of course, destroying our precious forest resources."
Source: ekathimerini.com