Greece: "Kleon" to see temperature highs of 41 degrees Celsius on Saturday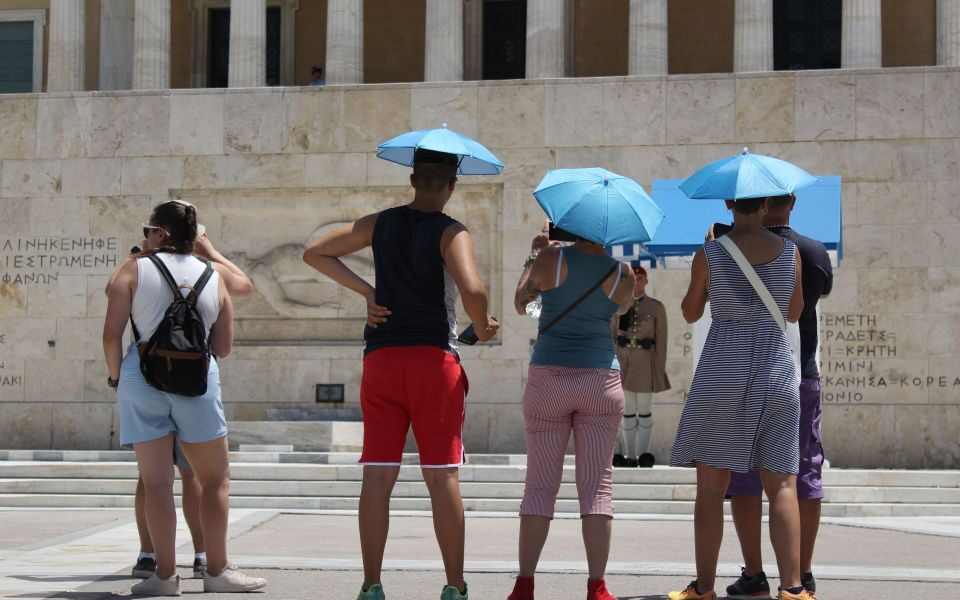 "Kleon," the scorching heatwave currently sweeping across the country, is set to continue on Saturday, with meteorologists predicting highs of 41 degrees Celsius in many areas of the country.
The pick up in the wind, which will reach force 7 in the Aegean from Sunday to Wednesday, will cause temperatures to drop slightly.
Temperatures in Attica, which includes Athens, will generally range from 28 to 39-40 degrees but will be 2 to 3 degrees lower in eastern areas.
The north of the country will see some temporary cloud at midday and in the afternoon, with the possibility of rain in some places in the mountains of eastern Macedonia and Thrace.
In the rest of continental Greece, the temperature will reach 39 to 40 degrees, but in the interior of Central Greece, the Peloponnese and Thessaly the mercury is expected to reach 41 degrees.
The Ionian islands, the eastern Aegean islands, the Dodecanese and southern Crete will see temperature highs of 37 to 40 degrees.
In Athens, authorities have decided to again keep the Acropolis archaeological site closed for some hours Saturday.
Railway passengers are advised that delays can be expected on some services due to the possible imposition of speed restrictions on some lines, particularly the Athens-Chalkida-Athens route.
Friday saw several areas in Attica loose power on Friday. Crews worked until late in the night to restore the power supply in the southern suburbs of Ilioupoli, Argyroupoli and Elliniko.
Areas in Ano Liosia, Agioi Anargyroi and Kamatero also faced problems, while there were power outages in parts of the city centre as well.
Power grid operator DEDDIE attributed the outages to the interruption of the medium voltage lines.
Protection
Authorities stress the importance of remaining vigilant, particularly for individuals belonging to vulnerable groups, in areas where high temperatures are expected. This heightened awareness is crucial to prevent heat-related health issues such as heat exhaustion and heatstroke.
To ensure self-protection during the scorching temperatures, citizens are advised to seek shelter in cool and shaded areas, avoiding crowded places. It is recommended to use air conditioning or fans to maintain a comfortable environment and to refrain from engaging in strenuous physical activities in locations with high temperatures, poor ventilation, and high humidity.
Minimising sun exposure is crucial, and individuals should avoid walking or running under direct sunlight. Wearing hats, sunglasses, and light-colored, breathable clothing that facilitates sweat evaporation is highly recommended. Synthetic materials should be avoided.
Maintaining a healthy diet is important, especially during heatwaves. Citizens are advised to consume light meals consisting of fruits and vegetables while limiting fatty foods and portion sizes.
Staying well-hydrated is vital. Drinking ample amounts of water and fruit juices is recommended, while avoiding alcoholic beverages.
Special attention should be given to the most vulnerable members of society, including infants, young children, the elderly, and individuals with chronic illnesses. Ensuring their protection from the extreme temperatures is crucial.
The General Secretariat for Civil Protection has alerted relevant state services, as well as regions and municipalities across the country, to be on high alert and prepared for civil protection measures. This readiness will enable a prompt response to the consequences of the heatwave.
Source: ekathimerini.com