Flames devour forests, homes as wildfires that have left 20 dead in Greece burn out of control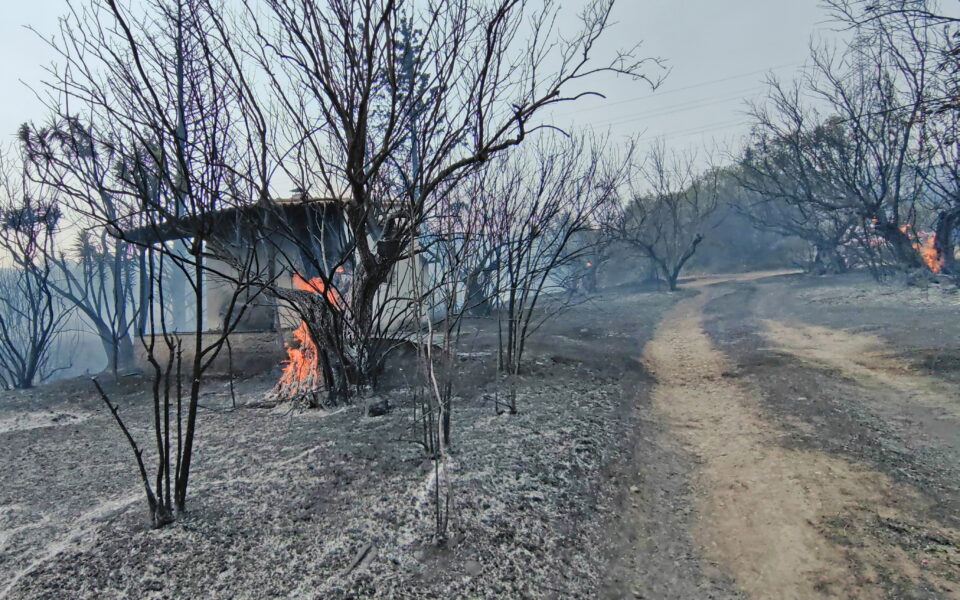 Advancing flames devoured forests and homes as dozens of wildfires raged across Greece on Wednesday, leaving 20 people dead over the past three days.
Greece's largest forest fire was burning out of control for the fifth day near the city of Alexandroupolis in the northeast, while another major blaze on the northwestern fringe of Athens was torching homes and heading into Parnitha national park, one of the last green areas near the Greek capital, sending plumes of smoke over the city.
Firefighters tackled 355 forest fires over five days from Friday to Tuesday, Climate Crisis and Civil Protection Minister Vassilis Kikilias said Wednesday, including 209 over the last 48 hours alone.
Gale-force winds combined with hot, dry summer conditions to whip up the flames, making the blazes exceptionally difficult to bring under control., authorities said.
This summer's weather conditions have been "the worst since meteorological data have been gathered and the fire risk map has been issued in the country," Kikilias said at a news conference. Extensive parts of the country have been placed at Level 5, the highest for fire risk, seven times so far this year, which Kikilias said was double the number in 2021, four times that of 2019 and seven times more than in 2012.
Authorities issued dozens of evacuation orders for villages and seaside areas this week, with the coast guard and private boats plucking some people from beaches and coasts. The main hospital in Alexandroupolis was evacuated overnight Monday, with nearly 70 of its more than 200 patients transferred to a ferry docked in the city's port turned into a temporary floating hospital.
Although winds were gradually abating in many parts of the country, the risk of new fires remained high. "Conditions remain difficult and in many cases extreme," fire department spokesperson Ioannis Artopios said.
Firefighters searching recently burnt areas in the Alexandroupolis region, which is near the border with Turkey, discovered the bodies of 18 people believed to be migrants in a forest Tuesday. Two other people were found dead on Monday, one in northern Greece and another in a separate fire in central Greece.
With firefighting forces stretched to the limit, Greece called for assistance from other European countries. Germany, Sweden, Croatia and Cyprus sent water-dropping aircraft, Romania and the Czech Republic sent dozens of firefighters and water tanks, and French firefighters were helping tackle a persistent wildfire on the island of Evia.
Evacuations were ordered for several neighborhoods and a migrant camp on the northwestern fringe of the Greek capital, as a wildfire that started Tuesday raced up a mountain toward Parnitha national park, threatened a military base in the area and torched homes in the foothills.
More than 200 firefighters backed by volunteers, military and police forces, eight helicopters and seven planes, including two from Germany and two from Sweden, were battling the blaze.
The fire in Alexandroupolis continued to burn out of control, with dozens of Romanian firefighters joining the battle, backed by eight helicopters and five planes, including two from Cyprus.
Supreme Court prosecutor Georgia Adilini asked the Alexandroupolis prosecutor to launch investigations into whether organized arson groups were operating in the region.
Kikilias said the fire in the northeastern border region started in 15 different places inside a forest, with strong winds and dry conditions contributing to create a massive fire front. "Any firefighting forces, no matter how strong they were, would not have been able to bring it under control," Kikilias said.
Adilini also asked the Alexandroupolis prosecutor to investigate incidents of racist violence after three men in the Alexandroupolis area allegedly sequestered 13 migrants whom they accused of being linked to the wildfire.
Police late Tuesday arrested one Albanian and two Greek nationals on suspicion of imprisoning the 13 Syrians and Pakistanis in a car trailer. A video posted online showed one of the three referring to the migrants in terminology used for livestock and urging other members of the public to round up migrants.
The three were charged Wednesday with a series of crimes, including kidnapping, and were being held pending a preliminary court hearing.
With their hot, dry summers, southern European countries are particularly prone to wildfires. European Union officials have blamed climate change for the increasing frequency and intensity of wildfires in Europe, noting that 2022 was the second-worst year for wildfire damage on record after 2017.
Source: AP