Daniel death toll rises to 10, four missing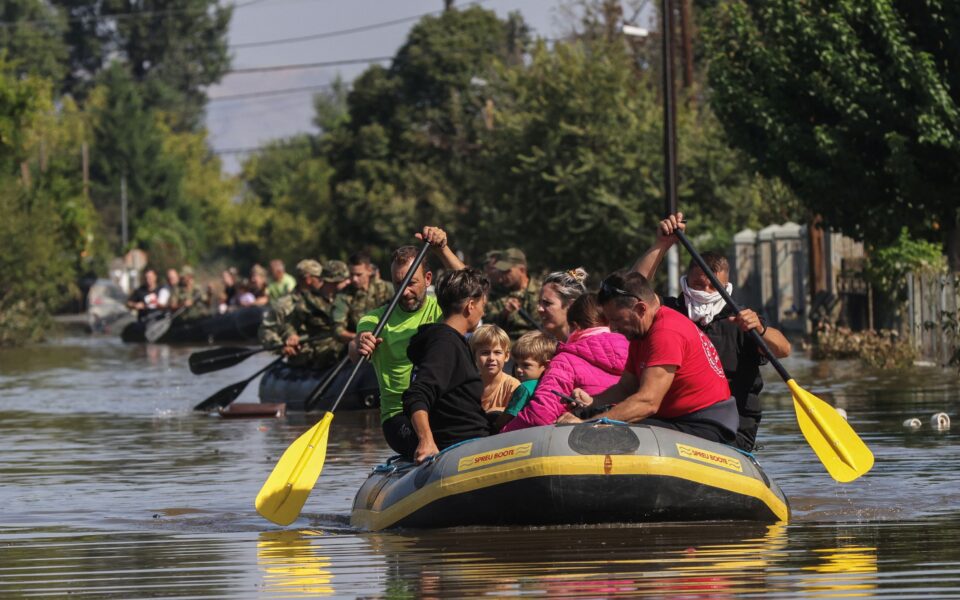 The death toll from storm Daniel that began battering central Greece on Monday rose to 10 on Friday while four people were still missing, according to Climate Crisis and Civil Protection Minister Vassilis Kikilias.
The minister stated that authorities remained on high alert in areas around the Pineios River, which has broken its banks, primarily impacting the villages of Giannouli and Tyrnavos, as well as parts of the municipality of Larissa. Kikilias also warned that the flooding could worsen at any time.
He also said that 296 rescues had been carried out by fire brigade and military helicopters since Thursday, when the evacuation and rescue efforts began in the 14 villages using aerial and ground means. Meanwhile, Kathimerini understands that while hundreds of people remained trapped on rooftops and terraces in the villages of Karditsa, the state apparatus seemed to be watching on as the disaster unfolded as communication signals went back and forth between the bodies involved, the Unified Coordination Center for Operations and Crisis Management of Civil Protection and the National Operations Center of the General Staff.
The communication mayhem resulted in rescue vehicles and fire service and army personnel not appearing on the ground for several hours.
But even when air rescue operations finally began, only two Hellenic Air Force Super Pumas rushed to the affected areas – one even arrived from Chios. According to reports, the two helicopters were the only ones available.
The lack of coordination reportedly sparked irritation during the meeting at the Civil Protection Coordination Committee under Prime Minister Kyriakos Mitsotakis.
The rainfall recorded by the National Observatory of Athens' network of automatic weather stations was much higher compared to the corresponding values during the Ianos front in September 2020, according to the National Observatory of Athens' meteo.gr.
During Ianos, cumulative rainfall of 317 mm (Pertouli), 274 mm (Mouzaki) and 227 mm (Ithaki) were recorded, whereas the cumulative rainfall during Daniel were significantly higher – Zagora Pelion (910 mm), Portaria Pelion (885 mm), Anilio Metsovo (695 mm), Pezoula Karditsa (660 mm), Karditsa (659 mm).
It should be noted that some of the meteorological stations either stopped transmitting data due to power failure or lost part of their data during the storms.
Source: ekathimerini.com