Concern over Magnesia wildfire as firefighters struggle to contain other blazes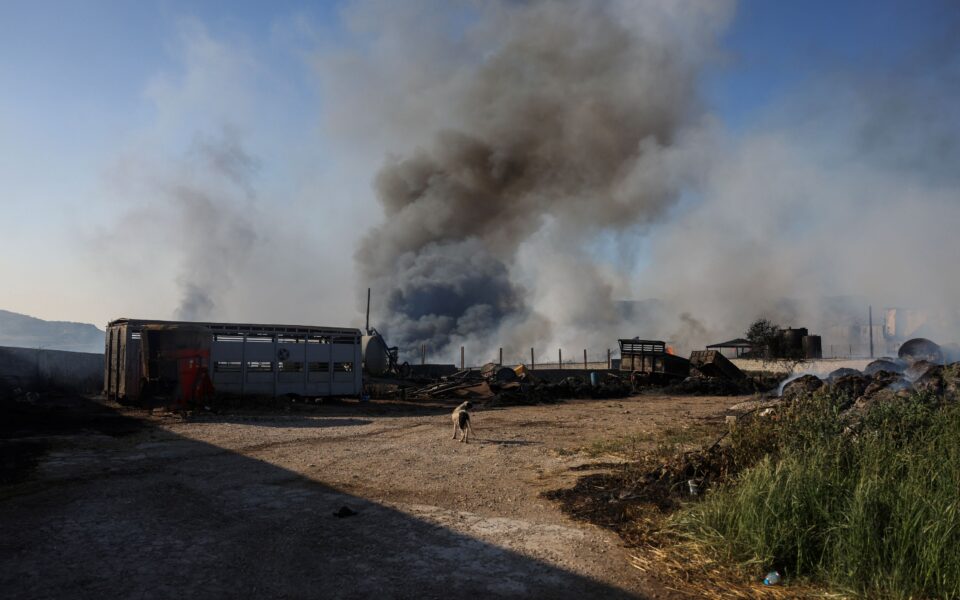 Firefighters, police, volunteers and residents of the region of Magnesia in central Greece were fighting on Thursday a large wildfire that broke out in Velestino the day before, that has killed two people who did not manage to flee.
The fire service said there were no immediate reports of people trapped in factory buildings but two people were found dead following fires in the surrounding area — an older woman burnt to death in a caravan and a shepherd who had gone to save his flock. Volos residents were urged to stay indoors due to the smoke inhalation hazard.
The blaze has split in two fronts, one north of the city of Volos and the other moving towards the coastal town of Nea Aghialos.
Shortly after 1:30 a.m. on Thursday morning, a message was sent via the emergency number 112 to the residents of the Melissatika to evacuate the area and head towards Volos. At 5:30 a.m. a new message was sent to evacuate the areas Chrysi Akti Panagia, Velanidia, Marathos and Kritharia. A third message was sent at 5:46 a.m. for the evacuation of the areas Pefkakia, Alykes, Ag. Georgios and Nea Aghialos.
In the first light of day, three water bombers and one helicopter joined the ground forces operating in thr area.
On Rhodes flames rekindled in the villages Vati and Gennadi. Rhodes resident Philippos Karageorgiou lamented how the blazes destroyed "forest areas with virgin forest of several years … from herbs to anything you can imagine, and Rhodes was famous for all of these."
The fire on Corfu may be in recession, but there are still scattered fires. As for Karystos, in the south of the island of Evia, the fire is still burning in the areas of Antias and Platanistos.
Source: Kathimerini, Reuters