Australia can 'realistically' reach COVID-19 vaccine targets by end of year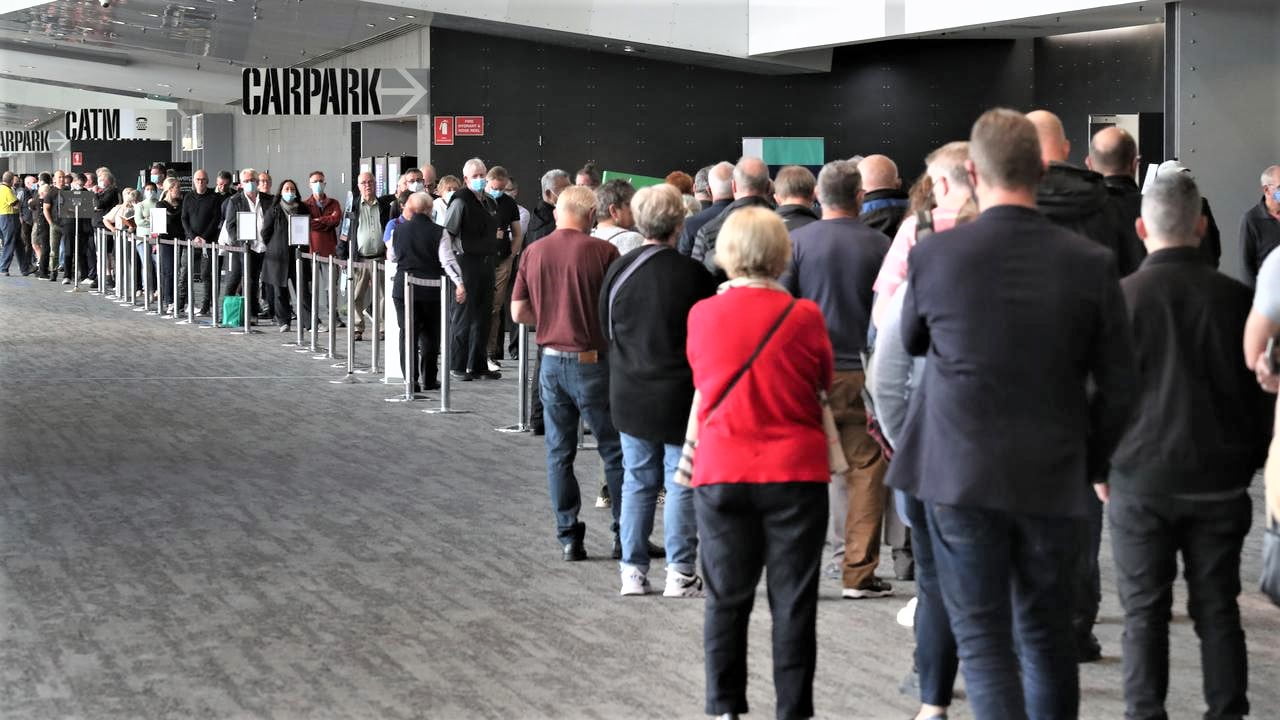 Australia's COVID-19 vaccine targets to reopen the nation and ease restrictions on vaccinated people could realistically be reached by the end of the year, according to infectious disease experts.
The federal government is promising every Australian who wants a vaccine will be offered one by Christmas.
But there are no hard timelines set for the rollout to be completed.
National Cabinet last Friday outlined a four-stage plan to guide the nation out of the pandemic and towards life without coronavirus restrictions.
Australia is currently in Phase A of the roadmap with just 19 per cent of the eligible population having been fully vaccinated, or around 3.9 million people.
The second stage, which would see eased restrictions on vaccinated individuals and reduce the likelihood of lockdowns, requires 70 per cent of people over the age of 16 to receive two doses.
When Australia reaches 80 per cent vaccination, more restrictions would be released, including removing caps on the number of returning vaccinated Australians, while vaccinated people would be allowed to travel overseas.
But how soon can Australia reach these vaccination thresholds and how will it get there?
Hesitancy 'not an issue'
To reach 70 per cent, the number of double-dosed Australians over the age of 16 will have to reach more than 14.4 million out of more than 20 million.
The nation has averaged around 100,000 vaccines a day throughout the second half of July and at this rate would reach the 70 per cent threshold in mid November.
Professor Peter Collignon, an infectious diseases expert from the Australian National University, said reaching the vaccine threshold by the end of the year was a "realistic" prospect.
"I don't actually think hesitancy is an issue – there is a sense of urgency for everybody if you look at the queues," he told SBS News.
"The more supply comes, the more we need to open up availability so people can do it easily."
Britain and Israel are currently the only similar countries to have achieved vaccination levels over 70 per cent, with Canada also not far from reaching the target.
Vaccine hesitancy has so far prevented the United States from reaching the threshold, particularly in some southern states.
But Professor Collignon said he believes the 80 per cent target is not insurmountable for Australia despite the challenge presenting a more difficult task.
"It is a realistic goal," he said.
"The more supply comes the more we need to open up availability so people can do it easily."
Supply must get ahead of demand
The vaccine rollout has been delayed by constrained supplies of the Pfizer vaccine and changes in medical advice affecting uptake of the AstraZeneca vaccine.
Prime Minister Scott Morrison has indicated he is confident the 70 per cent mark will be reached this year if enough people come forward to receive both jabs.
Health Minister Greg Hunt said the country was on track to ensure every Australian who wanted a vaccine could access one by the end of the year.
"We are on track to achieve this goal," he told reporters.
"[But] in terms of the 70 per cent and 80 per cent targets that's a challenge for all of us. We're not putting a timeframe on that."
As the federal government attempts to accelerate the vaccine rollout, it is seeking to make more distribution sites available, including bringing more pharmacies on board.
But Australians aged between 20 and 40 continue to face restrictions on accessing a vaccine depending on their state and territory.
Deakin University epidemiologist Catherine Bennett said opening up the rollout to younger Australians should help bolster vaccination numbers towards reaching the designated targets.
Promises of fewer restrictions should entice many to get the jab, she said.
"[The targets] can be an incentive to people if they actually realise that they can participate in some of those activities in a safer way, because they're vaccinated," she told SBS News.
"Once that end is in sight, and people can see that it's achievable, then hopefully, it will only accelerate things."
Professor Bennet said if the nation can continue to increase uptake numbers, she believes it can get "on track to complete" vaccine target requirements by the end of the year.
"[But] we won't know until we get our supply ahead of our demand," she told SBS News.
"We've got a way to go yet and a lot of people waiting to get their vaccine, who will be very glad when when their bookings finally come around."
'Eligible population' may increase with children
The Australian Technical Advisory Group on vaccines is currently considering whether to approve the Pfizer vaccine for children aged 12 to 15.
On Monday, the vaccine advisory body signed off on their use by children with underlying medical conditions, those who are immuno-compromised or from an Indigenous background or remote community.
If ATAGI does recommend the shots be given to children in this age category, the size of the eligible population would increase.
Labor's health spokesperson Mark Butler has accused the government of bungling the vaccine rollout by not getting supplies out quickly enough.
"We need to see that vaccination rate climb very, very quickly if we're going to protect the Australian population against this highly infectious variant, which is causing lockdown after lockdown," he said.
The vaccines figures also show a lower proportion of people from an Aboriginal and Torres Strait Islander background have received vaccinations.
As of 1 August, 140,202 people or 24 per cent of people who identify as Indigenous Australians have received at least one dose of their COVID-19 vaccine.
Around 10.8 per cent or 63,116 Indigenous Australians have now been fully vaccinated.
COVID-19 taskforce commander Lieutenant General John Frewen said reaching the vaccine threshold is going to rely on Australians turning out to get the jab.
"It is going to mean that Australians have to turn up," he told reporters.
"People in Australia really need to keep coming forward to get vaccinated so I encourage them to do so."