Wildfire rages near Athens for second day, forcing more evacuations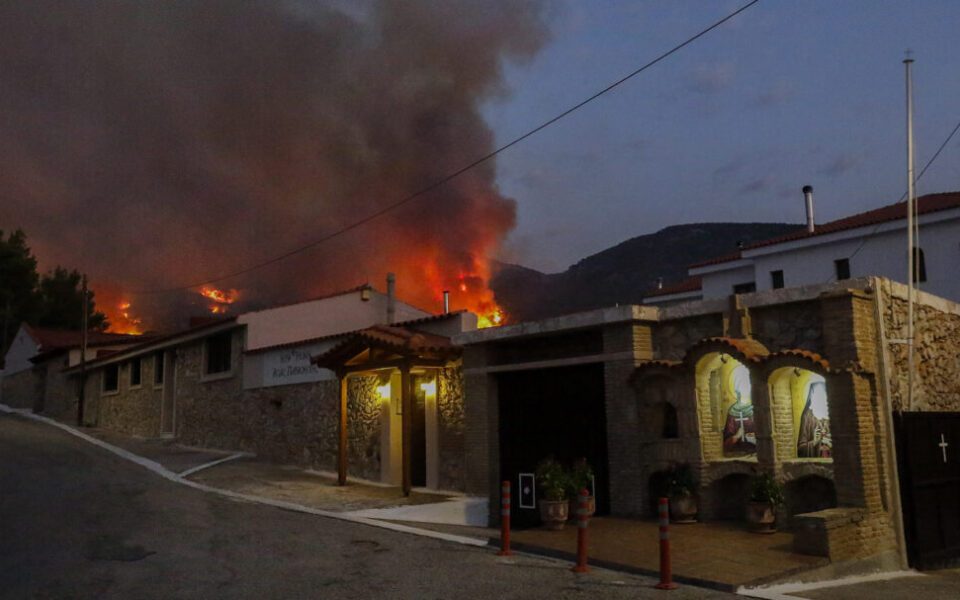 Hundreds of firefighters struggled overnight to contain a wildfire on the outskirts of Athens, forcing more evacuations as authorities warned the risk of new blazes was high across the country on Wednesday.
Twenty people have been killed since fires erupted in northern Greece on Saturday and quickly spread, fanned by gale force winds in the second major outbreak of the summer.
A fire near the village of Fyli on the foothills of Mount Parnitha, some 25 km (15 miles) north of Athens, spread towards the town of Menidi, where about 150 people had to be evacuated from three nursing homes, a local official said.
"We kept the fire away from homes," Stathis Topalidis, deputy mayor of Menidi, told state broadcaster ERT on Wednesday.
"Unfortunately the wind isn't helping at all."
He said the elderly were evacuated on busses to hotels or other care facilities.
The fire has left a trail of destruction, burning homes and cars in Fyli and forcing residents to flee on foot, some covering their faces with their clothes as a thick cloud of smoke wafted over the capital.
Volunteers loaded sheep in the trunks of cars to save them from the flames.
Rescuers discovered 18 burned bodies on Tuesday, believed to be migrants, in a rural area near Dadia forest in the northern Evros region bordering Turkey, a popular route for people from the Middle East and Asia seeking entry into the European Union.
In the Greek port city of Alexandroupolis nearby, dozens of hospital patients, some on stretchers, others with IV drips attached to their hands, were evacuated onto a ferry.
A satellite image broadcast on state television showed that smoke from the Evros fires had drifted across the country to the Ionian islands in the northwest, not far from Italy.
Summer wildfires a common in Greece but this year they have been made worse by unusually hot, dry and windy weather which scientists link to climate change.
In July, tens of thousands of foreign tourists were evacuated from the island of Rhodes, where a fire burned for a week, burning hotels and resorts as well as swathes of land.
Source: Reuters