(Video) Ecumenical Patriarch Bartholomew at the Monastery of Panagia Soumela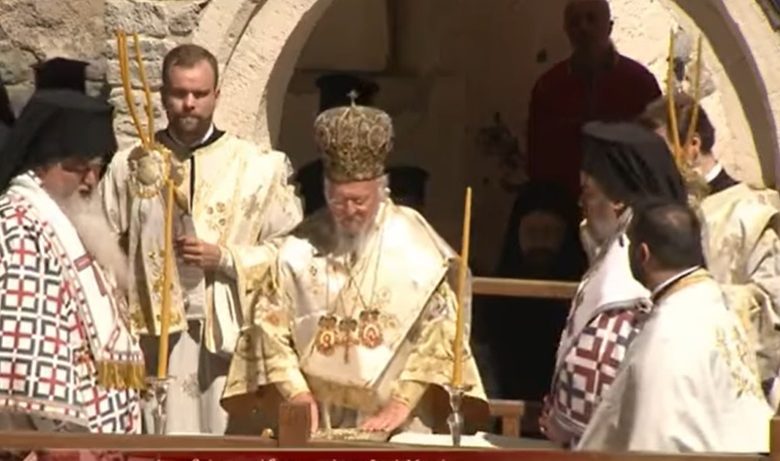 In an atmosphere of intense emotion and devotion, the Patriarchal Divine Liturgy was held on the morning of 15 August 2023, the Great Feast of the Mother of God, the Dormition of the Theotokos, in the historic Holy Monastery of Panagia Soumela, in Trabzon, Pontus. His All-Holiness Ecumenical Patriarch Bartholomew presided over the feast day Divine Liturgy and was joined also by His Eminence Metropolitan Ioustinos of Nea Krini and Kalamaria and His Eminence Metropolitan Bartholomew of Smyrna.
In his speech, the Ecumenical Patriarch pointed out that he visits The Holy Monastery of Panagia Soumela as a humble pilgrim, just like in 2010, when the Divine Liturgy was celebrated for the first time since 1922. Next, he referred to the relationship of the Virgin Mary with the Romiosini, which he characterised as a deeply ecclesial relationship, while in the main part of his speech His All-Holiness emphasised that "we come and return here… for reasons of faith and Nation". In detail, His All-Holiness in his feast day address underlined:
"We come and return here, to the holy mountain of Mela, to celebrate the Dormition of the Theotokos together with all our holy fathers who have fallen asleep in the hope of the Resurrection. We come to bring them a message of life. We come to touch the works of their hands. They who made these wonderful things and monuments.
Let us thrice-bless the bare bones and impart the holy spirit upon on all flesh. We come to be rebaptized in the Pyxitian river (Değirmen Dere) of history, culture and our hearts. To renew our ties with the past and to pray for the future. In order to remember their names, to place their bodies into His body and blood, in to the proskomide (preparation of the Holy Euchatist), to say unto them that  'Christ is risen, righteous fathers. Christ is risen and no one remains as dead in the tomb'. We come to the fierce Pontus, to the modest Cappadocia, to the cosmopolitan Asia Minor, to the simple, reverent and noble Eastern Thrace, for reasons of faith and Nation. And it is our faith that is meek, peaceful, having olive branches upon its mouth, being a symbol of settlement towards the four ends of the earth.
While our Orthodox Nation, has endured many sufferings and many times finds itself contesting profuse natural disasters, it has the Orthodox faith as an ark, with which it identifies itself in an absolute and unbreakable way. And so, we come for reasons of faith and Nation to those who taught us and transmitted to us these 'Holy of Holies', so that we may say a great thank you for what we are. To light a candle in their memory, to pray for the repose of their souls and to promise that in our hearts their memory will be eternal and unforgettable".
Watch the entire Divine Liturgy and the address of the Ecumenical Patriarch in the video below, from the television broadcast offered by the MEGA TV station: