Victoria records 64 new local cases, including 15 unlinked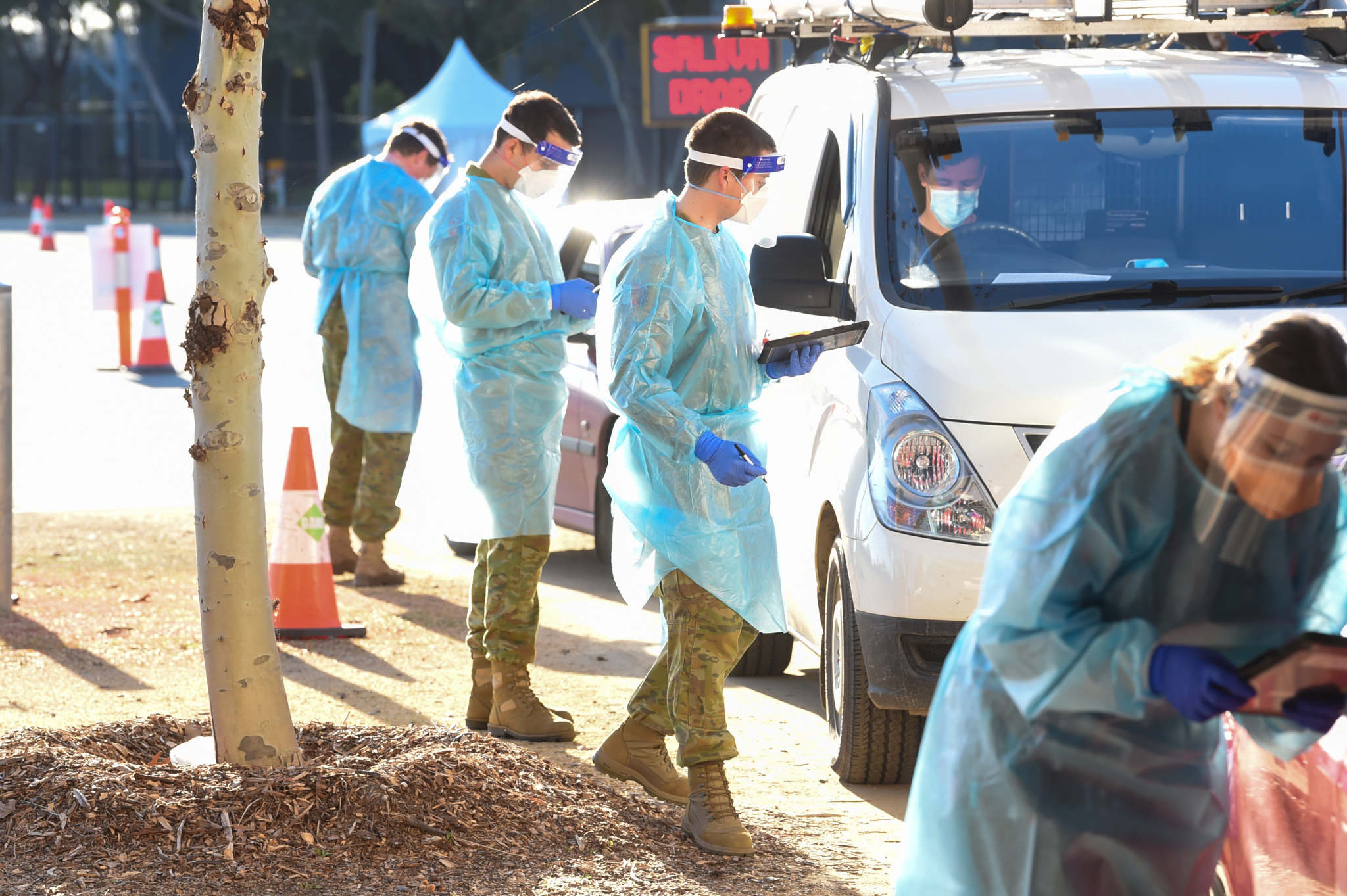 Victoria has recorded 64 local cases of COVID-19, with the state government in talks with the Commonwealth to increase vaccine supply to inoculate 120,000 more Victorians per week.
Twenty-eight of the new cases were out in the community while infectious, while 49 of the 64 locally acquired cases recorded on Saturday have been connected to the current outbreak.
More than 55,300 test results were returned on Friday, with 35,753 vaccination doses completed. No cases were detected in hotel quarantine.
The health department has listed 868 exposure sites across Victoria as of Saturday morning, with no new exposures added overnight.
The latest tier-2 exposure sites were listed in the suburbs of North Melbourne, Hoppers Crossing, Croydon, Croydon North, Broadmeadows, Wheelers Hill, Lilydale, Mooroolbark and the CBD.
Barakat International Goods in Hoppers Crossing is listed a tier-1 exposure site for more than a week, meaning those who visited the business during potential COVID-19 exposures must isolate for 14 days and get tested.
High-level discussions are underway to send more vaccine shots to Victoria after months of supply top-ups to NSW, with Victoria forecast to hit the first-dose target a month after its northern neighbour.
The state government is also considering direct payments to GPs to encourage them to vaccinate patients on weekends when subsidies in the federally run scheme often fail to cover wage costs.
More than 785,000 jabs were delivered in NSW in the week to Wednesday compared with 447,000 in Victoria as it continued to lag behind the ACT, NT, Tasmania and NSW on total per capita doses.
At a press conference on Friday, Health Minister Martin Foley said the demand from Victorians between the age of 18 and 39 for a jab had been so strong they now needed "all the supply we can lay our hands on" from the federal government to keep up.
"We will be very, very clear to the Commonwealth that Victoria will take all the vaccines it can lay its hands on, and we will need more vaccines to meet the level of demand that we're seeing now," he said.
COVID-19 response commander Jeroen Weimar confirmed on Friday there were 9000 first-dose Pfizer appointments available in Victoria up to mid-September, with more than 100,000 AstraZeneca doses available until the end of September.
Mr Weimar said 86 per cent of over 70s had received at least one vaccine, with 80 per cent of those over 60 with one jab. Around 75 per cent of those aged 50 or older have received at least one inoculation with the COVID-19 vaccine.
Source: smh.com.au