Shocking moments during evacuation of Cleiston Monastery – The nuns left holding the icon of the Virgin Mary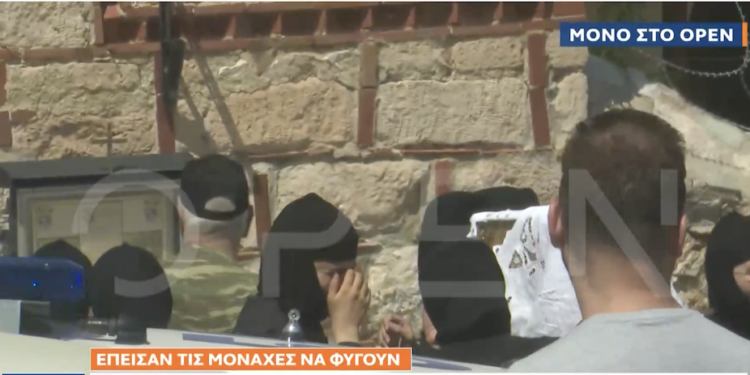 Shocking footage from the evacuation operation of the Holy Monastery of the Dormition of the Theotokos "Cleiston", where the fire is in full swing, was broadcast on OPEN TV.
A Super Puma helicopter evacuated nuns, pilgrims along with the help of an OPEN crew from the area. "We are in the monastery of Cleiston. I repeat 3 minors and 3 young children were evacuated with a Super Puma helicopter," the pilot said on the radio.
The videos show the dramatic efforts of police and firefighters to persuade the nuns to evacuate the monastery.
Watch the video released by OPEN TV below:
Firefighters battle to contain wildfires in Greece
Strong firefighting forces were battling the flames throughout the night on the large fire front that broke out on Tuesday in the area of Fyli in order to prevent the flames from heading towards the Mount Parnitha.
According to the Fire Department, the fire that broke out at midday on Tuesday in Fyli on the outskirts of Mount Parnitha is ongoing and heading east towards Dardiza, Agios Ioannis and Agia Paraskevi.
A total of 202 firefighters with 9 teams on foot and 65 vehicles are operating in the area, assisted by 2 aircraft and 5 helicopters. The efforts of the Fire Department are supported by volunteer firefighters, water tankers and machines of the army and the local administration.
Traffic regulations are in effect in the area due to the fire.
Moreover, messages were sent via the emergency number 112 to the residents of Korfoudi (Samothrace), Zaltsa (Boeotia), Galatas (Nafpaktia).
A very high risk of fire (risk category 4) is predicted for Wednesday in six regions of the country, according to the Fire Risk Prediction Map issued by the general secretariat of Civil Protection of the Ministry of Climate Crisis and Civil Protection (civilprotection.gov.gr).
More specifically, a very high fire risk is predicted for the following areas:
Eastern Macedonia & Thrace (Evros, including the island of Samothraki, Rhodope, Xanthi, Kavala, Thassos)
North Aegean (Lemnos, Lesvos)
Central Greece (Boeotia, Fthiotida, Evia, including the island of Skyros, Fokida)
Attica
Peloponnese (Corinthia, Argolis, Arcadia)
Western Greece (Achaia)
The general secretariat of Civil Protection (civilprotection.gov.gr) of the Ministry of Climate Crisis & Civil Protection has informed the competent authorities as well as the regions and municipalities of the above regions, so that they are on increased civil protection readiness in order to tackle any fires immediately.
Source: orthodoxtimes.com