Saints Stachys, Andrew, Amplias, Apelles, Urban, Aristobulus & Narcissus of the 70 (31 October)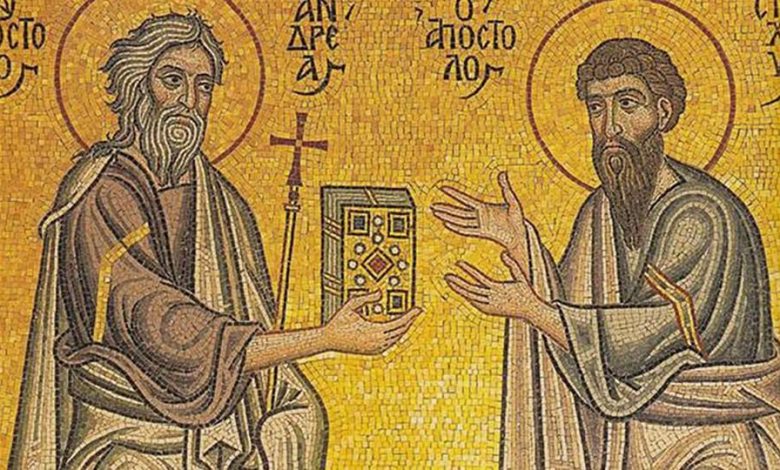 Saint Stachys, one of the Seventy Apostles, was ordained as Bishop of Byzantium by Saint Andrew (November 30). He founded a church at Argyropolis, and many people gathered there to hear him preach. He was a good shepherd to his flock, zealously proclaiming the Gospel of Christ, converting many to the true Faith, and laboring tirelessly for their salvation for sixteen years. He departed to the Lord in peace.
Saints Amplίas and Urban were also made Bishops by Saint Andrew. Amplίas was the Bishop of Diopolis, and Urban was the Bishop of Macedonia. They also suffered martyrdom because they were destroying the pagan idols.
Saint Nárcissus was appointed as Bishop of Athens by the Apostle Philip. He was tortured and put to death by the idol-worshippers because of his zeal in proclaiming the truth of the Gospel.
Saint Apellēs was the Bishop of Herakleia, and he brought many to the Christian Faith.
Saint Aristóboulos, one of the Seventy Apostles, was the brother of Saint Barnabas (June 11) and proclaimed the Gospel in Britain, where he died in peace. He is also commemorated on March 16, but on March 15 in Greek usage.
They were all of the Seventy. Stachys was an assistant to St. Andrew the First-called. St. Andrew appointed him Bishop of Byzantium. He established the church in Argyropolis and governed his flock faithfully and zealously. After sixteen years as bishop, he entered peacefully into rest in the Lord. Amplias and Urban worked likewise with St. Andrew, and were ordained bishops by him–Amplias in Lydda of Odyssopolis in Judea, and Urban in Macedonia. Both died as martyrs for Christ the Lord. Narcissus was appointed Bishop of Athens by the Apostle Philip. St. Apelles was Bishop of Heraclea in Trachis. Aristobulus, brother of the Apostle Barnabas, preached the Christian Faith in Britain and reposed peacefully there. 
Of these holy Apostles, Stachys became the first Bishop of Byzantium, consecrated by the Apostle Andrew. Having shepherded his people for sixteen years, he reposed in the Lord. As for the others, each one shone forth in the episcopal see appointed to him: Apelles, Bishop of Heraclea; Amplias, Bishop of Odyssopolis; Urban, Bishop of Macedonia; Narcissus, Bishop of Athens; and Aristobulus, Bishop of Britain.
Apolytikion of Stachys and Companions of the 70
Third Tone
O Holy Apostles, intercede to our merciful God, that He may grant our souls forgiveness of sins.
Kontakion of Stachys and Companions of the 70
Plagal of the Fourth Tone
Come, let us duly praise Apelles and famed Aristobulus, the wise Apostles, with Urban, Narcissos and Stachys, and blessed Amplias, as the most sacred treasures of the All-holy Spirit and the far-shining beams of Christ, the Sun of Glory, whom God brought together by His grace.
Source: oca.org / westserbdio.org / goarch.org