Church
Saint Xenophone & his Companions (26 January)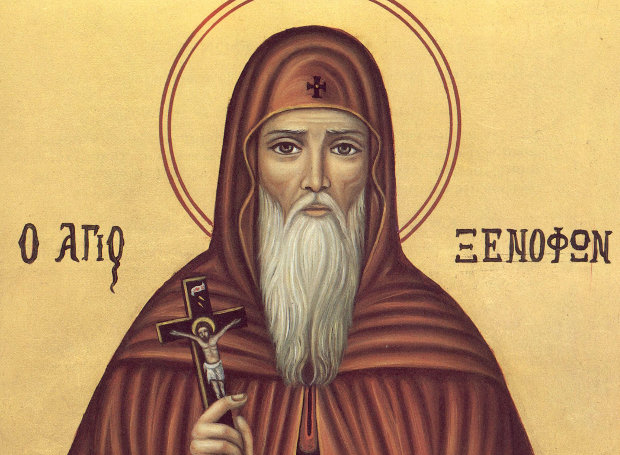 They were prominent and wealthy citizens of Constantinople. Xenophone and his wife, Maria, lived a God-pleasing life and dedicated all their attention to the Christian upbringing of their sons. When their sons came of age, they were sent to study in Beirut, but it so happened that a storm capsized their boat.
By the providence of God, John and Arcadius were somehow saved. They were tossed ashore by the waves, but in two different places, so that each thought the other had drowned. Out of grief for each other, they both became monks in two different monasteries. After two years, their grieving parents came to Jerusalem on a pilgrimage to venerate the holy shrines. There the brothers met, and after that the parents met their children, all with the help of the clairvoyance of a certain spiritual father.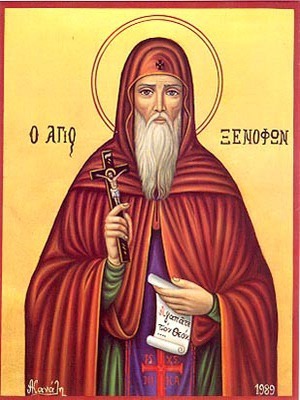 Out of gratitude to God, Xenophone and Maria distributed their entire estate to the poor, and both of them were tonsured. The history of these four souls is touching, and it shows how the Lord wonderfully guides the fate of those who believe in Him: how He permits pain and sorrow to come upon them that later, having been yet more strengthened in faith, they may be led into still greater joy. They lived and reposed in the Lord in the fifth century.
This Saint, a wealthy nobleman of Constantinople, was filled with piety toward God. He had two sons, Arcadius and John, whom he sent to Beirut to study law. But they were shipwrecked during their voyage; barely saved, they forsook all things and departed for Palestine. Saint Xenophon and his wife Mary, ignorant of what had happened, went in search of their sons. On finding them in Jerusalem, dressed in the habit of monks, they also took up the monastic life. And thus, having completed their lives in holiness, they departed for the Lord about the beginning of the sixth century. Saint Xenophon and his sons reposed at Saint Sabbas Monastery, and Mary at the Monastery of Saint Theodosius.
Apolytikion of Xenophon & his Companions
Fourth Tone
O God of our Fathers, ever dealing with us according to Thy gentleness: take not Thy mercy from us, but by their entreaties guide our life in peace.
Kontakion of Xenophon & his Companions
Fourth Tone
With thy yoke-mate and thy sons didst thou keep vigil in the courts of Christ thy Lord and thou didst cheerfully disperse thy wealth to paupers, O blessed one. Hence, ye have all now inherited joy divine.
Source: goarch.org