Romanian firefighters, first of six teams expected, arrive in Greece for fire season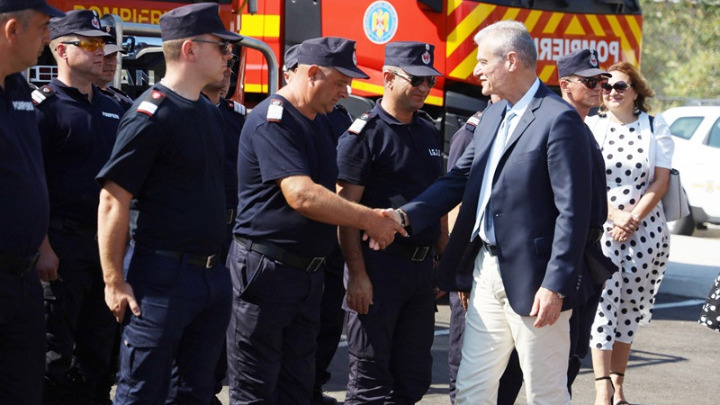 A team of 40 Romanian firefighters, the first if six European units expected to arrive in Greece for this year's fire season, arrived in the country on Wednesday, as part of an annual EU-wide plan to assist member-states prone to devastating wildfires.
The plan includes deploying hundreds of firefighters from different countries in high-risk countries during the driest months of summer- July and August.
The team was welcomed by Deputy Climate Crisis and Civil Protection Minister Evangelos Tournas who thanked them and recalled their key contribution in the massive wildfires of 2022. "The climate crisis has created massive problems, especially in Mediterranean Europe. We have, unfortunately, experienced them in the worst way here in Greece," he told attendants at the Fire Brigade's Training Center in Nea Makri, on the eastern coast of Attica.
The event was attended among others by Romanian Ambassador to Greece, Adriana Ciamba, and the chief of the Fire Brigade, Lt. General Giorgos Pournaras.
A total of 200 firefighters from six countries – Bulgaria, France, Germany, Romania, Slovakia and Malta – will be in Greece in July and August to assist depleted local forces. It is the second year the program has been put into effect, through the European Civil Protection Mechanism.
More than 450 firefighters will be pre-positioned in France, Greece and Portugal coming from 11 different EU countries, the European Commission said earlier this year.
Source: ekathimerini.com