PM Mitsotakis: Greece, Cyprus, Egypt scheme 'a beacon of stability in the Eastern Mediterranean'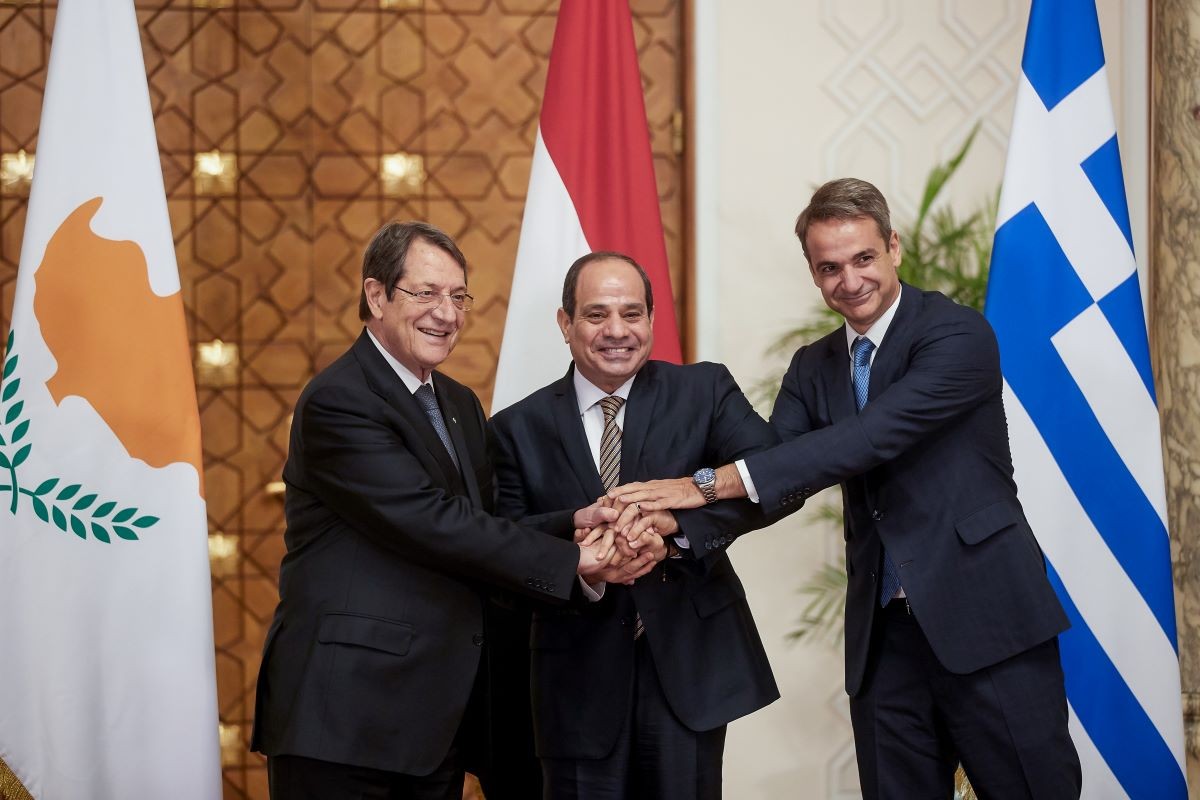 Prime Minister Kyriakos Mitsotakis on Tuesday called the trilateral cooperation scheme established by Greece, Cyprus, Egypt "a beacon of stability in the Eastern Mediterranean," in joint statements with Cyprus President Nicos Anastasiades and Egypt's President Abdel Fattah Al Sisi after the 9th Trilateral Summit of the three countries held in Athens.
He said it acted as a beacon of stability in many areas, "from energy and tourism to the protection of the environment and high technology, trade and shipping".
As Mitsotakis said "in our common course we added two more memoranda, concerning the interconnection for the transmission of electric power and cooperation in issues concerning the Greek diaspora. Energy is now becoming a bridge between Egypt and Europe".
"At a time that we seek to diversify our energy sources, Egypt may become a supplier of energy that will be mainly produced by the sun," Mitsotakis added, pointing out that all three countries are upgrading themselves and coordinating their action on several fronts, from the pandemic to climate change.
Mitsotakis said that they also discussed regional developments, adding that the three leaders had identical positions in terms of condemning Turkey's provocative practices and its aggressive rhetoric. "Turkey's plans pose a threat for peace in the wider region and do not forbode a constructive stance for the resolution of the Cyprus issue. The only way forward are the binding decisions of the UN Security Council," he added.
The Greek premier also stressed that "Greece is stating its intentions with its actions. It signs cooperation agreements, always in accordance with international law and all three countries (Greece, Cyprus, Egypt) have proved their commitment to international law."
Referring to the situation in Libya, Mitsotakis said that the developments in Libya have an effect on security in the wider region. The general elections in December are steps towards normality, as is the withdrawal of all foreign troops and mercenaries, he added. Greece, Egypt and Cyprus in actively support Libya's transition to peace and Democracy, he said.
Mitsotakis also referred to migration, stating that all three countries are coordinating on the specific issue. "Greece continues to save lives from the traffickers and Egypt's quiet contribution should be pointed out," he said.
Source : amna.gr