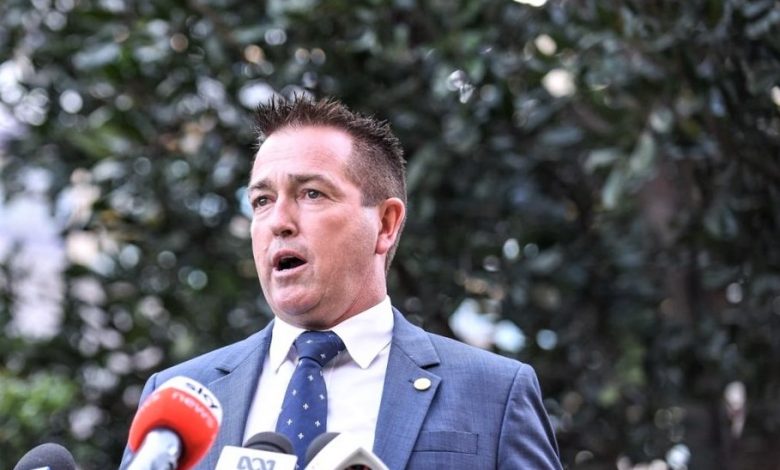 Paul Toole has been elected the new leader of the NSW Nationals and deputy premier at the first in-person party room meeting since the state's Delta lockdown began.
The member for Bathurst won a leadership ballot 15-3 after the snap resignation of John Barilaro on Monday, defeating his only opponent Water Minister and Oxley MP Melinda Pavey.
Mental Health Minister Bronnie Taylor has been elected unopposed deputy leader of the party.
In his first comments as deputy premier Mr Toole said he was pleased to be elected and would address the media later on Wednesday.
"I'll have more to say very shortly, but I'll tell you what, I'm looking forward to getting back to work," he said.
MPs inside the party room meeting, which lasted more than an hour, described the mood as "emotional" with John Barilaro addressing every member personally in his final remarks as leader.
"It was a bit of a tear-jerker," said one MP. "It's the end of an era. There is going to be a massive void without John."
The MP said Mr Toole addressed the room before the vote, saying he wanted to "make sure every member of the team is happy and has what they need".
"He talked about the relevance of experience he has had by being [Mr Barilaro's] deputy for the past couple of years," the MP said.
Ms Pavey also spoke before the ballot, highlighting the length of her experience as an MP and her aspiration to be the first female leader of the party.
Mr Toole's successful leadership bid comes less than 24 hours after Dominic Perrottet was sworn in as the next premier of NSW following a party room ballot on Tuesday.
Mr Perrottet on Tuesday said he would work with whoever the National party elected as its new leader, describing Mr Toole as a "good bloke."
"He's served his electorate well. I think he came into parliament in 2011 with me and won that seat from an independent," Mr Perrottet said.
"He's a strong campaigner, and he is the deputy leader, so I've worked very closely with him over this period of time".
While Ms Pavey had attracted the vocal backing of Sydney radio host Ray Hadley, party sources indicated that Mr Toole, who is the former mayor of Bathurst, always had the majority of support within the party room.
His backers suggested that his experience as a minister and his time spent in the state's crisis cabinet during the pandemic had won him support.
Mr Toole is currently the Minister for Regional Transport and Roads and has previously held portfolios including racing, land and forestry and local government.
It is not the first time Mr Toole has sat at the helm of the party, after stepping in for a month last year when former deputy premier John Barilaro took mental health leave amid the coalition showdown over the contested koala policy.
Source: smh.com.au