Patriarch of Jerusalem: Every human life is holy as an image of God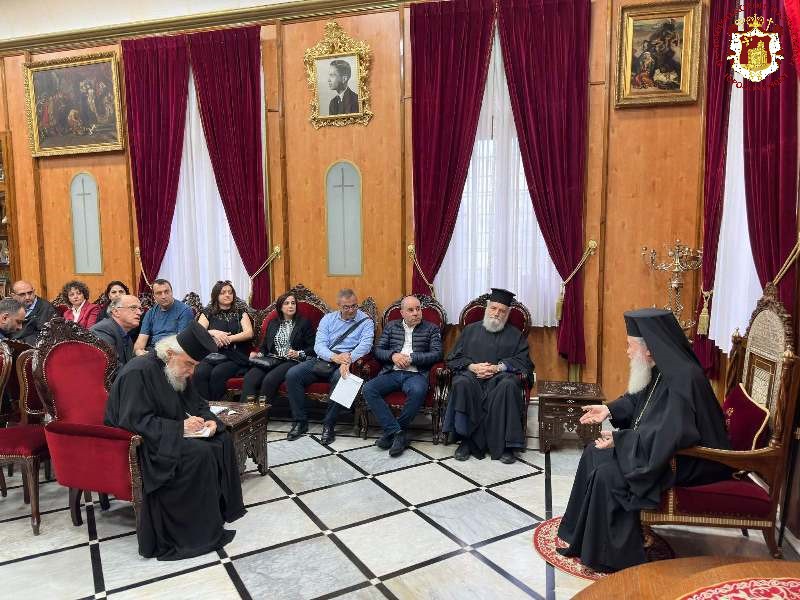 An esteemed delegation representing the diverse Christian civil society institutions in Jerusalem, visited His Beatitude Patriarch Theophilos III of Jerusalem, at the Orthodox Patriarchate's headquarters. The purpose of their visit was to express gratitude for the decision taken by the Holy Land Churches to suspend all non-religious ceremonial celebrations of the Christmas Advent and Christmas feast. This decision is in response to the ongoing war in Gaza, aiming to show respect for the lives lost in the war and the suffering endured by civilians.
During the meeting, the representatives expressed their desire to co-sign the appeal issued by the Patriarchs and heads of Churches in Jerusalem, endorsing the call for an immediate humanitarian ceasefire in Gaza. They delivered a signed letter in support of the churches' position on this matter.
The group strongly condemned the tragic atrocities in Gaza, particularly the killing of 18 individuals in Saint Porphyrios' Church and the 500 lives lost at the Anglican Church hospital. In response, the Patriarch reassured the delegation that this year's Christmas celebrations would be marked by solemnity and reflection, refraining from the usual festivities due to the current situation.
The Patriarch emphasised the significance of the Christian presence in the Holy Land, the cradle of Christianity. Despite challenges posed by radical Israeli elements, the Patriarch affirmed his commitment to preserve the indigenous Christian presence and declared the land as a land for its people. He urged Christians to manifest their presence through participation in Christmas festivities, albeit in a more sombre manner this year.
Acknowledging the responsibility towards the people in Gaza, the Patriarch of Jerusalem emphasised the sanctity of every human life as an image of God. He proposed the formation of a group of individuals to maintain constant communication, working together to promote an immediate humanitarian ceasefire in Gaza. The representatives affirmed their commitment to continue their engagement, scheduling another meeting with the Patriarch to further address matters of peace and solidarity with Gaza.
Source: Patriarchate of Jerusalem