Our Righeous Mother Blessed Empress Theophania (16 December)
Saint Theophanó was a pious and virtuous Empress, who was greatly praised by the chroniclers of her time because of her evangelical life, her almsgiving, and her exceptional piety. She born in Constantinople, the daughter of Constantine Martinakios and his wife Anna, who raised their daughter with diligence. When she was of a marriageable age, Emperor Basil the Macedonian chose her to be the wife of his son Leo the Wise (886 – 912), with whom she dwelt in marital fidelity for twelve years.
The Holy Empress Theophanó and her husband Leo were imprisoned for three years, because Leo was falsely accused of plotting to assassinate his father, Emperor Basil. After obtaining her freedom,Theophanó spent her life in prayer and fasting, earnestly struggling for her salvation. She was recognized as a Saint and a wonderworker, even during her lifetime, because of the many good works which she performed out of love for her neighbor.
Though she lived in the world, she renounced everything worldly, and became a benefactor of the poor. She also built churches and monasteries, or restored those in need of repair. She was a true mother to her subjects, caring for widows and orphans, and consoling the sorrowful.
Despite all the grandeur and wealth surrounding her, she preserved her customary humility and modesty. She preferred to dress in simple clothing so that she would not recognized. Accompanied by two trusted servants, she would visit the homes of the poor and the persecuted, offering her assistance. Her faith was such that she was found worthy of the gift of performing miracles. When medical science gave up on a patient because it could not heal him, Saint Theophanó restored him to health. In spite of all the bitterness she had experienced in her life, Saint Theophanó could still sing praises to the Lord, according to the words of the Prophet King David: "Sing praises to the Lord, sing praises; sing praises to our King, sing praises" (Psalm 46/47:6).
Saint Theophanó reposed circa 893-894. Even before her death, her husband started to build a church, intending to dedicate it to Theophanó, but she forbade him to do so. It was Emperor Leo who decreed that the Sunday after Pentecost be dedicated to All Saints. Believing his wife to be one of the righteous, he knew that she would also be honored whenever the Feast of All Saints was celebrated.
The incorrupt relics of Saint Theophanó are preserved in the Patriarchal Church of Saint George, at the Phanar in Constantinople. A particle from her relics is in Dionysiou Monastery on Mount Athos.
Saint Theophania, who was born in Constantinople, was of royal lineage. Instructed in letters, and adorned with many virtues, she was united in marriage to Emperor Leo the Wise (reigned 886-912). But counting the glory of the earthly kingdom as nought, she spent her nights and days in serving God with psalms and hymns and prayers, working various good deeds until she surrendered her spirit to God in peace, while still in her youth, being, according to some, about twenty years of age, according to others, twenty-seven. Her holy relics are still preserved in the patriarchal church in Constantinople as a source of healing for those that draw nigh with faith and longing. She was also the builder of the Holy Patriarchal and Stavropigeal Monastery of St. Anastasia the Protector from Potions in Chalke (883).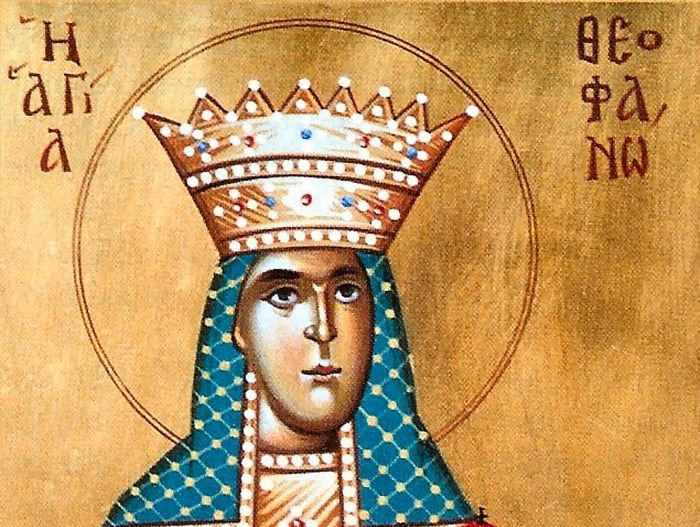 Theophano was born of eminent parents, Constantine and Anna, who were kin to several emperors. Her parents were childless for a long time and prayed to the Most-holy Theotokos to give them an offspring. And God gave them this daughter, Theophano. Imbued with the Christian spirit from her childhood, Theophano surpassed all her companions in all the Christian virtues.
When she grew up, she entered into marriage with Leo, the son of Emperor Basil the Macedonian. She endured great hardships alongside her husband. Responding to slander–that Leo carried a knife in his boot and planned to kill his father at an opportune time–the gullible father, Basil, locked his son and daughter-in-law in prison. Thus, two innocent souls languished in prison for three years. Once, during the Feast of the Prophet Elias, the emperor summoned all his noblemen to his court for a banquet. Suddenly the emperor's parrot unexpectedly spoke these words, "Alas, alas, my Lord Leo!" and repeated these words a number of times.
This brought great anxiety to all of the imperial noblemen, and they all begged the emperor to release his son and daughter-in-law. The grieved emperor did so. After his father's death, Leo became emperor and was called "the Wise." Theophano did not consider her imperial dignity as anything, but, completely devoted to God, she cared only about the salvation of her soul, fasting and praying, distributing many alms, and restoring many monasteries and churches.
Neither an untrue word nor an excessive word nor, least of all, slander proceeded from her lips. Before her death she called all her closest friends, took leave of them and gave up her soul to her God in the year 892 A.D. The Emperor Leo wanted to build a church over her grave in her name, but since the patriarch objected to this, he built a church to All Saints, saying that if Theophano became a saint, she would be glorified together with the other saints. The Feast of All Saints was then instituted to be celebrated on the Sunday after the Feast of the Holy Trinity.

Source: oca.org / goarch.org / westserbdio.org