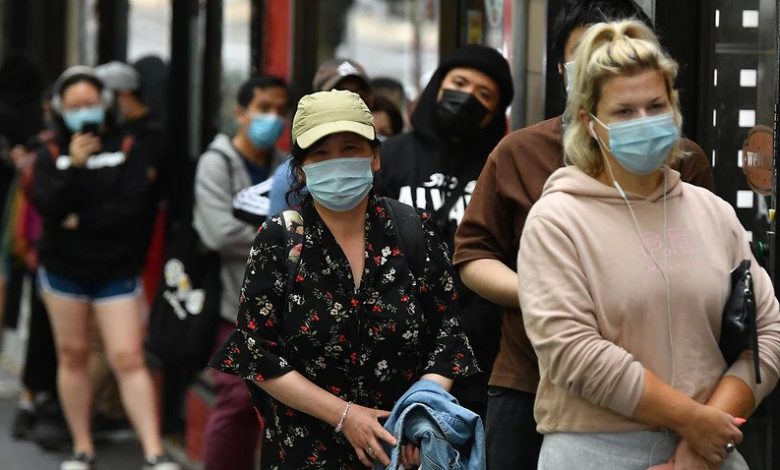 New South Wales has reported a record 18 new COVID-19 deaths, as the number of people hospitalised with the virus continues to climb.
The state announced it had found 20,293 cases via PCR tests on Monday. NSW is yet to start publishing data from rapid antigen tests.
There are 2,030 people in hospital with the virus, up from the 1,927 reported on Sunday and there are 159 people in ICU, up from 151.
The true growth of infections across NSW is likely far higher, with most people encouraged to take rapid, at-home tests instead of the conventional PCR.
There is no way to report rapid test results in NSW yet, with the system due to come online mid-week, at which point case numbers are expected to surge again.
Two deaths, 34,808 new cases in Victoria
Victoria, meanwhile, has recorded 34,808 new cases and two more deaths.
Of the new cases reported, roughly half were found with rapid antigen tests.
There are 818 people hospitalised with COVID-19 in the state, up from 752 on Sunday. There are 118 in ICU, up from 104.
Tasmania records 1218 new COVID-19 cases
Tasmania has recorded 1218 new COVID-19 cases, with the number of people being treated in hospital for virus symptoms rising to 11.
The fresh cases, made up of 821 reported positive rapid antigen tests and 397 PCR tests, take the island state's number of active infections to 7917.
Eleven people are being treated in hospital specifically for COVID-19 symptoms, an increase on the four patients reported on Sunday. None are in intensive care.
Six positive cases are in hospital for unrelated medical conditions.
Tasmania's reported daily case numbers have fallen in recent days from 2223 on Saturday and 1406 on Sunday.
ACT records 938 new COVID-19 cases
The ACT has recorded 938 new COVID-19 cases but the number of people in hospital remains low.
As at 8pm on Sunday, January 9 there were 25 people in hospital with the virus including four people in intensive care and three requiring ventilators.
The new cases come from 5187 tests.
The territory, one of the most vaccinated jurisdictions in the nation, had reported 1305 cases on Saturday and 1039 cases on Sunday.
Calls for patience on kids' vaccine rollout
It comes as the head of Australia's vaccine rollout has called for patience on the first day of the children's vaccine rollout for those aged between five and 11.
Lieutenant General John Frewen says the majority of more than 10,000 vaccination points are joining the rollout of the children's vaccine, encouraging parents to keep trying to find appointments amid concerns practitioners are booked out.
"If you are having trouble at the moment, maybe with your normal GP or healthcare provider, please do try pharmacies and maybe one of the state or territory clinics as they come online," Lt Gen Frewen told the Seven Network.
"There are plenty of vaccines so people do need a little bit of patience. There are new appointments coming online every day, there are going to be walk in opportunities as well."
Health Minister Greg Hunt says three million doses will be available over January for the 2.3 million children eligible for a jab.
Mr Hunt said more than 6,000 GP offices will receive child vaccine doses, as well as more than 150 Commonwealth vaccination clinics, more than 115 Indigenous medical clinics, 2000 pharmacies and, at this stage, more than 250 participating state clinics.
But he conceded not every child will be able to get their jab on a particular day as practices only have a certain volume because 8,000 vaccination points around Australia also have to be supplied.
Source: sbs.com.au