NSW records 18 new local COVID-19 cases as Australia faces prospect of national outbreak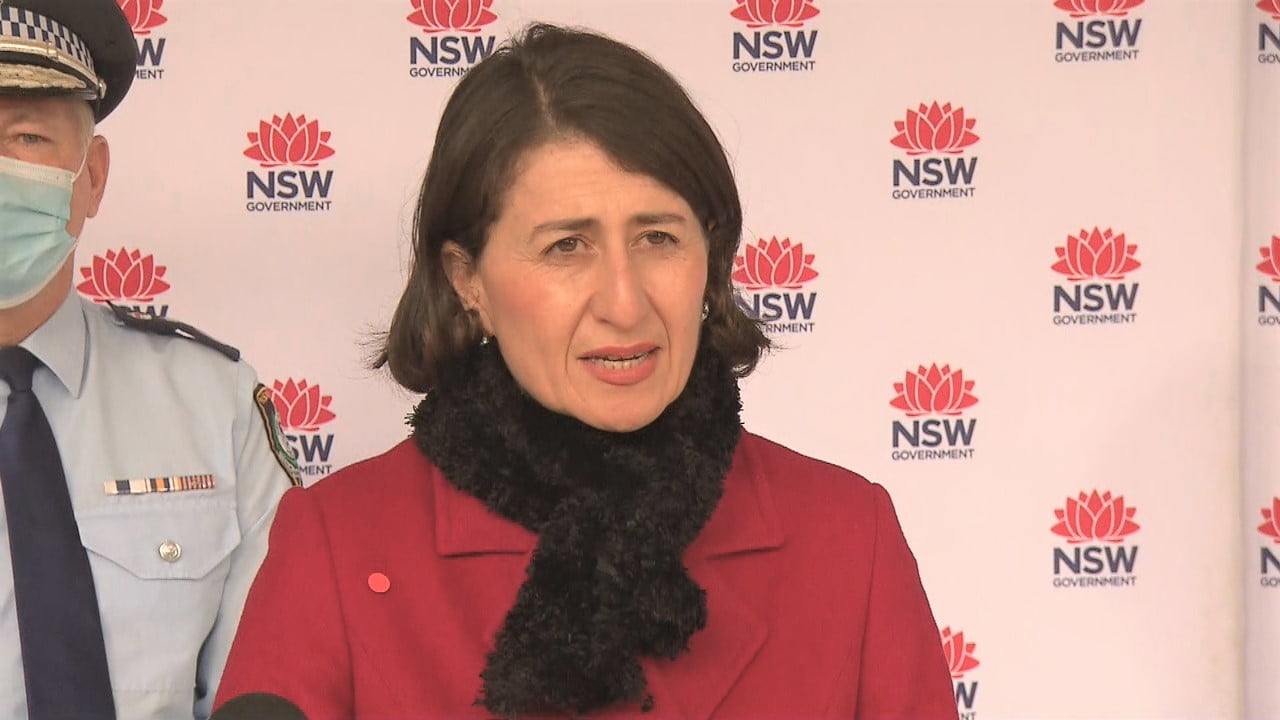 NSW recorded 18 new locally acquired cases of COVID-19 on Monday, as Greater Sydney and surrounds remain in a fortnight-long lockdown and as Australia faces a potential national outbreak.
NSW Premier Gladys Berejiklian said of the 18 new cases, all but one have been confirmed as linked to existing cases. About a third (six) were in isolation for the whole time, meaning they weren't in the community while infected with the virus and likely caught it from a household contact.
A number of the other new cases were in isolation for part of the time, "but some, unfortunately, were active in the community," Ms Berejiklian said.
As it stands on day twelve of Sydney's latest outbreak, there have been 130 locally acquired cases reported since June 16, when the first case of the Bondi cluster, a driver who transported international flight crew, was reported. Of these, 124 are now linked to the Bondi cluster.
This compares with Avalon's outbreak recording 137 cases on day 12, which includes subsequent outbreaks such as the Croydon and BWS Berala clusters. Crossroads Hotel's had 94 cases on day 12.
NSW Health said 58,870 tests were conducted on Sunday until 8pm. "While the numbers today are less than the numbers yesterday, we have to be prepared for the numbers to bounce around, and we have to be prepared for the numbers to go up considerably," the Premier said.
Ms Berejiklian said the high testing numbers seen on Sunday are "a great result" and that "the more testing we have, the more confidence our health of experts have that they are capturing all of the cases in the community that may have been bubbling along for some days."
NSW Chief Health Officer Kerry Chant has stressed the importance of people identified as close contacts isolating themselves, strictly, for the full 14-day period.
"If you are a close contact you are required to isolate. And isolate means you do not come into contact with anyone else in your house. It means that where possible, you have a separate bathroom, you wear a mask if you are transiting through any shared areas.
"In effect, you are in a cocoon environment away from others. It is critical that you do so," she said.
New cases linked to school, seafood wholesaler and birthday party
Of the 18 new cases, announced on Monday, 10 are linked to exposure sites that have formed secondary clusters linked to the Bondi outbreak, while a case acquired interstate has been linked to a separate outbreak at an NT mine.
– There are two more students from South Coogee Public School with COVID-19, which are close contacts of the two previously reported cases at the school. This brings the total number of students with COVID-19 at South Coogee Public School to four.
– Five new cases are linked to the Great Ocean Foods seafood wholesaler in Marrickville, which brings the total number of cases acquired through the wholesaler (including close contacts) to 16.
– Two new cases are linked to the West Hoxton birthday party. This brings the total number of cases acquired through the birthday party to 31, including 24 people who contracted it at the party, and subsequent contacts of theirs.
– The case acquired interstate in Monday's numbers is a man in his 30s who was exposed to the virus at the Granites gold mine in the Tanami Desert in the Northern Territory. He has been in isolation since his return home and there is no current risk of infection to the local community. This case is not linked to the Bondi cluster.
It comes after 30 new cases were reported on Sunday, equivalent to the highest number of cases recorded in a day during the Avalon cluster.
The new cases prompted a number of new exposure sites, including the Domestic Airport T2 food court and terminal on Thursday morning.
Although the venues were largely in the city's east, shoppers at Lakemba Woolworths on Thursday night and commuters on multiple CBD light rail routes were also directed to test and isolate.
About 550 students at South Coogee Public School were sent into 14 days of isolation – the duration of their school holidays – on Sunday after it emerged two children had caught the virus within the school last week.
Emanuel School at Randwick also notified parents of a positive case in a student.
Last Tuesday, NSW Health reported a nine-year-old student from St Charles' Catholic Primary School in Waverley had contracted the virus. The source of the child's infection remains unknown.
There were two new local cases reported in Queensland on Monday: one linked to the Brisbane Portuguese restaurant cluster and one linked to the Northern Territory mine site who returned to her home on the Sunshine Coast before testing positive. The new cases prompted new restrictions for regions of south-east Queensland.
Victoria reported no new local cases on Monday.
Source: smh.com.au