NSW records 1742 new COVID-19 cases, its highest daily total since pandemic began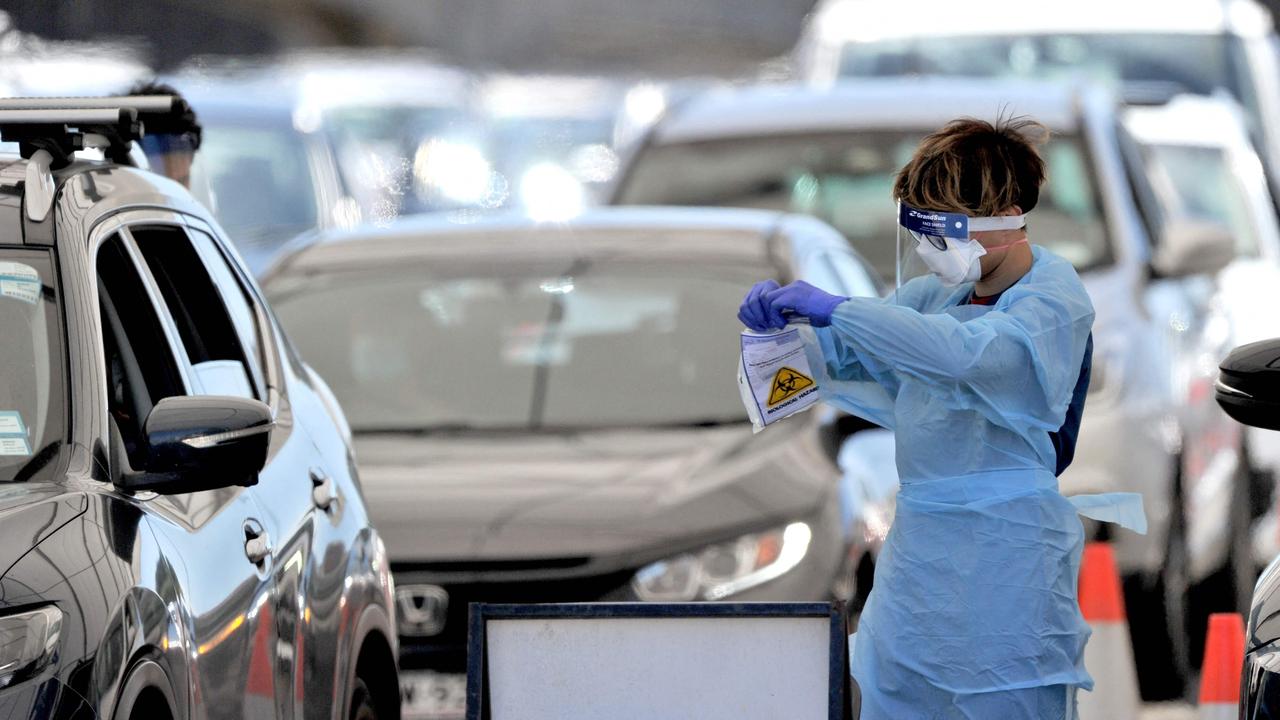 NSW reported 1742 new COVID-19 cases on Thursday, the highest daily total recorded for the state since the pandemic began, after a peak of 1599 cases on September 11.
There were 143,938 tests in the 24-hour period to 8pm on Wednesday.
NSW Health Minister Brad Hazzard said on Wednesday that cases were doubling every two to three days, and modelling by the public health unit at the University of NSW showed "that by the end of January, we could be looking at 25,000 cases of the virus every single day".
No new deaths were reported on Thursday. There are 192 coronavirus patients in NSW hospitals and, of those, 26 are in intensive care. Hospital admissions have increased by 26 patients, up from 166 on Wednesday.
For the NSW population aged 16 and over, 94.8 per cent have had one COVID-19 vaccine dose and 93.3 per cent are fully vaccinated. In 12- to 15-year-olds, the first-dose coverage is 81.4 per cent, and 77.8 per cent double-dose.
Isolation rules for fully vaccinated people in NSW
COVID-19 cases: People who have tested positive to COVID-19 using a PCR test (people who return a positive rapid antigen test must take a PCR test to confirm). Isolate until you are medically cleared through a text from NSW Health (usually minimum 10 days).
Close contacts: Household contacts of a COVID-19 case (including anyone who stays overnight at the home) as well as some social contacts in high-risk settings as determined by health authorities. Isolate for one week, PCR test on days one and six. Avoid high-risk settings for a second week and test on day 12.
Casual contacts: Social contacts, workplace contacts and other people who may have had particular exposure to a case. PCR test and isolate until you receive a negative result.
'Monitor for symptoms': An alert through the Service NSW app for people who attended a venue with a person while infectious, but who are thought to not be at high risk of having caught COVID-19. No isolation. Present for a PCR test if you develop respiratory symptoms and isolate until you receive a negative result.
On Wednesday night, NSW Health said multiple cases of COVID-19 had been associated with a new venue of concern in Newcastle, including some likely to be the Omicron variant.
Anyone who attended The Cambridge Hotel on Hunter Street between 6.30pm on Friday, December 10, and 2.30am on Saturday, December 11, is considered a close contact and must get tested and isolate for seven days.
"All household contacts of close contacts should also be tested and self-isolate until a negative result is received by everyone in the household," NSW Health said in its public health alert on Wednesday night.
"This venue was visited by confirmed cases of COVID-19. It is likely some of these cases have the Omicron variant of concern."
The Health Department is appealing for anyone who did not check in to get tested and isolate, and for the community "to ensure other potential attendees are aware of this advice".
Before multiple cases were confirmed, The Cambridge Hotel had said on social media it had been advised by Health of a potentially infectious case at the venue, "just like most venues in Newcastle".
"No surprise here," a post on its Facebook page reads.
Outbreaks of COVID-19 have been linked to a number of the city's hospitality venues, including The Argyle House nightclub, resulting in hundreds of cases, and Finnegan's Hotel.
A raft of restrictions eased in NSW on Wednesday but QR codes remain in use at pubs and clubs.
Asked on Seven's Sunrise on Thursday morning about Newcastle and whether there would be any return to any form of localised lockdowns, or if that had been ruled out, NSW Jobs Minister Stuart Ayres said the state government "will keep the option open".
"If we believe it is the right thing to do, that is an option on the table," Mr Ayres said, adding that the more people who get their COVID-19 vaccine booster shots when they become eligible, the less likely it would be for restrictions to be reinstated.
Earlier this week, Mr Hazzard said no snap lockdowns were on the agenda but also told ABC radio that one thing he had learnt as Health Minister in a "one-in-100-year pandemic is never say never".
"But we're aiming to not do that at all if at all possible," he said. "The focus is about reopening and trying to measure how we do it and make sure that people's lives come back with some normality."
A total of 110 cases of the Omicron variant had by Wednesday been identified in NSW, with more expected to be confirmed by genomic sequencing.
Meanwhile, Mosman Council has closed its only COVID-19 testing clinic from Thursday, without an alternative location, after nearby residents complained that "excessive traffic" posed a safety risk.
Source: smh.com.au