NSW announces home quarantine trial as it posts 1,284 new local COVID-19 cases and 12 deaths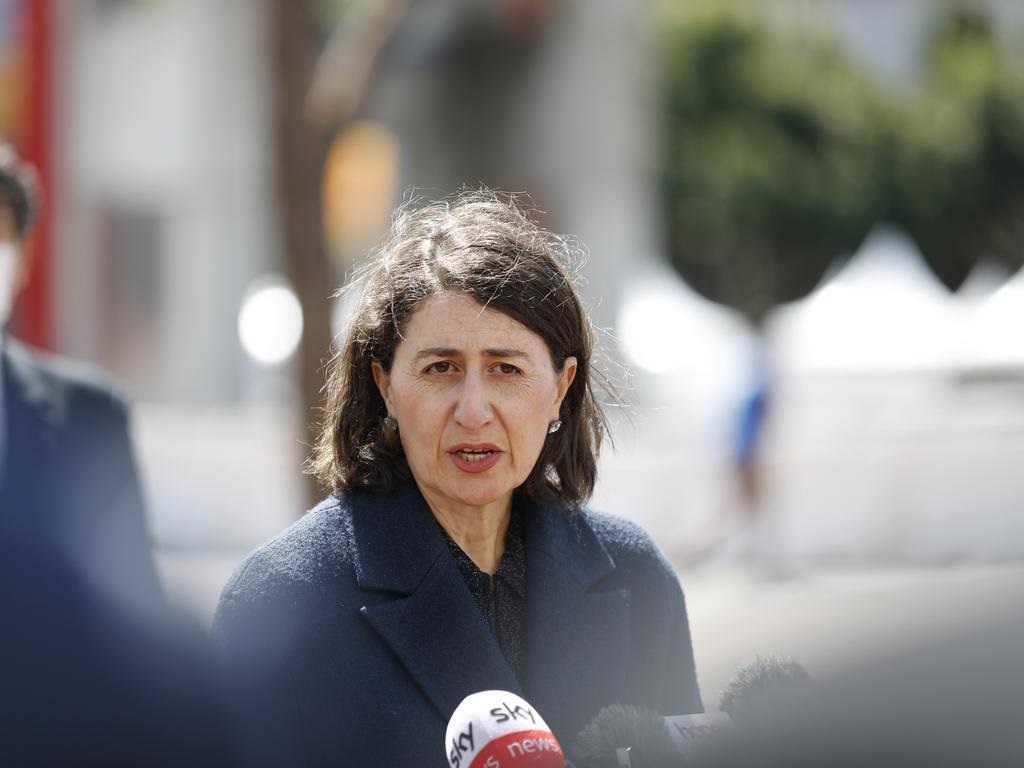 New South Wales has reported 1,284 new locally acquired cases of COVID-19 and 12 more deaths, with plans announced for a home quarantine trial as the state inches towards its 80 per cent vaccination target.
A trial for returning Australians to be able to quarantine at home instead of in hotels is expected to start in coming weeks.
Of the deaths announced on Friday, two people were in their 20s, three were in their 50s, one was in their 60s, two were in their 70s, three were in their 80s and one person was in their 90s.
Of these 12, seven people were not vaccinated, two had received one dose, and three were fully vaccinated.
Of the two women in their 20s who died, one was not vaccinated and one had received one dose and had underlying health conditions.
Three of those to have lost their lives were residents of aged care facilities in Dubbo.
The state has recorded 222 COVID-related deaths since the start of the pandemic.
NSW Deputy Chief Health Officer Dr Marianne Gale said there are currently 1,245 cases of COVID-19 Hospital, 228
people in intensive care, and 112 people who are currently requiring ventilation.
Of the 228 people in ICU, 170 people are not vaccinated, 50 have received a first dose of a COVID-19 vaccine, and six people in ICU have received two doses of a COVID-19 vaccine.
Dr Gale said there has been a positive case recorded in the regional town of Young, who's household contacts have also tested positive.
"There are a number of exposure sites in Young and as we speak, NSW Health is providing advice to government around recommendations for the people of Young but I'd like to urge anyone living in young to please monitor for symptoms, look at public health advice and come forward for testing."
Dr Gale was asked about an emerging cluster across three public housing towers in the inner-city suburb of Redfern, many who are thought to be Indigenous.
While she said she didn't know how many were Indigenous, she said Aboriginal health workers were involved in supporting residents in the towers.
"Clearly, there are a number of Aboriginal families implicated with the situation and those housing blocks," she said.
The NSW double dose vaccination benchmark has now tipped over 50 per cent, with the 70 per cent double dose target on track to be hit in the middle of October.
Opening up to returning Australians
Premier Gladys Berejiklian said the government was busy working on its plan to open up once the state reaches its 80 per cent double dose vaccination target. Part of this is the ability for returning Australians to quarantine at home, provided they are double vaccinated, and citizens being able to travel overseas, she said.
"One of the things that we expect to occur at 80 per cent is to consider our international borders. That's Aussies returning home through Sydney airport but also our citizens having the opportunity to go overseas when previously they weren't able to."
A home quarantine trial for double dosed Australians returning home will start at the end of the month, NSW Tourism Minister Stuart Ayers announced.
The initial trial will involve 175 people who will undergo a seven-day quarantine at home. The trial will build on the evidence of the home quarantine trial currently being conducted in South Australia.
Controversial facial recognition technology could be the key to opening Australia's borders
"Today is an important step on the reopening of New South Wales to the rest of the world," Mr Ayers told reporters.
"This is a really big step and a light for every Australian who are still overseas because of caps [and] haven't been able to come home.
"We want to be able to lift those caps and do that as soon as possible but we want to be able to make sure we do so in a very safe way."
Ms Berejiklian said NSW has already welcomed home and quarantined nearly 250,000 Australians in hotels.
Source: sbs.com.au