Australia: National cabinet agrees on new plan for reopening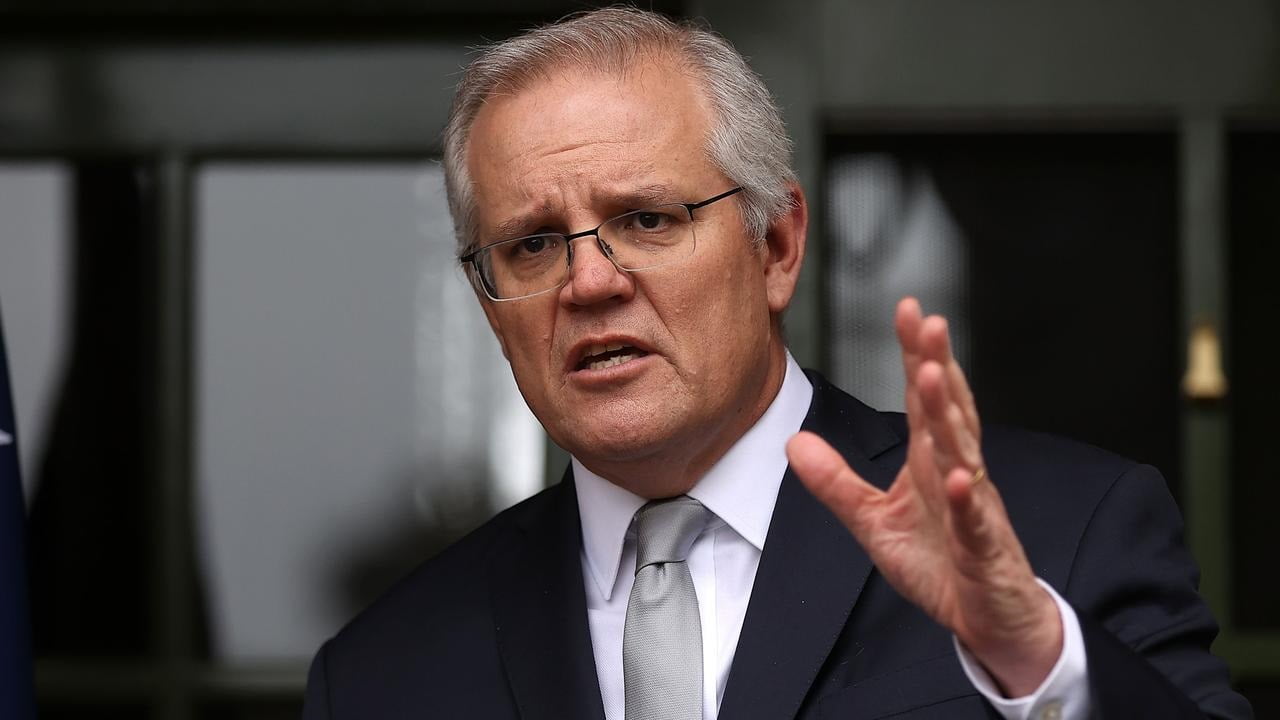 Prime Minister Scott Morrison has emerged from a three-hour national cabinet meeting to announce leaders have now agreed in principle to a "national plan to chart the way back", including the targets to move through the four phases.
The phases are suppression – where we are now – transition, consolidation and the final phase.
Under the plan, no state or territory is required to increase restrictions beyond where they are now.
"All states have their settings in place to deal with the circumstances they are currently facing," Mr Morrison says.
"Be they the lockdown restrictions that we're going through currently in Sydney and New South Wales, the easing out of lockdown in Victoria and South Australia, or indeed, the less restrictive settings that are in place in Queensland and Western Australia and so on."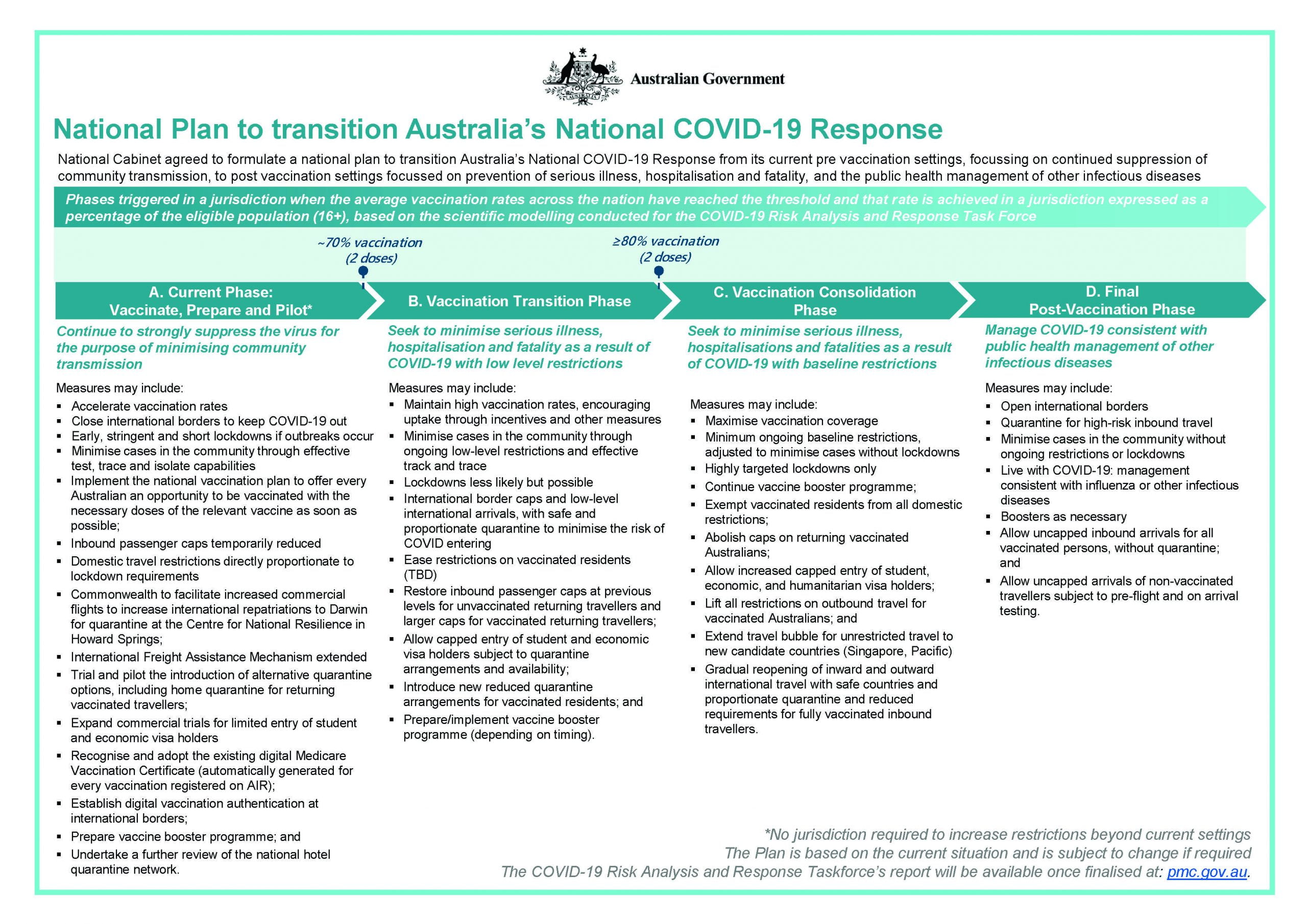 Phase B involves 70 per cent vaccination target
Mr Morrison says in the first phase, the suppression phase, it's important to note short and stringent lockdowns will be necessary to deal with the Delta strain.
"It is important in that first phase we continue to strongly suppress the virus for the purpose of minimising community transmission," he said.
The threshold for Phase B is 70 per cent of the eligible adult population having two doses of vaccines. For phase C, it's 80 per cent being fully vaccinated.
States and territories can only move into the next phase when both the national average and their own jurisdiction's vaccination rollout reaches that threshold.
"The thresholds which we are announcing tonight are completely 100 per cent consistent with the scientific modelling and advice provided together by the treasuries and the Doherty Institute," Mr Morrison said.
International passenger caps to be restored in Phase B
Mr Morrison noted the clear lesson from dealing with the Delta strain was that "early and stringent lockdowns" are necessary to deal with outbreaks, and that would be kept in mind during the suppression phase.
In Phase B, transition, the goal is to minimise serious illness, hospitalisation and deaths from COVID.
Lockdowns will be less likely but still possible. Restrictions will be eased for people who are fully vaccinated because they are less of a public health risk.
There will still be inbound passenger caps but they will return to previous levels for unvaccinated travellers, and have higher caps for vaccinated returning Australians.
There will also be a limited entry of student and economic visa holders allowed.
Broad-based lockdowns not expected in Phase C
In the third phase, consolidation, the plan is to have "minimum baseline restrictions" without lockdowns on the whole, although highly targeted lockdown might be used where required.
"You should not expect broad-based metropolitan-wide lockdowns in Phase C," Mr Morrison says.
"But where there are vulnerable communities, they may be in remote communities. They may be in particular communities within a city … then you need to leave available to yourself and the states and territories for public health reasons, they will need to leave themselves that option."
In that phase, all Australians who are vaccinated will be able to return to the country, caps on students and economic visa-holders will increase, and the government will seek to set up travel bubbles with other countries.
For the final phase, which would include fully reopening international borders, the Doherty Institute did not recommend a vaccination target.
"It is too hard to say what the situation will be down the track," Mr Morrison says.
PM hopes Phase B achieved by end of the year but 'we're not going to put timetables on it'
Mr Morrison says he would hope Australia gets to Phase B, where 70 per cent of the population is fully vaccinated, by the end of the year, however he says "we're not going to put timetables on it."
"I would have said that that's something that is entirely up to the nation in response to this challenge," he said.
"If if get vaccinated, you're taking Australia a step closer to where we all want to be."
On the decision to base the vaccination thresholds on the eligible adult population, Mr Morrison says that doesn't mean children won't be included in the immunisation program.
Asked whether national cabinet's recognition that short, sharp lockdowns are the best way to deal with the Delta strain was a reflection on NSW Premier Gladys Berejiklian's gradual move to hard lockdowns in the current outbreak, Mr Morrison says people were acting on the information they had at the time.
"No-one has perfect hindsight over these issues," he says.
"Those who have had to make those decisions have made decisions, I think, in the best interests of their state and on the best possible advice they had available to them, and I'm in no different situation to that.
"But I tell you what, we all humbly learn from these things and we make the adjustments and get on with it."
Source: smh.com.au