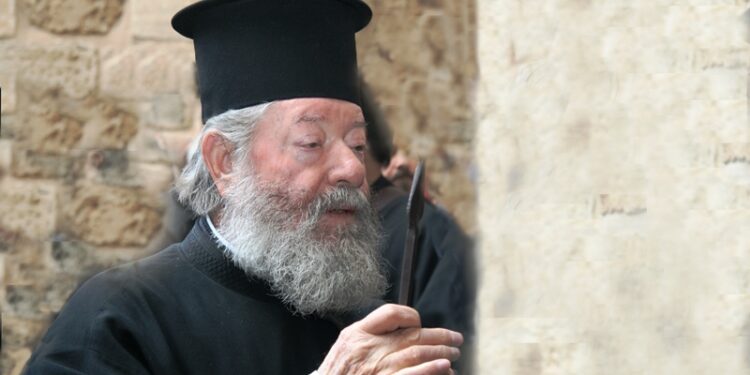 The Patriarchate of Jerusalem announced that Metropolitan Christodoulos of Eleftheroupolis slept in the Lord on Tuesday, December 14, 2021, at 11 a.m.
The departed and dearly beloved brother of ours was born in Kamares of Heraklion Crete, studied at the Patriarchal School of Jerusalem, and joined the Hagiotaphite Brotherhood at an early age. He studied Classical Literature at the University of Tel Aviv in Israel and Theology at the School of Theology of the University of Athens.
He served at various positions at the Patriarchate; He was a teacher at the Seminary school of the Patriarchate, a member of the Holy and Sacred Synod, Elder Dragoman, and defended the rights of the Rum Orthodox Patriarchate of Jerusalem for the All-holy Shrines.
Over the last few years, his health deteriorated and he was hospitalized at the Israeli hospital, at the foundation "Saint John the merciful" in Athens, and finally at the old people's home of the Archdiocese of Crete, where he left his last breath today.
His funeral service will be at 1:00 p.m. on Wednesday, December 15, 2021, at the Holy Monastery of Panagia Kalyviani, after the permission of the local Metropolitan Makarios of Gortyna and Arkadia.
Patriarch Theophilos of Jerusalem will be represented by Metropolitan Isychios of Kapitolias and the Exarch of the Holy Sepulchre in Greece, Archimandrite Raphael.
The Patriarchate of Jerusalem and the Hagiotaphite Brotherhood thank all those who honored his memory, especially the Archdiocese of Crete and the Holy Metropolis of Gortyna and Arkadia.
Source: Patriarchate of Jerusalem