Members of the Immigration and Refugee Committee of the Roman Catholic Episcopal Assembly of Germany visit the Phanar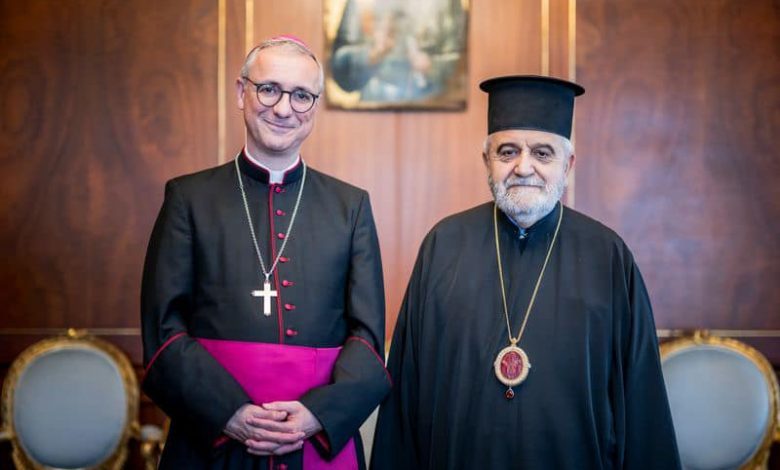 On Tuesday, 5 September 2023, members of the Committee on Immigration and Refugees of the Roman Catholic Episcopal Assembly of Germany visited the Headquarters of the Ecumenical Patriarchate, namely: Archbishop of Hamburg Dr. Stefan Hesse, The Committee President, Dr. Alexander Kalbarczyk, The Director, Ms. Michaela Mokry, Counsellor for Refugees, Ms. Daniela Elpers, Deputy Press Officer, and Mr. Maximilian von Lachner, external affiliate in the Press Office. Patriarchal Deacon Father Ecumenios Amanatidis, Codicographer of the Holy and Sacred Synod was also present at the meeting, as well as Professor Mr. Konstantinos Delikostanis, Archon Didaskalos of the Nation and Director of the First Patriarchal Office.
The delegation was received by the Patriarchal Commissioner, His Eminence Elder Metropolitan Apostolos of Derkoi, to whom the members of the Commission presented the project and the impressions from their recent visits to Greece and Turkey. As part of their tour, they visited refugee structures and had meetings with representatives of political authorities and Non-Governmental Organisations (NGOs). After being guided to the venerable Patriarchal Church of Saint George and the other sites of the Patriarchate, they departed for Germany.
More photos: