Meeting of Patriarch Theodoros of Alexandria with Archbishop Damianos of Sinai on Russian intrusion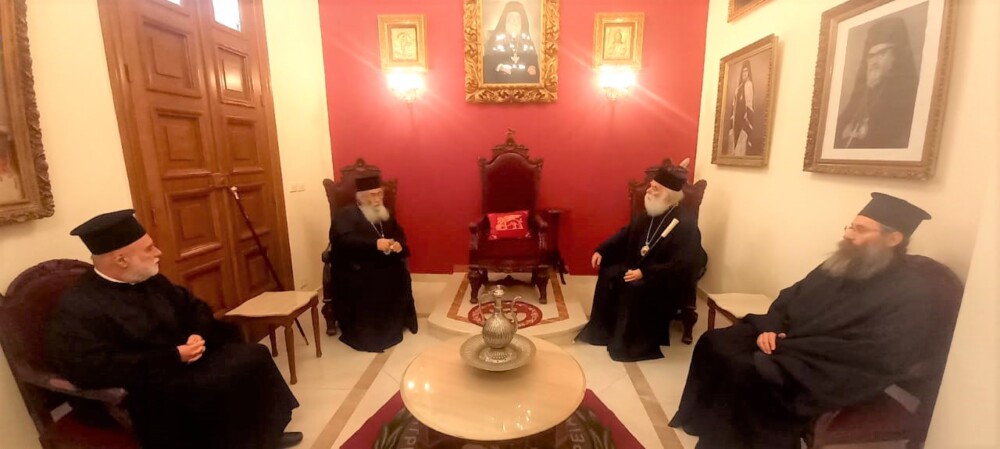 Patriarch Theodore of Alexandria and All Africa had an hour-long meeting today at the Patriarchal Vicariate of Cairo with Archbishop Damianos of Sinai.
The Primate of Alexandria discussed with the Archbishop of Sinai issues concerning the Ancient Second Throne Patriarchate and the Holy Archdiocese of the Monastery of St. Catherine of Sinai.
At the same time, Patriarch Theodore briefed the Archbishop of Sinai on the issue that has arisen in recent weeks with the establishment of an Exarchate of the Russian Patriarchate in Africa, a fact that the Patriarchate condemned last week in Synod as an "invasion" into his jurisdiction and into his missionary work in Africa.
Also, Patriarch Theodore, expressing the undivided ecclesiastical and spiritual cooperation with the Archdiocese of Sinai, decided his practical support to the Archdiocese of Sinai, by sending one of his own priests for the liturgical needs, whenever this becomes necessary, both to the Dependency of the Monastery in Cairo as well as to the city of Raitho of Sinai.
The meeting was attended by the Patriarchal Vicar of Cairo, Metropolitan Nicodemus of Memphis, and the Vicar General of the said Diocese, Archimandrite Michael Zaki.