Mechanics to be retrained for electric vehicles as diesel buses phased out by 2030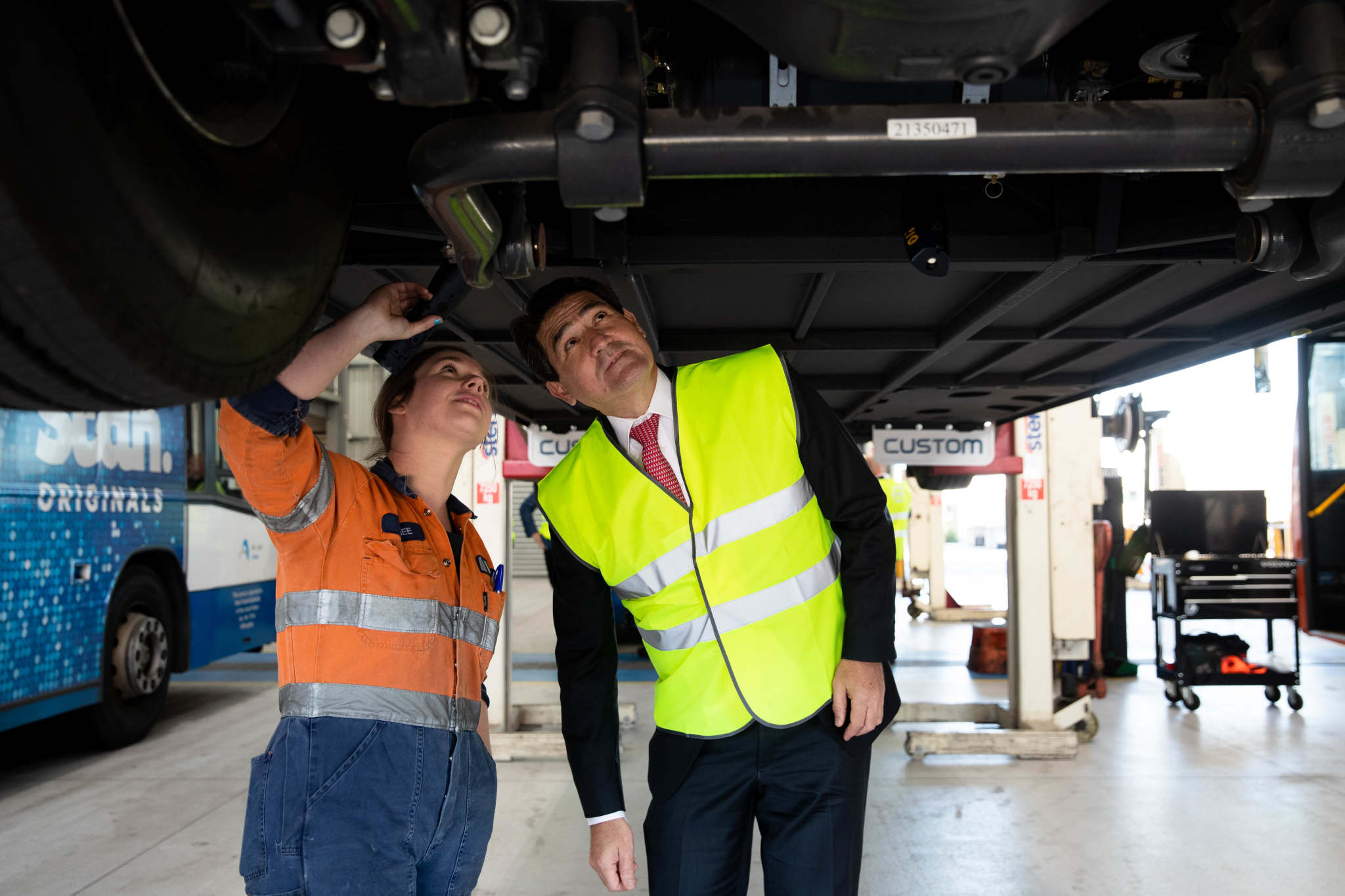 The NSW state government is developing short courses to train mechanics to work on electric vehicles as it prepares to phase out diesel buses by 2030.
Sydney will see 50 new electric buses permanently rolled out this year. About 1600 bus drivers and operators will need to be upskilled or retrained as the government plans to transition its 8000 diesel buses to electric.
The partnership between TAFE NSW and Volvo Bus Australia, to be announced on Thursday, would deliver specialised training to help mechanics upskill and work safely with new electric bus technology. The training will include how to work with high voltage systems and emergency responses.
Skills and Tertiary Education Minister Geoff Lee said the training would help NSW transition to a zero-emissions bus fleet by 2030.
"The adoption of electric buses introduces a new range of skills needs that we must address, such as working with high voltage systems and understanding the way vehicles are built, operated, and serviced," Mr Lee said.
Transport Minister Andrew Constance said the training would help businesses with bus assembly, servicing, driving, and managing emergency service responses.
"With the NSW government's commitment to introduce more electric buses, the number of workers who need to be retrained and upskilled to support these vehicles is growing," he said.
Renee Gibson, 23, completed her apprenticeship at Volvo last year and is now working full time as a heavy vehicle mechanic and auto electrician.
"My first three years at Volvo were as an apprentice mechanic in heavy diesel, and then my fourth year was as an auto electrician, so I'm now dual trade," she said. "It's really exciting to see the way that electric and hybrid vehicles will be incorporated more into our daily lives in the future."
Volvo Bus Australia general manager Mitch Peden said the courses developed with TAFE would set a national standard for the industry.
Holsworthy MP Melanie Gibbons said the new training would help prepare local mechanics for the "jobs of tomorrow".
The government is rolling out the electric vehicle training as part of a new series of short courses to address skills shortages in emerging speciality areas, including cybersecurity and the use of payroll and accounting software.
Mr Lee said the new micro-skills strategy was being launched to keep up with fast-changing skills needs in niche areas.
IBM head of banking and financial services Peter Zorn said there was a need to rapidly upskill people in IT in areas including cloud technology, artificial intelligence and data science. The people needing to update their skills were time poor and needed training delivered in "bite-sized chunks".
Hunter Business Chamber chief executive officer Bob Hawes said micro-credentials was a good solution to address a skills gap more quickly.
"Micro-credentials are the perfect solution to help employers upskill or retrain their existing employees when there's a specific skills gap that needs to be addressed quickly."
Source: smh.com.au