Martyrs Carpus, Papylus, Agathadorus, and Agathonica, at Pergamum (13 October)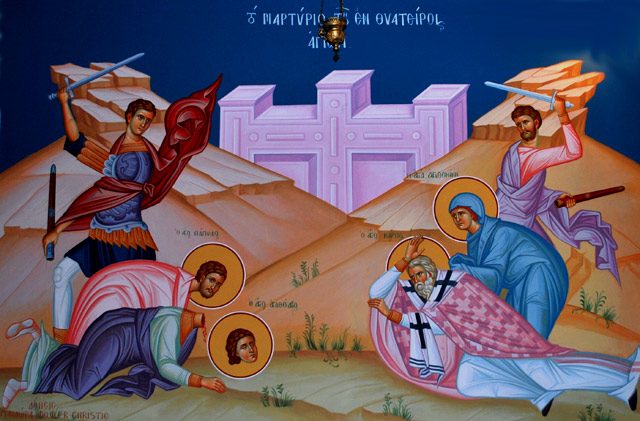 The Martyrs Carpus, Papylus, Agathodorus and Agathonike suffered at Pergamum during the persecution of Decius in the third century.
The governor of the district where the saints lived discovered that Carpus and Papylus did not celebrate the pagan festivals. He ordered that the transgressors be arrested and persuaded to accept the Roman pagan religion. The saints replied that they would never worship false gods. The judge then ordered them to be bound in iron chains and led through the city, and then to be tied to horses and dragged to the nearby city of Sardis.
Agathodorus and Agathonike voluntarily followed after Carpus and Papylus. Saint Agathonike was choked to death with ox sinews and Saints Carpus, Papylus and Agathodorus were beheaded in Sardis.
During his life Saint Papylus was known for his gift of curing the sick. Since his martyrdom, he has granted healing to all who pray to him with faith.
Saint Carpus was Bishop of the Church of Thyatira in Asia Minor and Papylus was his deacon, whom he had ordained. Seized as Christians and tormented in Thyatira, they were taken to Sardis, whither Agathodorus, their servant, followed them, and also confessed Christ, and was tormented with them. Together with Agathonica, the sister of Saint Papylus. they were all beheaded during the reign of Decius, in the year 250.
Carpus was Bishop of Thyateira and Papylus was a deacon. They were born in Pergamum where they finally suffered for the Christian Faith at the hands of the evil proconsul Valerius, during the reign of Decius. Valerius tied them to horses and dragged them to Sardis, where he subjected them to harsh tortures. Then an angel of God appeared to them, healed them of their wounds and encouraged them. Carpus's servant, Agathadorus, followed his master with great sorrow. Valerius then condemned him to torture as well. The saints were again tied to horses, and were dragged from Sardis to Pergamum.
They tied holy Carpus to a tree and flogged him so that his body was covered with wounds, and his blood flowed like a stream, soaking the ground; but Carpus smiled in the midst of these horrible tortures. When they asked him why he was smiling, the holy martyr replied that he saw the heavens opened and the Lord seated on His throne, surrounded by Cherubim and Seraphim. As Papylus was being tortured, by prayer he healed a man blind in one eye, and many who witnessed this came to believe in Christ the Lord. Thrown to wild beasts, the martyrs remained unharmed. Then they were thrown into a fiery furnace. Agathonica, Carpus's sister, also leaped into the fire, but the fire did not consume them. Finally, they were all beheaded with the sword, in the year 251 A.D. Thus, after their righteous endeavors, they received a wreath of glory in the Kingdom of Christ.
Apolytikion of Carpus, Papylus, Agathodorus, & Agathonica
Fourth Tone
Thy Martyrs, O Lord, in their courageous contest for Thee received as the prize the crowns of incorruption and life from Thee, our immortal God. For since they possessed Thy strength, they cast down the tyrants and wholly destroyed the demons' strengthless presumption. O Christ God, by their prayers, save our souls, since Thou art merciful.
Kontakion of Carpus, Papylus, Agathodorus, & Agathonica
Fourth Tone
To those on earth our Sovereign Master hath granted your sacred relics as a most precious treasure and as a fountain pouring forth great streams of cures. For they purge away the ills of the manifold passions and bestow upon our souls grace divine without ceasing. Wherefore with one accord we keep your feast with fervent longing, O Carpus and Papylus.
Source: oca.org / goarch.org / westserbdio.org