"Larissa honours Saint Achillios, Its Patron"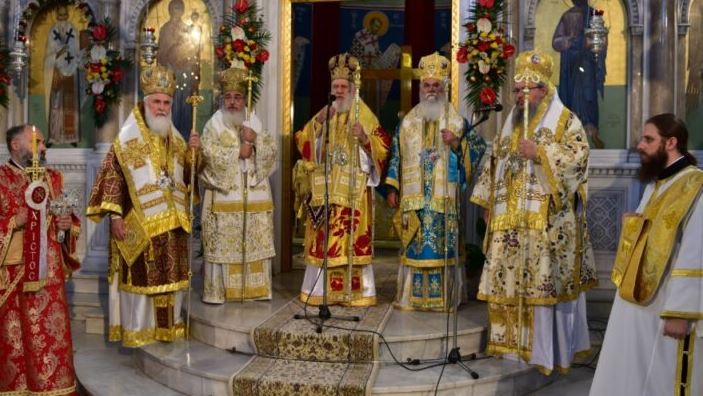 On Sunday, 15 May, 2022, Larissa honoured its Patron, Saint Achillios.
A joyful day for the capital of Thessaly, a day when all the faithful come reverently to their Saint to light a candle and submit their petitions and supplications, hoping for the help of the Saint, who never abandoned this blessed people.
The Panegyric Divine Liturgy was performed with the appropriate magnificence by His Eminence Metropolitan Dorotheos of Syros, Tinos, Andros, Kea, Milos, Delos and Mykonos, who also preached the divine word, emphasising the gifts of Saint Achillios and how we Orthodox Christians must experience them in our lives.
Also present and concelebrating with His Eminence were: His Eminence Metropolitan Chrysostomos of Nikopoleos and Preveza, His Eminence Metropolitan Ieronymos of Kalavrita and Aigialeia, His Eminence Metropolitan Ierotheos of Lemnos and Agios Efstratios, and the local Hierarch, His Eminence Metropolitan Ieronymos of Larissa, who in his address to the congregation and fellow Hierarchs before the dismissal of the Divine Liturgy thanked the Bishops who accepted his invitation and honored with their presence, Saint Achillios and the city of Larissa, the representatives of institutions and authorities present, while he stressed the responsibility that we have for each celebration to find the area in a much better condition than the previous one.
The political and military leaders of the City and the Prefecture who were present also, honored with their presence the 'Blessed Trumpet of the Church' and prayed before the Holy Relics of the Saint together with large crowds of believers, both from Larissa and the wider region of Thessaly.
More Photos: