Large fires at Dervenochoria, Loutraki still spreading, Fire Brigade says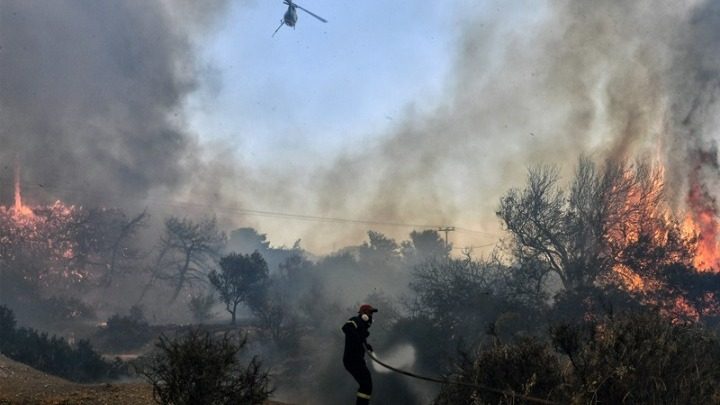 The wildfire at Dervenochoria north of Elefsina is rapidly spreading, Fire Brigade's spokesperson Fire Colonel Vassilis Vathrakogiannis said at a briefing on Tuesday evening, while the fire in the region of Loutraki, east of Corinth, has yet to be contained.
Both fires broke out on Monday. The fire at Dervenochoria has damaged homes, while firefighters and the police have had to rescue people in several cases in the region, he added.
Vathrakogiannis also said that the following fires were contained: at Iraklia in Ilia (NW Peloponnese), two fires at Dafni (Afea community and one near Athinon avenue, all in West Attica), Kalloni (Lesvos island), Galini (near Larissa, central Greece, in agricultural waste), Chryssokellaria of Messinia (SW Peloponnese), and Sesklo (near the Neolithic site, in Magnissia prefecture).
He added that four water-dowsing aircraft provided by France and Italy through the RescEU program are expected to arrive by the end of Tuesday, and warned the public of higher temperatures and threat of fire over the coming days, and high winds.
Evacuations
Earlier in the day, evacuation orders were sent out on Tuesday through the 112 emergency system (sms) for residents of 'Glykia Zoi' in the Loutraki area to evaucate toward Agioi Theodoroi. In addition, residents of Loutropyrgos, Ano Vlychada, and the communities of Othonas and Eftaxias were asked to head to Elefsina, to avoid the advancing fire at Dervenochoria.
The region of Loutraki was accorded emergency status for six months as of Tuesday, to manage the destruction from the fire, the Civil Protection Secretary General said.
Source: amna.gr