Holy Martyr Themistocles of Myra (21 December)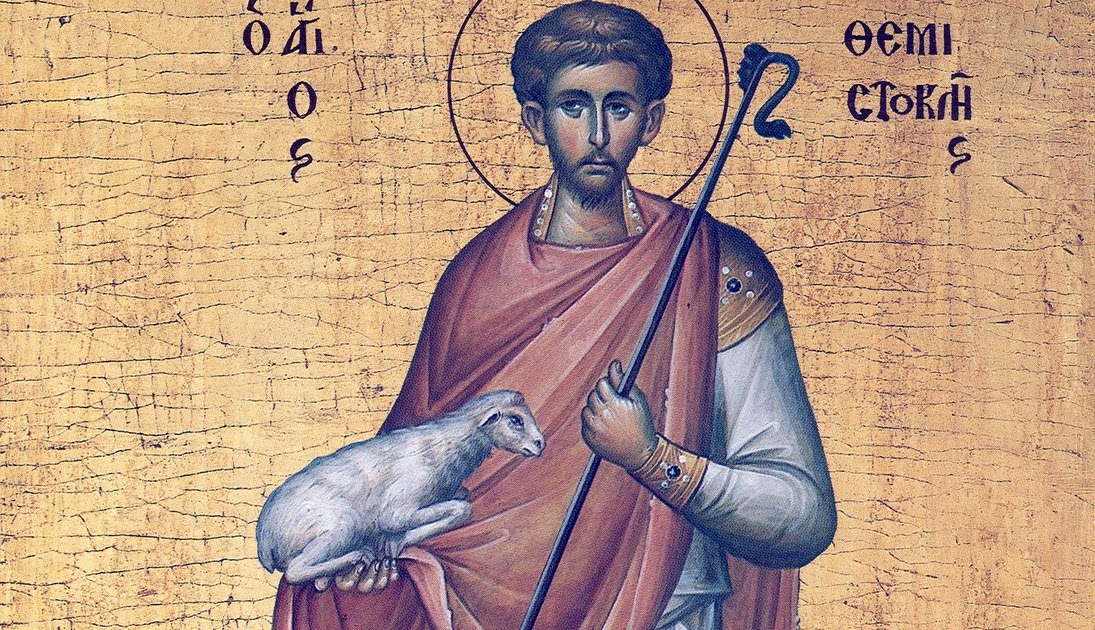 Verses
The sharp iron spikes tore you apart,
You were steadfast as iron Themistocles.
The Holy Martyr Themistocles lived in the city of Myra of Lycia during the reign of the persecutor of Christians, Decius (249-251). Themistocles was a shepherd. During the persecution of the governor Asklepios, a certain Christian named Dioskorides went to hide in the mountains when word got out that soldiers were in pursuit of him.
In those mountains Themistocles was tending his sheep when the soldiers inquired where Dioskorides was hiding. Themistocles did not know where he was, but when he heard that he was being pursued for being a Christian he pleaded with the soldiers to leave him be since he also was a Christian and that he would replace him. When the soldiers ordered Themistocles to reveal the whereabouts of Dioskorides or else they would take him, Themistocles responded: "I just finished telling you that I shall go in his place. Whether he or I should go, it is the same, since we are both slaves of Christ and members of His body."
Themistocles was brought before the governor and openly confessed Christ. The executioners then thrashed him in his belly until his inward parts were exposed. He was then suspended on a wooden post and tortured, rejoicing to be suffering like Christ on the Cross. He was then taken down from the post and dragged over iron spikes, which pierced his entire body, during which he gave up his holy soul and received the crown of martyrdom.
The faithful took up his holy relics and interred them honorably. In the earth surrounding the Saint's tomb, his shepherd's staff was planted, and it took root and grew into an almond tree, producing fruit that healed those who came to the Saint with faith.
A Divine Office for Saint Themistocles was composed by the hymnographer Fr. Gerasimos Mikragiannanites in 1966
Source: John Sanidopoulos