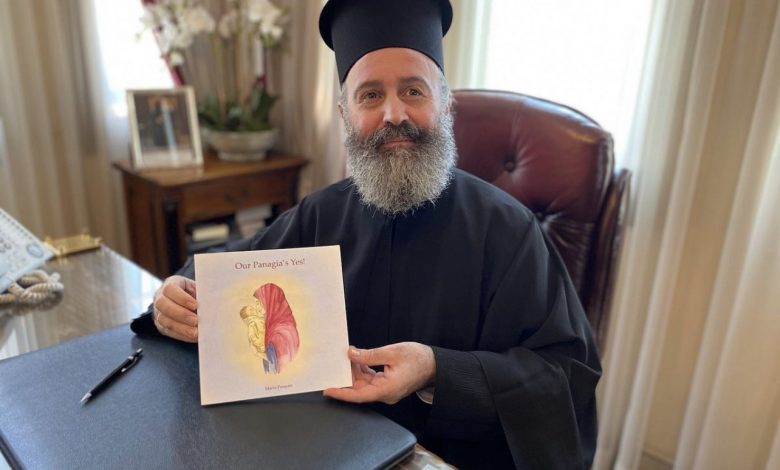 MESSAGE
by His Eminence Archbishop Makarios of Australia
It is with much joy that I commend this children's book, Our Panagia's Yes, written and illustrated by Maria Passaris, one of our faithful of our Holy Archdiocese of Australia. The book presents the central Bible story of the Annunciation of our blessed Virgin Mary, namely that event which celebrates the moment when the archangel Gabriel announced the good tidings to our all-holy Mother that she would conceive a son by the power of the Holy Spirit, to be called Jesus (cf. Lk 1:26-38), 'the One who saves'.
The author depicts this pre-eminent story with much clarity, coherence and conviction; indeed, focusing her attention on an aspect, often overlooked, namely Panagia's response in freedom—her 'yes' as indicated in the title—to the angel's proclamation of our Lord's incarnation.
The Annunciation of the Mother of God does not only testify to God's initiative to save humanity—and all His creation more broadly—simply out of his immense love for us, but also, and quite unexpectedly so, to humanity's response. That is to say, the acceptance of Mary is not a foregone conclusion; on the contrary it is vital. God is keenly interested to uphold the sacredness of the 'human will'; in this way, He awaits for the voluntary consent of Panagia which is recorded in the Gospels: "Here I am, the servant of the Lord; let it be with me according to your word" (Lk 1:38).
Elsewhere, the New Testament clearly highlights that we are not called to be passive instruments to His saving plan, but "God's co-workers [Θεοῦ σύνεργοι]" (1Cor 3:9). Indeed, the blessed virgin Mary's reply to the archangel strikingly represents all of humanity throughout the ages responding 'yes' to God. And so, as we are reminded in this book, may the blessed Theotokos, as an icon of human freedom, inspire all of us to freely follow Christ wherein we discover love and life beyond compare.
Click here to purchase the book "Our Panagia's yes"