Hierarchical Divine Liturgy for the Feast Day of the Annunciation in Perth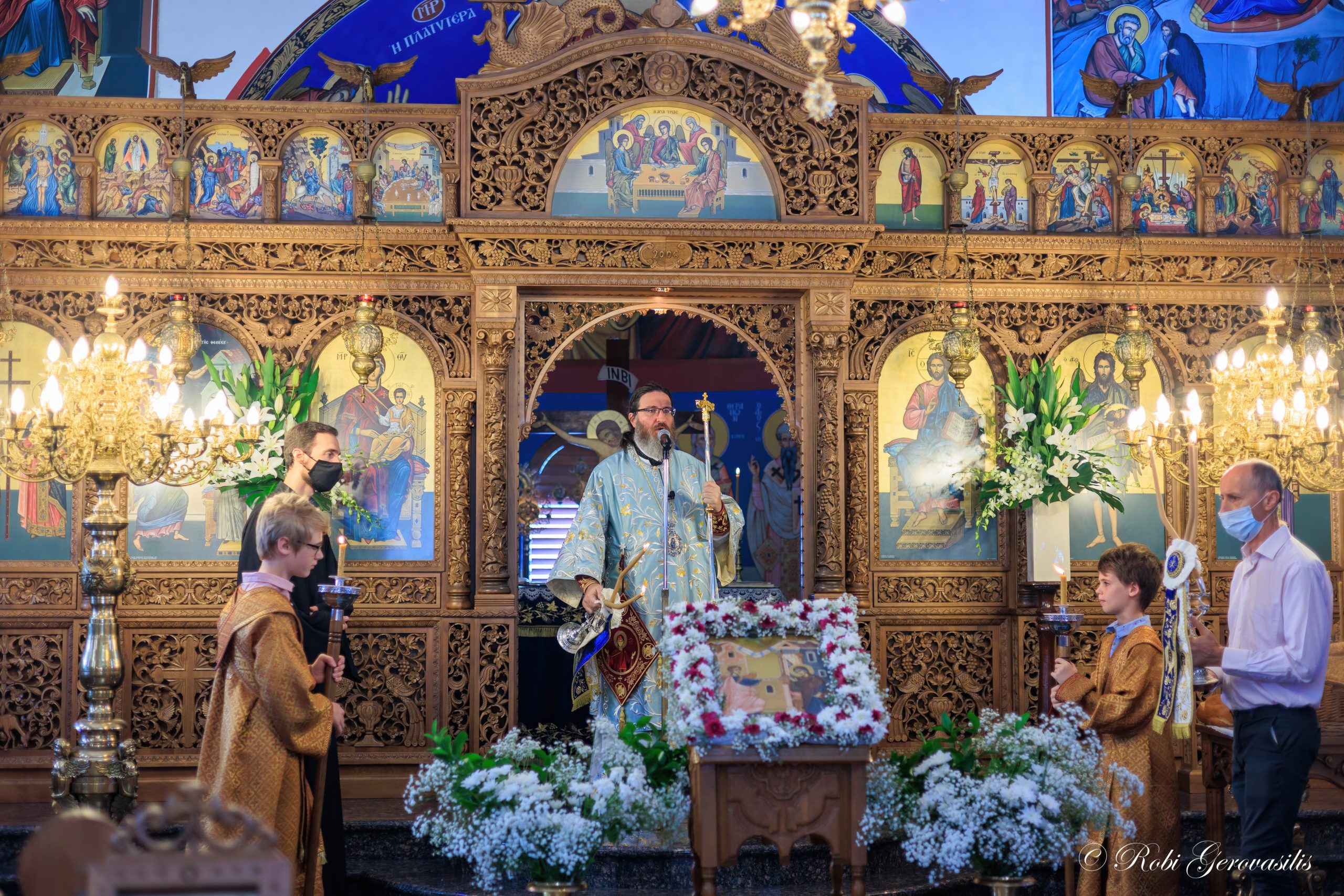 The great feast of the Annunciation was celebrated with great splendour at the Church of Evangelismos in West Perth with the Hierarchical Divine Liturgy officiated by His Grace Bishop Elpidios of Kyanea and assisted by Fr Terry Gerovasilis.
This year's festive celebrations took place during the time of WA Government Covid-19 restrictions which currently allows a maximum of only 150 parishioners inside the church.
Present at the Divine Liturgy was the Consul of Greece in Perth, Mrs Georgia Karasiotou, and who was warmly welcomed by His Grace immediately following the dismissal.
At the conclusion of the Divine Liturgy a Trisagion Service was conducted for the three – year memorial anniversary since the falling asleep of Archbishop Stylianos Harkianakis of blessed memory. This was followed by the procession of the Icon of the feast carried by the Greek Consul as well as the President of the Greek Orthodox Community of WA, Mr Giannis Karakatsanakis.
His Grace Bishop Elpidios conveyed to all the love and blessing of His Eminence Archbishop Makarios of Australia and reminded all that Holy Theotokos is the protector and helper of all those who call upon her during times of tribulations and hardships.
Finally,  His Grace mentioned to all present how the official Doxology Service for Greek Independence Day will take place on Sunday the 27th of March at the Church of Sts Constantine and Helene followed by the Wreath Laying Ceremony at the State War Memorial in Kings Park in the presence of the Honourable Kim Beazley, AC, Governor of WA.
In the evening of the same day His Grace Bishop Elpidios returned to the Church of Evangelismos and presided at the Vespers Service for the apodosis of the feast of the Annunciation and also read the third stanza of the Salutations to the Holy Theotokos.
More Photos: