Greece plans hourly caps on visitors to ancient Acropolis and will let in up to 20,000 daily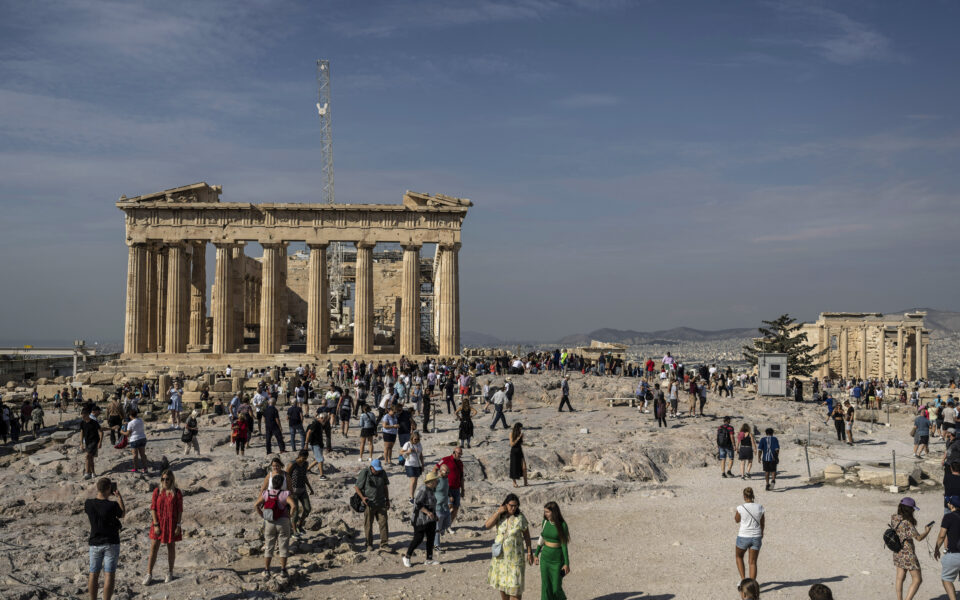 Visits to the Acropolis of Athens, Greece's most popular archaeological site, will be capped starting next month at a maximum 20,000 daily and subject to varying hourly entry limits, the Greek government said Wednesday.
Culture Minister Lina Mendoni said the controls are needed to prevent bottlenecks and overcrowding at the UNESCO World Heritage site. As many as 23,000 people a day have been squeezing into the monument complex, mostly large groups visiting before noon.
"That's a huge number," Mendoni said in an interview with the Real FM radio network. "Obviously tourism is desirable for the country, for all of us. But we must work out how excessive tourism won't harm the monument."
The new entry limits will be implemented on a trial basis from September 4, and will come permanently into effect from April 1 2024, the minister said. There will be no limit on how long visits may last, although Mendoni said people who come with organized tours or from cruise ships, who account for about 50% of the daily visitor count, spend an average 45 minutes at the site.
Different numbers of visitors will be allowed in hourly during the site's 8 a.m.-8 p.m. opening hours. Half of the Acropolis' foot traffic currently arrives between 8 a.m. and noon, Mendoni said. Under the new system, 3,000 people will be granted access from 8-9 a.m., 2,000 during the next hour and the numbers will vary during the rest of the day.
"The measure will address the need to protect the monument, which is the main thing for us, as well as [improving] visitors' experience of the site," she added.
Similar caps will be imposed for other popular archaeological sites, Mendoni said. The decision for the Acropolis followed consultations with tour and cruise operators, and was delayed due to Greece's June 25 general election, she added.
More than 3 million people visited the site last year, according to Greece's statistical authority.
Greek authorities closed access to the Acropolis and other ancient sites during midday hours last month at the height of a heat wave that also caused huge wildfires across the country. They also installed awnings as sun protection for people lining up to see the Acropolis' 5th century BC temples. Mendoni said those steps would be repeated, if necessary.
Source: AP