Forty Days of Divine Liturgies for Christmas Fast in Archdiocesan District of Melbourne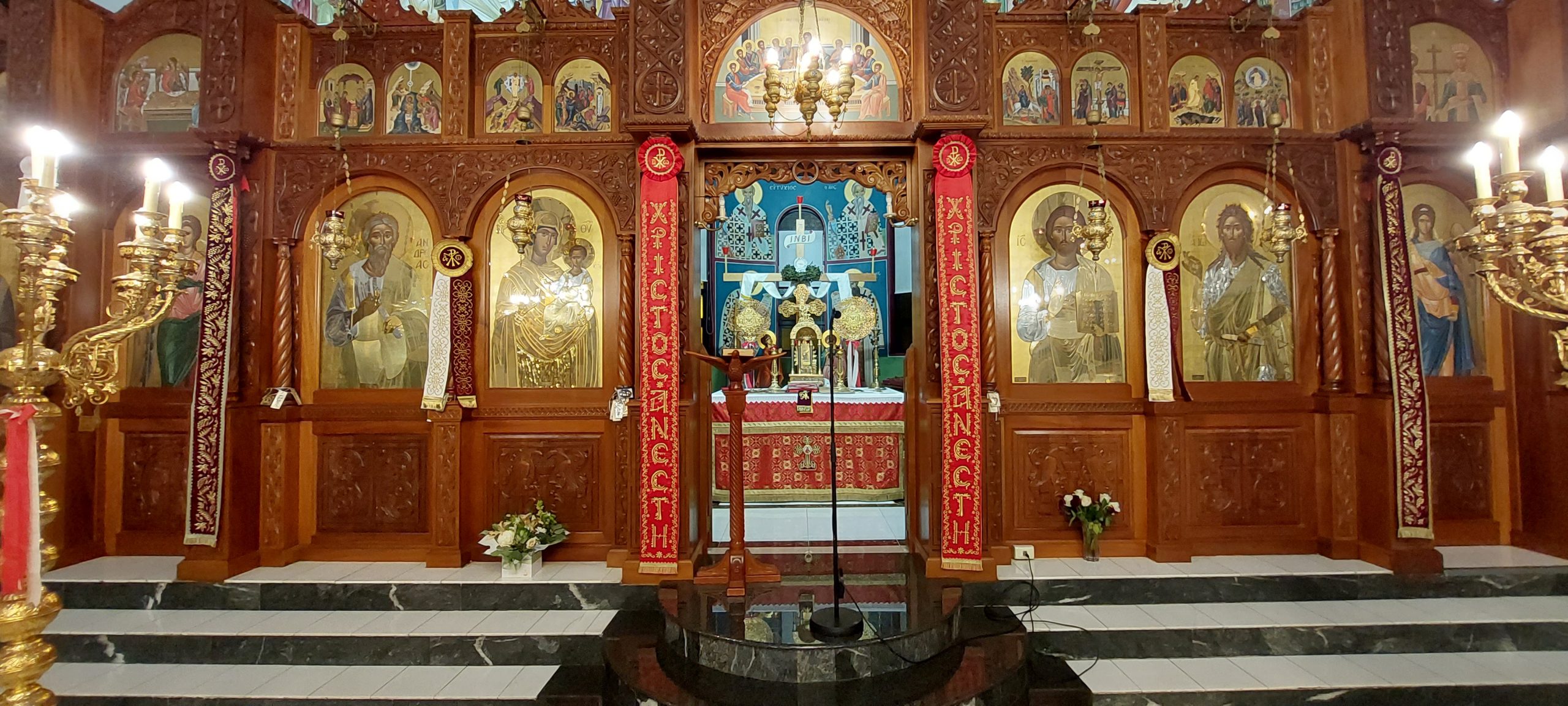 With the blessing of His Eminence Archbishop Makarios of Australia and under the guidance of His Grace Bishop Kyriakos of Sozopolis, from Tuesday, 15 December 2022 until Christmas Eve inclusive, the Divine Liturgy will be served everday at a particular Parish in the District of Melbourne.
Parishioners are advised to check with the Parish for specific start and conclusion times. It is also important to note that the Matins service will also be served prior to the commencement of the Divine Liturgy.
The schedule is as follows:
TUE 15/11 St Eustathios, South Melbourne
WED 16/11 Panagia Kamariani, Red Hill
THU 17/11 Annunciation, East Melbourne
FRU 18/11 St Demetrios, Prahran
SAT 19/11 Sts Constantine and Helen, Sth Yarra
SUN 20/11 ALL PARISHES
MON 21/11 Entrance of the Theotokos, Balwyn
TUE 22/11 Sts Anargiri, Oakleigh
WED 23/11 Archangels, Mentone
THU 24/11 Dormition of the Theotokos, Altona
FRI 25/11 St Catherine, Malvern East
SAT 26/11 St Panteleimon, Dandenong
SUN 27/11 ALL PARISHES
MON 28/11 Theofania, Frankston
TUE 29/11 Three Hierarchs, Clayton
WED 30/11 St Andrew, Forest Hill
THU 1/12 Sts Raphael, Nicholas and Irene, Bentleigh
FRI 2/12 Dormition of the Theotokos, Morewell
SAT 3/12 Panagia Gorgoepikoos, Geelong
SUN 4/12 ALL PARISHES
MON 5/12 St Haralambos, Templestowe
TUE 6/12 Entrance of the Theotokos, Balwyn
WED 7/12 Dormition of the Theotokos, Geelong
THU 8/12 Holy Trinity Richmond
FRI 9/12 St John, Carlton
SAT 10/12 Ressurection of Lazarus, Bunurong
SUN 11/12 ALL PARISHES
MON 12/12 St Spyridon, Clayton
TUE 13/12 Annunciation, East Melbourne
WED 14/12 Sts Constantine and Helen, South Yarra
THU 15/12 St John, Carlton
FRI 16/12 St Catherine, Malvern East
SAT 17/12 Holy Trinity, Box Hill
SUN 18/12 ALL PARISHES
MON 19/12 Sts Anargiri, Oakleigh
TUE 20/12 Archangels, Mentone
WED 21/12 Dormition of the Theotokos, Altona
THU 22/12 St Andrew, Forest Hill
FRI 23/12 Sts Raphael, Nicholas and Irene, Bentleigh
SAT 24/12 St Athanasios, Springvale