Europe's firefighters call for reinforcements as wildfires worsen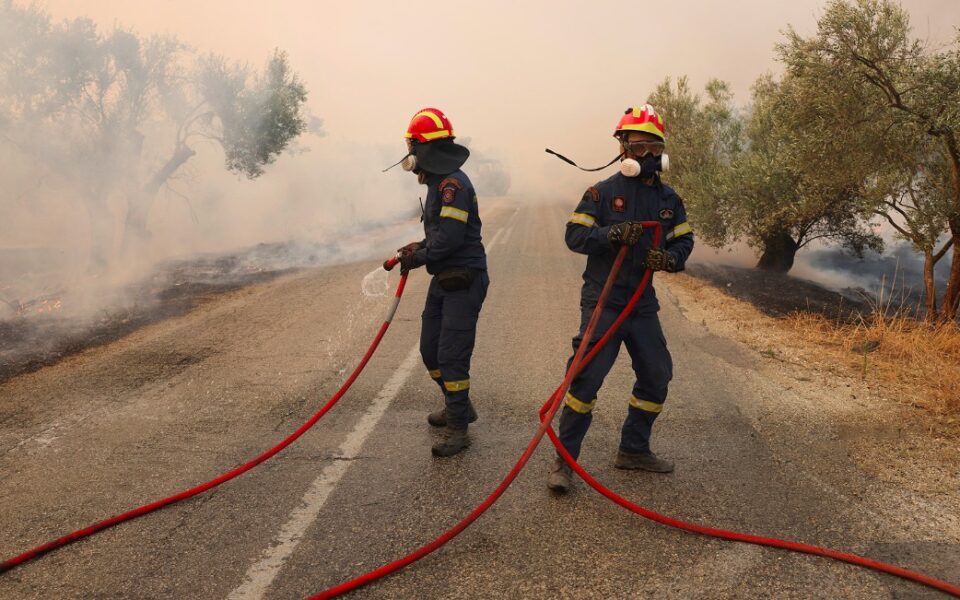 As Europe's firefighters get back to normal duties after another devastating wildfire season, union leaders say investment in extra staff and equipment is urgently needed in hard-hit Mediterranean countries.
Firefighting unions say the rising workload posed by massive summer wildfires is taking a heavy toll on staff, putting their health at risk, hitting morale and potentially damaging their capacity to respond to forest fires, floods and other disasters.
"If they don't quickly invest resources, the lives of firefighters and their families will not be easy," Raffaele Cozzolino, an Italian firefighter and union representative, told the Thomson Reuters Foundation by email.
"My biggest fear is occupational diseases like cancer, which is our real epidemic," said Cozzolino, who took his concerns to the European Parliament earlier this year, telling lawmakers more needs to be done to protect firefighters across the EU.
He said 3,000 more firefighters were needed in Italy, which currently has about 35,000 professional firefighters.
Italy's Civil Protection Department, which oversees fire services, did not immediately respond to a request for comment.
Climate change is increasing the frequency and severity of extreme weather – from floods to fires – across Europe, but firefighter numbers have not increased in tandem with the risks. In some countries, their number is falling.
In 2022, the 27-member European Union had 360,000 professional firefighters, down by 2,800 from a year earlier, according to the EU statistics agency, Eurostat.
Across the bloc, government spending on fire services as a share of overall total expenditure has not increased since records began in 2001, according to a report released in September.
"At a time when Europe is burning and sinking, the number of paid firefighters is decreasing," Greek EU lawmaker Konstantinos Arvanitis told the European Parliament last month.
"They are heroes in the battle and expendable afterwards."
Fires and floods
In July and August, wildfires burned for weeks on end in Greece, destroying an area bigger than New York City. Images of tourists fleeing clouds of smoke on the island of Rhodes raised fears about the escalating economic impact of summer blazes.
Across the EU, an estimated 515,000 hectares (1,988 square miles) of land was affected by fires in 2023. While less than the 748,000 hectares (2,888 square miles) affected in 2022, many of the fires hit protected nature areas and tourist spots.
"Despite my 26 years of experience in the fire department, this year's wildfires made me feel powerless in the face of the intensity of natural disasters," said Nikolaos Lavranos, general secretary of the Panhellenic Federation of Firefighters.
Just weeks later, Greek firefighters were rescuing people stranded by floodwaters after the country's most intense rain storm since records began in 1930.
Greek firefighting services have seen a "significant exodus" of staff in recent years, Lavranos said, citing poor working conditions and an ageing workforce reaching retirement.
Greece's Ministry of Climate Crisis and Civil Protection did not immediately respond to a request for comment.
Volunteers or professionals?
In rural France, which experienced mega fires in 2022, the fire brigade is heavily dependent on volunteers.
Volunteer firefighters – whose training is equivalent to professional firefighters – are paid a base rate of between 8-12 euros ($8.49-$12.73) per hour and assist in all types of operations from floods and fires to road accidents.
But as their workload increases, partly due to climate change impacts, they are being over-stretched, said Christophe Marchal, vice-president of the National Federation of French Firefighters.
"With the challenges ahead we won't be able to cope without more firefighters," he said, adding that France would need at least 250,000 volunteers by 2027 to sustain operations, representing an increase of 50,000 from 2022.
Jan Willem Goudriaan, general-secretary of the European Public Sector Union (EPSU), said recruiting more volunteers would not be enough without additional hiring of highly skilled professionals.
"Many rural services have been depleted of their capacity to act. Thinking that volunteer firefighters alone will be able solve this challenge is a mistake," Goudriaan said.
Asked to comment, France's Interior Ministry said firefighter recruitment is the responsibility of regional administrations.
Rescuing the rescuers
Besides boosting headcount, union leaders are calling for more investment in equipment and training to prepare firefighters for the growing risks, including workplace-related illness and accidents.
Personal protective equipment (PPE) provided for daily rescue operations is not always well-adapted to working in floods or wildfires, said Cozzolino.
Replacing ageing vehicles will also require governments to dig into their pockets, said Lavranos, adding that some of Greece's fire trucks are 30-years old – beyond the recommended lifespan of 15-20 years for frontline vehicles.
The EU has announced plans to buy firefighting planes – the first it would fully own – to improve its ability to fight blazes in member states, a measure welcomed by firefighter unions.
EU countries are responsible for responding to wildfires, but can request assistance from the bloc's reserve fleet of firefighting aircraft when they need back-up.
Such cooperation is vital but more is needed, say union leaders.
Kim Nikula, president of the European Fire Fighters Unions Alliance, called for the establishment of a multinational corps of firefighters with optimal staffing levels, training and equipment.
"We have stronger storms, bigger floods – and fires that compared to 10 years ago are twice as hard to put out, so we need to decide what are acceptable working standards for firefighters to handle the consequences of climate change."
Source: Thomson Reuters Foundation