Ecumenical Patriarch Bartholomew conducted a memorial service in memory of the victims in Tempe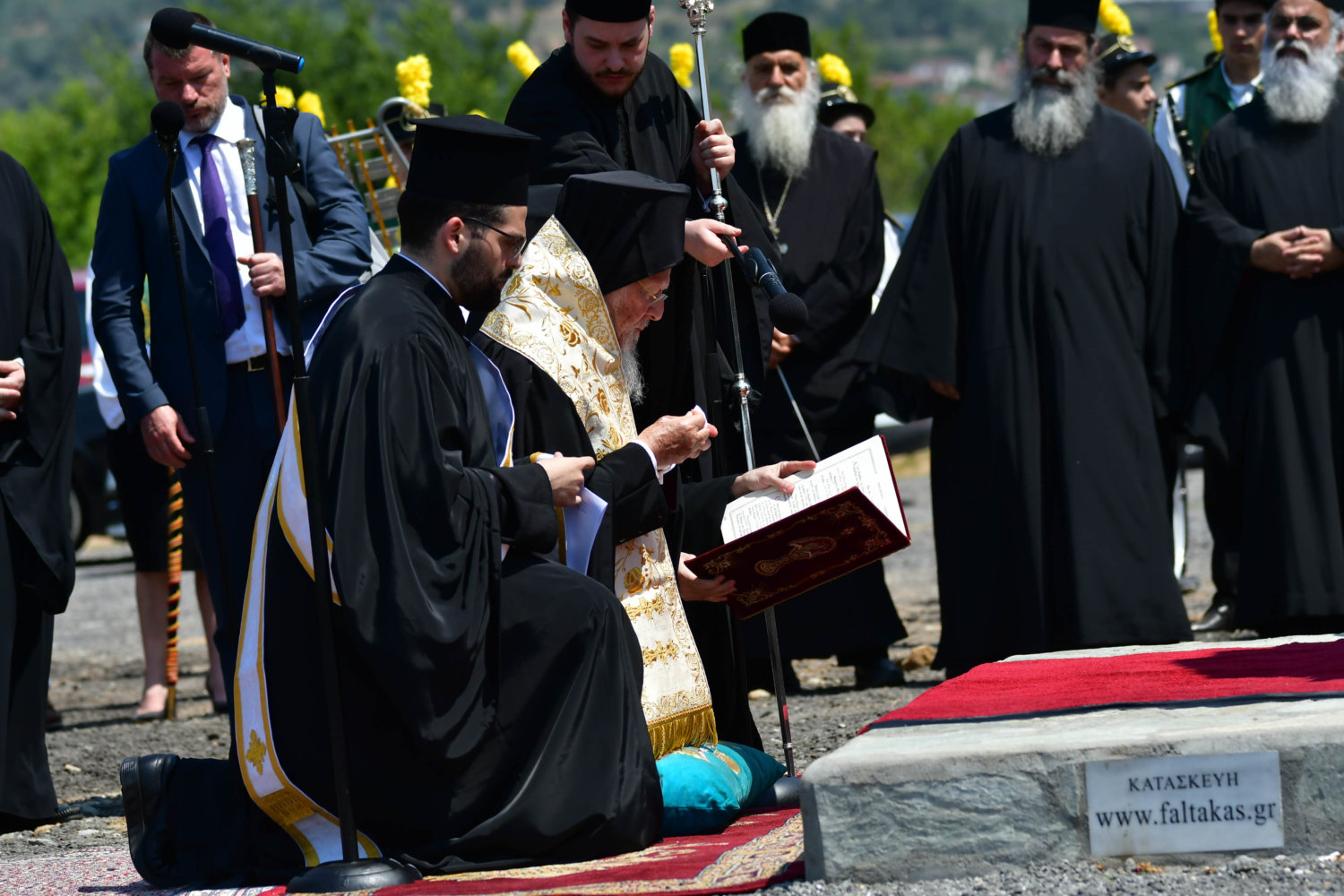 His All-Holiness Ecumenical Patriarch Bartholomew arrived yesterday in Thessaloniki, where he met Metropolitan Anthimos of Thessaloniki with whom they had an interesting discussion.
A Trisagion for the repose of the souls of the victims of the railway accident that happened in the area of Tempe, on February 28, 2023, was conducted today, Friday, 23 June 2023, by Ecumenical Patriarch Bartholomew, during his transition from Thessaloniki to Volos.
It is noteworthy that Ecumenical Patriarch Bartholomew kneeled before the chapel which was built in memory of the victims. Many relatives of the victims and officials also were present.
The Holy Metropolis of Larissa and Tyrnavos announced the above news, with its relevant announcement, in which it is states in more detail: "With feelings of gratitude to His All-Holiness, the Holy Metropolis of Larissa and Tyrnavos announces to the Christ-loving plenitude the wish of His All-Holiness Ecumenical Patriarch Bartholomew, on his way to Volos, to visit the site of the deadly train accident in Tempe and conduct a Trisagion Memorial Service in memory of the victims. The Trisagion will be conducted today, Friday, June 23, 2023 at 11:00 a.m. at the scene of the accident."
Follow the link to watch the video: https://fb.watch/ll9ISPSfc3/
Source: orthodoxtimes.com
More photos:

Ecumenical Patriarch became Professor Emeritus
In addition, in the afternoon of the same day, during the graduation ceremony, he received the honorary title of "professor emeritus of environmental science" at the Perrotis College of the American School of Agriculture.
"The way to a sustainable future is sustainable development", underlined the Ecumenical Patriarch, on Thursday evening, at this year's graduation ceremony at the American Agricultural School of Thessaloniki, referring to the consequences of climate change and the way in which Orthodoxy approaches the global ecological issue.
The Ecumenical Patriarch in his greeting said that the "modern, global, ecological issue has clear causes due to human activity", with obvious consequences, such as uncontrolled wildfires, destruction of forests and biodiversity, pollution of the atmosphere and seas and many other natural and social impacts of climate change.
He underlined that in the 32 years at the Ecumenical Patriarchate, the Mother Church has organised scientific conferences, interreligious symposia, meetings, actions, with the aim of raising people's awareness of the environment and the protection of nature.
Ecumenical Patriarch to visit Volos today
It is recalled that the Ecumenical Patriarch, invited by Metropolitan Ignatios of Demetrias, Regional Governor of Thessaly Mr. Kostas Agorastos and Mayor of Volos Mr. Achilleas Mpeos, will visit from June 23 until the of 25 June 023, the city of Volos in Greece.